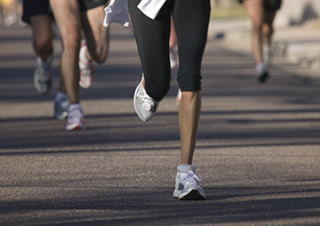 I love to race! All types of races and all distances. But my favorite running race is the half marathon. And if you're considering doing a 70.3 or Ironman distance race it should be one of your favorites too!
The reason I like the half marathon for endurance triathlons is because it's long enough to really challenge you while allowing you to recover in a relatively short time.
Here are some tips on how to make your next half marathon a complete training success:
1. If your half marathon is on Sunday keep your long Saturday bike ride. This will allow you to run on well-worked legs and will help simulate the fatigue you'll feel when you get off the bike.
2. Pick a pace that will be significantly faster than your projected pace for your 70.3 or Ironman. This will vary for each athlete but to give you an example, my normal half marathon pace is around 7:00 per mile while my pace at Ironman 70.3 California was 7:46. So a target for your half marathon might be between 30 seconds and one minute faster per mile than your 70.3 pace. For an Ironman your pace might be one minute to two minutes faster.
3. Keep track of your pace on every mile. Make sure you use the lap feature on your sports watch so you can see how you're doing. I don't know about you but math becomes very difficult when I'm breathing hard so I let my watch tell me how I'm doing.
4. Most courses aren't perfectly flat so you're going to see some variance in your pace. However, if the course isn't too hilly, I actually try to maintain the same pace throughout the run. I accelerate up the hills and coast down the hills. Yes, this is more challenging than allowing the terrain dictate your pace but when I'm training, I want challenging.
5. Start out with a slightly slower base and build from there. For example, you might run your first mile 10 seconds slower than your goal pace, the second mile 5 seconds slower and then run your goal pace until you reach mile 11. At mile 11 you'd go 5 seconds faster than your goal pace and at mile 12 you'd go 10 seconds faster. That way it all evens out and you finish with your goal pace.
6. How do you figure your goal pace? Try going to www.mcmillianrunning.com and use their race predictor. The figures seem a little aggressive, but I guess that's what you want. For example, I put in a 10K best time of 40:18 which is a pace of 6:30 per mile. Based on their formula, I should be able to run a half marathon at 1:29:41. Sounds good!
7. If you're going to run your half marathon less than three hours don't be too concerned about your nutrition. More is not better when you're racing under three hours. You won't need solid food or even gels – both of which can cause GI distress you really don't need. Trust me; if you've eaten well the night before and had a good breakfast, you're only going to need the calories the sports drink on the course will provide. Your goal should be to grab a cup of sports drink at every aid station. That will be plenty.
8. Find someone going your same projected pace if you can. A lot of the larger half marathons have "pacers" that you can run with to help you reach your target time. If not, try to find someone you know, or perhaps, someone you'd like to know, and run with them. Once the crowd thins out you can usually find someone to key off of . . . preferably someone that doesn't want to hold a conversation.
9. Allow yourself at least three to four days to recover from your half marathon. That doesn't mean you shouldn't work out, but make your workouts a bit easier and stay away from running.
10. Don't do a half marathon any closer than three weeks prior to a 70.3 or Ironman event. You really want time to properly recover before your big event.
Check your race calendar now. There are lots of half marathons coming up between December and March.