It was a chilly Sunday morning at Crystal Cove State Park and my dream was about to come true. That is, until I heard the dreaded words, "Run, bike, run. Attention everyone, run, bike, run."
I shouldn't have been surprised, I had a feeling this would happen. I was competing in the Avia Pacific Coast Triathlon on July 26th, 2009 and big waves threatened to cancel the swim just days leading up to the race. The main thing I was looking forward to in this race was catching a wave into shore. I grew up in So Cal so I was very confident in the waves, an advantage I hoped to take into the race against many out of state competitors.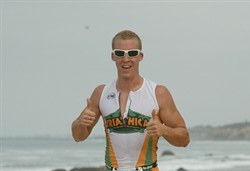 With the swim cancelled, my advantage and my dream were thrown out the window. Instead of a swim, they decided on about a half mile sand run along the shore where the swim would have been. I was disappointed, but secretly relieved since the waves did look huge once I got on the shore. The lack of grumblings and complaints from other participants gave me a feeling I wasn't the only one.
Once again, I was in the first wave of the race with the elites and 25-29 year olds. This is my first race in that division since I aged up. Unfortunately it is much more competitive than 20-24. No matter, I wasn't planning on placing that high anyways considering people had driven and flown in from all over the country since this was the qualifying race for the 2009 ITU Sprint Distance World Championships.
I took my place at the start towards the front and planned to get a fast start to get ahead of the crowd and in the fast hard packed sand. It seemed like we waited for an hour for everyone to get off the course and out of transition before we could start. Triathletes are incredible athletes, but they sure move slowly when they're not racing.
Finally the race started. I got out in front quick then tried to settle into a good pace. There were only a few people in front of me and they were kicking up sand all over me and into my face. I moved away from the water to the right to get some sand-free air. It literally felt like the run was a minute long and I was probably the 7th or 8th person out of over 80 to reach the dreaded "transition hill." This hill is a few hundred feet long and winds up the cliff from the beach to the transition area. Surprisingly I was able to run up the entire hill and was probably in the top 10 out of T1.
I really need to ride my bike more. I seriously underestimated how difficult the bike course was at the Pacific Coast Tri and didn't train that much for it. There were a lot of long rolling hills and I had a tough time powering up them. I would make it about two thirds of the way up then come to a crawl in a granny gear. I need to practice my gearing and shifting more on hills and develop my climbing endurance a bit better.
During the ride, my lower back started tightening up as well. I attribute this to my lack of time on the bike in training. Luckily, I did train hard for the run since this was my weakness at my last race, The Kring and Chung Newport Beach Triathlon. The first part of the run at PCT was a lot of downhill, which was great, then a few hills, which I powered up easily. I was dreading the portion of the run that was on the beach since I thought my legs would be too tired to deal with fighting through the sand. Luckily the sand was hard packed and provided a nice surface to run on.
Towards the end of the sand run I was nearing the final dreaded hill up the cliffs and to the final half-mile sprint to the finish. I gave a double thumbs up to the camera guy sitting on the beach taking pictures of all the racers. Some shirtless dude then passed me right before the hill with a, "good job." My eyes went straight to his calf and sure enough, 25 years old and in my age group. I picked up my speed to match his and followed him up the hill. This hill was an absolute monster. At points it had to be at least 15% grade, I felt like I should have been wearing climbing shoes and had a set of ropes and caribiner clips to make it up this thing. I stopped twice to walk, but only for about 5-10 seconds each time.
At the top of the hill, I was only about 30 feet behind my shirtless foe. I managed to keep this distance for the final quarter mile or so and then decided to make my move. He was looking back every so often so I was going to time my attack until he looked and turned back around. Finally I took off, my legs weren't cooperating too well, but I managed to squeeze a few extra mph out of them. I started to catch up, but then he started making a move also. The last 50 yards I was giving it my all but I was only gaining a few feet on him. The last 25 feet I knew I wasn't going to catch him, so I just cruised in for a finish time of 1:02:26 (23rd in my age group.)
I was pretty happy with my time, but it should have been much better. My bike time was terrible. My "A" race this year is the Orange County International Triathlon coming up in September. My goal now is to get my cycling legs in shape for the perilous Santiago Canyon.
Jarrett Pflieger