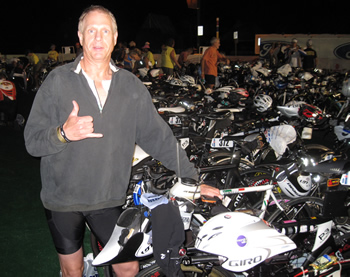 I couldn't help but think that it was a force greater than me, pulling me toward the finish line of the 2010 Ironman World Championship. It was like gravity . . . or perhaps delirium.
It was nothing less than a 27 year dream to do that race and it seemed so big, but yet so insignificant. Much like the birth of a child. To its parents it's such a huge event, but in the scheme of things, sort of a non-event (there are over six billion of us after all).
Pre-Race
I've had a pretty good run leading up to my first Ironman World Championships (IMWC). I managed to podium in most of my triathlons and even in a couple running races. As a result, I was feeling strong and confident. Not confident that I would have a miraculous race, but confident that I could "race."
I subscribe to a three-week taper before an Ironman. For a guy my age I feel that this timeframe works best. If you're younger, I think you can get away with less but I'm a M55-59, so . . .
During my taper I started to feel sluggish and weak. This is normal but it is disconcerting. You feel like all of the hard work you've put in during the prior months is going to disappear. Personally, I think it's your brain acting as a governor for your body, purposely holding you back so you can do your best on race day.
I stuck to my training plan (the formula created by me for Triathica), even though it was difficult to hold back from training more.
It was important to me to seek the assistance, advice and support of several key people in my network:
• Genny Saetermoe: My mom and great friend. While I know she really didn't want to go to Kona she did it for me. What we won't do for our children.
• Steven Saetermoe: My son — becoming a wonderful young man of whom I'm extremely proud — also came along.
• Lar Dog, Larry Davidson: A great triathlete and student of the sport. He's always very free with his best advice, even if we're competing.
• Chris Johnson: Having qualified and competed at IMWC 15 straight times, you'd be foolish to ignore his advice.
• Russ Jones: A guy who puts it all on the line more than anyone I know. Even though he's a short-course guy, he's loaded with great advice.
• Scott Neubauer: Worked on a tender knee before my race.
• Jamie Flores: Kept things going at my company while I was away
• Mark Arenal: A great friend and training partner came along for the ride of my life. Mark worked numerous volunteer jobs at the race all day Friday and Saturday.
Race Week
Easy 2,000 yard swim in the morning at 24 Hour Fitness Monday, October 4th. Mom and I flew out on American Airlines later that afternoon. I upgraded our seats so we went in style! Crappy service at Alamo but we got a new Cadillac . . . perhaps not the most stylish but a very fun land yacht.
We got in late Monday so we just went to the condo I've rented several times before from John, a retired UAL pilot. He's always very gracious and reasonably priced. (Side note: Mark Allen stayed in the same development and gave me some race day advice.)
Tuesday was extremely hectic because we wanted to get as much of the "stuff" out of the way that we could. Registration, picked up bike from Tri Bike Transport, swam, grocery shopping, etc. How my 80 year old mother keeps up I have no idea. Guess that's where my Ironman genes come from.
One of the members of the KQ (Kona Quest) team, Art Sosa qualified just weeks before IMWC at IM Canada. He and I took a ride out to Hawi. Nice, but it sure seemed to be a long way. We didn't get home until after dark.
Wednesday's concentration was on "hanging loose." I did a nice swim down at the pier with the guy I beat out for my Kona slot; Charlie Brockus (thanks Charlie!). We followed that up with a 60-minute bike ride . . . at least that was my plan.
We got about 10 miles from town on the Queen K and Charlie flatted. Problem was this wasn't a puncture; it was a 2" slash. All the Fix A Flat in the world wasn't going to fix that! No spare, and I didn't offer mine (hey, not with my race coming up).
He decided to walk even though I urged him to let me hitch him a ride. I took off and told him when I got to my car I'd come back and pick him up. No need, a nice German couple picked him up and carried him into town. Cool, I did my 30-minute run down Alii.
Had lunch on Pat Flynn an old friend of mine. She came out IMWC week to visit her mom and brother and to watch me compete. I really appreciated her taking the time to come out.
Thursday I swam at the pier again, this time with my doctor, Sam Sunshine. Sam's the guy that figured out nitroglycerine would help my Achilles problem. It was fun, but the butterflies were starting to come on.
The entire atmosphere around Kona was amazing. Everywhere you look there are the fittest people on the planet with the most expensive bikes. What a thrill to be part of it all.
I met a pal of mine, Pete Condy and his wife Chris (both volunteered) and we walked the expo and he treated me to an OJ and a muffin at Lava Java. Hopefully Pete will get his IMWC slot next year.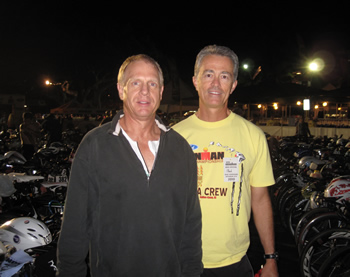 Anyway, later that afternoon we picked Mark up from the airport and went to the carbo load banquet. I've been to three of these affairs before but this one seemed special. Mom, Mark and I sufficiently loaded; they took off for the airport to pick up my son Steven. I sat around for the athlete's mandatory briefing. Same old stuff but I don't think you can skip this meeting just in case they have something you need to know.
I was very tired at this point having kept extremely busy for the past four days and got a good night's sleep. I've heard it from many people that you really need a good night's rest two nights before your key race because you probably won't sleep much the night before.
Friday was a quick bike and run and a swim later on during the day, followed by bike check-in. You have to leave your bike at the transition area the night before to help avoid the confusion on race morning. Good rule!
Remember the sluggishness I felt during my taper? All gone! I had to hold myself back on my bike because I was pushing so many watts. My confidence was soaring!
Managed to take it easy most of the day and even got a nap in. Mom treated us to dinner at my favorite Hawaiian restaurant, Roy's. Capped off the meal with a famous chocolate soufflé. Probably not the best pre-race meal, but I can never resist it.
As predicted, I didn't get much sleep Friday night but the adrenaline was pumping so hard who needs sleep?
Race Day
I had my usual pre-race breakfast of cottage cheese with walnuts and blueberries, an English muffin with peanut butter and strawberry jam, and a glass of OJ.
It was great having Mark along because with the help of his GPS and Google Maps he found us a great place to park near the race site but allowed them to avoid the closed roads in town.
Everyone got up on time and we left promptly at 4:00 a.m. And no, we weren't the first ones there.
I checked in my special foods bags. My bike bag had a bottle of Infinit (Gatorade on steroids) and a PB&J and my run bag just a PB&J. Went to my bike and got situated.
Mark volunteered for so many assignments I think he may have actually been more tired than me. He started out in the transition area helping the athletes with whatever they needed. Many of them were grateful he was there (his fourth time volunteering there), especially me!
My bike was racked two spots down from Joe Bonness, the odds-on favorite in my age group. He is simply a freak of nature!
I was racked right next to a very good triathlete, Brian Smallwood. Brian earned his slot at IM St. George. He's got a very interesting story but here's the short version: he had a mild stroke after a triathlon several months ago and had heart surgery three weeks before the race. He decided to show up to volunteer unless his wife would let him race. She approved it but only if he wouldn't let his heart rate go above 115. Hard to do on this course, but he managed to do it. Another amazing IM story!
I also said hello to Herb Spicer, another amazing athlete. I would have picked him to challenge Joe Bonness but he said he had a bad cold and didn't expect too much.
Kevin Moats was there as well. He took the age-group win at the Honu 70.3 I competed in in June and won my age group here last year.
My predictions were Joe 1st, Herb 2nd and Kevin 3rd.
I got to see my mom and Steven before the swim start at 6:30. Steven was sleeping on a couch at the King Kamehameha Hotel but woke up long enough to wish me luck.
Before I get into my race story I just want to say that this race is so different than any other race I've done. It's not just the scope or what's at stake, it's the fact that these are the best triathletes on the planet. You might be a big fish in a small pond but you're probably a small fish in this one. At least I was.
The Swim (also known as water wrestling)
I made my way down to the water at 6:45 a.m. and chatted with another athlete that qualified for the IMWC at the Honu 70.3. We were both obviously nervous so the chat did us good. I wished him luck and slowly swam toward the swim start at 6:50.
The water felt great and was relatively calm. I was ready to get started.
I made my way toward the middle of the starting line (surfers paddle back and forth along an imaginary line to keep people from starting too soon) and behind one other guy. By the time the cannon went off I was about four guys back. No matter, it's a long day.
I had kept track of the time when the pros started (30 minutes earlier) so I knew approximately when the cannon would fire. They don't do a countdown so you don't know for sure. I told the woman treading water next to me I thought the cannon would go off in about 30 seconds, so I started my watch.
BOOM!!! The cannon goes off and it's simply mayhem. 1,800 swimmers all headed in the same direction. You're swimming over people; they're swimming over you; you're getting kicked and punched. It's like being in a washing machine full of ball bearings.
After about 500 yards things started to spread out a bit. I still got my goggles knocked off my face, but not my head, four times during the swim. I also lost my swim cap.
I got into a steady pace and could really feel the drafting effect of all the swimmers around me. Chris Johnson knows I'm a pretty good swimmer and suggested I mix it up with the best of them. Great advice!
The swim turn-around gets bunched up again and one guy actually locked arms with me so it took some doing to get out of that. No one means any harm, this stuff just happens during the race.
On the way back I found some clear water but felt really slow. I guess the current that carried us out was now making it difficult to get back. The swim times seemed a lot slower for everyone this year.
On the return I had time to enjoy the great above- and below-water views. I was actually doing the Ironman!
T-1
It's funny, but even though the swim makes up only about 10% of your total IM time, I was anxious to get on to something else.
The volunteers help you up the ramp to the transition area which is a good thing because you need some help getting to your feet after having been swimming for over an hour. I thanked them for the help and ran up the ramp.
I took a 5-second shower from one of the many hoses they have hanging from an EZ Up and ran through transition. I'd scoped out the exact spot where my bike was so I could find it easily. Even though the bike racks are numbered, when you're running, and not clear-headed, it helps to have landmarks to find your bike.
As I donned my socks, cycling shoes and helmet I looked to my left and noticed Joe Bonness' bike still in the rack. That's a first – I beat him out of the water.
My transition was smooth and without incident.
The Bike (also known as blazing saddles)
To help make it interesting for the spectators, the bike course runs around Kailua-Kona for a bit before heading out on to the Queen K for Hawi. This is a great time for your friends and family to see you. Mom and Steven were standing on Palani Drive waving and shouting, although I didn't see them.
I felt really powerful on the bike but knew I'd have to hold myself back or I wouldn't have any legs left for the run. You see, my bike has a power meter on it that measures my cycling effort. My goal was to average 190 watts for the entire bike portion. I used that number because I averaged 193 watts at IM California 70.3 in March and 203 at the Honu 70.3 in June. So, I figured 190 would be doable.
The bike course was windy all day. And since I'm not a great cyclist, the strong winds would punish us weaker riders.
I finally looked at my watt meter when I got to Kawaihae and was averaging 215 watts. Slow down big fella, you'll never hold that! It was a good time to take the foot off the gas because this is where the long steady climb to Hawi starts.
When you do the IMWC you have to keep reminding yourself that these are the best triathletes in the world. The reason why you need to keep reminding yourself is because they're all passing you. Literally hundreds of men and women passed me during the bike portion of the race.
As far as support on the course, you couldn't ask for any better. They had aid stations set up every five miles. Usually it's about every 10 miles so this was a real treat.
I sipped on my Infinit and chased it with water all the way up to Hawi. I topped off my aero bottle with water at every aid station and took another bottle for a 20 MPH shower.
Speaking of getting wet on the bike, I didn't pee once. Not a great sign, but I didn't feel the least bit dehydrated. I know for those of you that aren't triathletes this is more information than you need but the hard core bunch likes to know. They'd also want to know if I used a porta potty or just whizzed on the bike and what color it was. Maybe that was too much information.
The winds on the road to Hawi were intense – even more intense than those in June. I actually saw a couple riders that were blown off their bikes that were being tended to by medical staff. It's not as bad going up to Hawi because you're going slower uphill.
Got to the Hawi turn-around and now we're going downhill . . . and fast! I picked up my special foods bag and trashed the PB&J (can't seem to eat when I pushing hard) and got my fresh bottle of Infinit.
Now the cross-winds were really noticeable because you're just flying downhill. I nearly lost it several times.
Other than the fact that my ass was on fire, I felt really great. Another look at my watt meter and I was now averaging 200 watts. Still 10 more (5%) over what I predicted. It may have been the excitement or the fact that I didn't want to let everyone pass me on the bike. I was hoping this decision wouldn't come back to bite me.
T2
My transition from bike to run was non-eventful. I thanked the guy that caught my bike and zoomed into the changing tent to put on my shoes. Another guy took my bike helmet and slathered on the sunscreen. I was off!
The Run (also known as the death march)
I admit I was a little wobbly when I started out on the run but I didn't feel bad. The run starts out going south on Alii Drive for about five miles. This is where I told my mom and son to meet me. And they were right there! What an awesome sight!
Mom was trying to hold back the concern for me and Steven was egging me on. They took a quick picture and I ambled on.
My goal on the run was to maintain an average heart rate of 150 (mine runs high, don't worry). I tried to run to the turn-around without walking while maintaining my 150 heart rate but it was to no avail. I didn't walk but I couldn't get in the 150 range. I think the first five miles are slightly uphill.
The next five miles were actually faster (probably because it was downhill) even though I started walking through the aid stations from this point on.
Yes, the decision to push the bike just 5% harder was now coming back to me. I was mildly disappointed but not deterred.
Since they have aid stations every mile on the run course I took two cups of ice and threw them down my shirt and filled my cap. I poured water on my head and chest and I alternated drinking Coke and Perform (Gatorade). I wouldn't change anything about this.
When you loop back into Kona you encounter Palani again. I made the decision long before I got there that I would walk the hill up to the Queen K. It made sense. Why burn all that effort just to impress a bunch of people I'd never see again.
When I finally got onto the Queen K the miles just started to click by. Perhaps I was entering a trance or maybe it was just that there wasn't much out there to distract you.
By this time I was passing quite a few people but noticed several of my age-group competitors passing me. I really didn't care. I was going as fast as my legs would carry me.
At about mile 15 you enter the Natural Energy Lab (NEL). This is a government site that tests different forms of natural energy (solar, etc.) and is not open to the public during the year. It's a beautiful two miles down to the turn-around overlooking the ocean. The sun was beginning to set at this point.
They had the music cranked up down in the NEL and the volunteers were great. The road out of the NEL is brutal because you now have to run up the hill that was much easier going down.
At about mile 19 you exit the NEL and you're back on the Queen K headed for home. There's a huge physiological boost when you make that turn. My pal Chris Johnson said he usually treated himself for a little walk for the effort up to this point. I did better than that; I walked the entire mile 19.
My logic was at mile 20 I just had a 10K left to do and I would do my best to run it in. I started out great for the first three miles then I ran out of steam. I walked for about another half mile and ran the rest of the way in.
With just two miles left you can clearly see the lights of Kona. Most of the trip now is downhill and it feels effortless to run again. As you near town you run downhill on Hualalai and make that famous right turn back on to Alii Drive.
The streets are lined with people screaming out your name (printed on your bib) and giving you high-fives. It feels like a dream. As I crossed the finish line I tossed up the old Hawaiian shaka symbol and smiled from ear to ear.

My pal Mark was there to greet me and carted me off to the medical tent, the award tent and the photography area.
I didn't see mom or Steven at the finish line but they were there in the bleachers. I saw them a few minutes later at the hotel and gave them lots of sweaty hugs and kisses.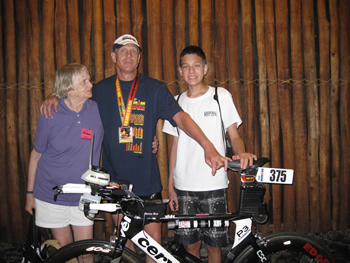 Post-Race
What a great day it was. This was a huge accomplishment in my life. One that I wanted for so long and had worked so hard to achieve. While I didn't make my goal time I'm extremely proud of myself for having done it.
I didn't feel like eating that night (I didn't eat anything solid all day/night since breakfast) and I took a shower and went to bed. Slept like a baby!
My official time was 11:47:31. A very respectable time for my first time and a guy of my vintage. That was good for 29th out of 68 guys in my age-group. Top half! I'm the 29th fastest Ironman in the world in my age group. Pretty impressive!
As I mentioned, I gave my mom four possible time scenarios. Here's how my actual performance compared to my "good" projection:

I'm totally happy with my performance and want to thank all of my family and friends for their well wishes and encouragement.
Next? Ironman Arizona in five weeks! With any luck I'll earn the privilege to come back again to punish myself next year!
Mahalo and aloha!