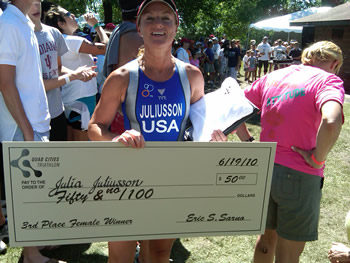 So here's the Race report from the National Sprint Qualifier for Worlds in Iowa!
2010 Quad Cities Sprint Tri on June 18th was the national qualifying race for anyone wanting to be on Team USA for ITU Sprint World Championships in Budapest September 12th.
This is a changeover year in that USAT made the race in Tuscaloosa, AL September 19th the National Sprint Championship for 2010 but that occurs AFTER Worlds so it cannot be a qualifier. So even though I won my age group at the qualifying race for Worlds, I can't say I am the National Sprint Champion because that race has yet to occur!
Still, the Quad Cities Triathlon attracted triathletes from 35 states, with MANY returning World's athletes trying to qualify again. It was held in the middle of nowhere Iowa . . . quite an experience in itself.
I flew in on Thursday before the race (on Saturday) and quickly realized . . . "I'm not in Kansas anymore." While the people were very friendly in the Milwaukee airport, I felt like I was in the movie Fargo. People just sounded funny and truly were mid-west!
I flew there to meet my friend Heidi who is from Wisconsin and also competed in Sprint Worlds last year. Together we drove three hours to Davenport Iowa to stay for the race.
On Friday we woke up early and met fellow So Cal teammates Russ Jones, Sam Sunshine, Renee Rodarte, and Mark Disman to pre-ride the course. It was cloudy and windy. We rode the 15-mile course of rolling hills with a few short climbs just before the weather took a turn for the worse.
We went to breakfast and watched as a severe storm cell overtook the town with Wizard of Oz type rain wind and tornados super severe rain!! We sat and stared outside saying "OMG what if it does this tomorrow!"
Fortunately, it didn't. We lucked out and the clouds parted for race day Saturday. It was a warm sunny day with moderate wind on the course, which literally took us through the cornfields of Iowa. The lake was 74 deg (toasty in the long sleeve wetsuit I had) the air was about 85 and fairly high humidity. The swim had a time trial start with two people going off every three seconds. I had never done that kind of start before. It was okay. It still did not make it any easier to get to clear water I still had to swim through a sea of slower swimmers as they always start women 40 and over next to last!!
I had a great swim though — 600 yds in 9:59. Happy with that one. Then a great bike: 15 miles in 40 minutes. Then a good 5K. (trails, grass and hills).
My friend Heidi pushed me on the bike and swim. She mountain bikes a TON and she is very strong on the bike because of it. She is also a natural runner and always goes a little faster than me. I swam faster than her but she runs faster so we always come in about the same time.
I finished the race without anyone passing me so I figured I had done well. I go to get my results and find out I am not in my age group listing at all! I have a panic attack and begin to think I have been DQ'd for some reason. I knew that I hit or maybe crossed over the center yellow line at one point trying to pass people so maybe I got DQ'd for that?
I ran to a USAT official. No my name is not on any penalty or DQ list!
Finally I go to the timing company . . . "Where am I?"
They have pulled me out for the overall. I am 3rd Overall ( female)!! They say I can't "double dip" and win my AG and win an OA award. They were giving cash prizes for OA!!
I tell them I don't want the cash prize I want to qualify for Worlds, and I am amateur so I can't accept money!!
NO, NO I am thinking I want Door #2 not Door #1 . . . put me back in age group I say. I want to win my AG!
No they say, I have won 3rd overall and I'm getting a check! So I run back to the USAT official and plead . . . "Can I still qualify for Worlds if I accept the check??" YES is the answer. Turns out all three OA females were all age groupers and we beat the Elites that day!!
We all declared ourselves so we all qualified for Worlds!! Whooo Hoooo! We are going to Budapest 2010 ITU Sprint World Championships!
I intend to podium! Going for the Gold!
Nice people in the mid-west. Remind me to race there more often!!
Julia Juliusson ( 45-49 Female)