If you want to race fast you've got to train fast. No, I didn't make that up but I do believe it's true.
All of my training these days is focused on Ironman but whether you're training for a sprint distance triathlon or an Ironman you should be incorporating some speedwork with your other training.
For me, running races are the best way to improve my running speed. And since I'm training for Ironman St. George, my distance of choice is the ½ marathon.
On Sunday, February 13th I ran the San Dieguito ½ Marathon down in beautiful Rancho Sante Fe (in San Diego county). It's a hilly course on blacktop through a wonderful residential area.
This year there were four of us that made the pilgrimage: Larry (Lar Dog) Davidson, Scott Callender and Sara Gilles. All of us pretty decent triathletes. Larry qualified for Kona once, Sara twice and me once (Scott's going to qualify this year).
The thing is, since we're all triathletes we don't expect podium positions in running races because we're competing against some folks that are pure runners. So whenever you fare well in a running race you're doing quite good.
It was crisp but clear race morning. We parked a couple blocks away from San Dieguito State Park and picked up our race bibs and shirts. The start is below the park which is probably a ½ mile walk. The funny thing is each step closer to the start the colder it got!
I learned a little trick years ago from Lar Dog to help in these situations – maybe it will help you too. I bring a "throwaway" shirt/sweatshirt with me to the start. Either just before the race starts, or just after, I toss it. That way I can stay warmer and if I don't retrieve the shirt later, no loss.
Another element made this race fun: Michellie Jones and Joanna Zieger were racing as well. We knew they'd be fast, and they were with Joanna taking 1st and Michellie taking 2nd in the F40-44 age group!
The gun went off at 8:00 a.m. and we all started fast because the first mile or so is downhill. First mile pace was around 6:30 – way faster than I'd be doing on this hilly course.
The pace felt fast but my goal was to try to manage the race based on my heartrate rather than any particular pace. I tried to maintain my heartrate within the 165 and 175 range with an average of 170.
Naturally, going downhill your heartrate would drop but that also gives you an opportunity to pick up the pace. Just the reverse going uphill.
At about the one mile mark Larry and Scott started to pull away. Since I'm not in either of their age-groups I let them go (like I had a choice!). From that point on there were a group of us all going about the same speed. One of us would pull ahead for a while then someone else would take the lead. While we weren't talking at all we were all on the same mission.
Shortly after the first mile the queen of England was standing there cheering everyone on holding her dog. Maybe it wasn't the actual queen but it sure looked like it.
Right along the same spot was the beer station. You could choose water or beer – no kidding! Larry grabbed some beer and instantly spit it out. Guess he didn't hear they were handing out beer.
The second mile was entirely uphill. It seemed like that hill would never end. The good thing is that we'd have that same hill to help us on the way home. At this point I noticed my heart rate hit a high of 178. I backed off a little to get it back into my range.
I'm not going to lie to you, it was painful. I did the Southern California ½ Marathon a couple weeks before but that course was nearly flat – this was anything but!
Like a lot of races, I had periods where I didn't think I could take another step and others where I felt great – and the great periods weren't always on the downhill. It's funny how these races go.
Just before the turnaround I saw Scott and he looked great; running like a gazelle (a 6'3" gazelle)! Scott gave a wave and a shout. Just behind him was Larry. Larry gave no acknowledgement at all. No worries, he was focused.
Once I get into a groove the miles seem to click by. I can usually get into this trance-like mode after about six miles. Rather than the seven minutes or so that it takes per mile they seem to fly by in a matter of seconds.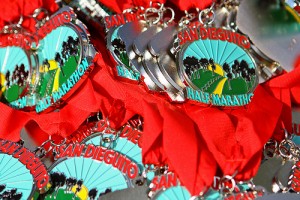 My group and I were still chugging along. My miles ranged from about 6:30 to about 7:30. I was doing the calculations in my head and was hoping I could beat my time here by a couple minutes. Seemed like my chances were good.
The long steep downhill at mile 12 felt great. The final mile? Not so much! All uphill my heartrate hit 178 again. Oh well, nearly there.
The finish was great with lots of race fans there to cheer you on. A race I'd highly recommend to anyone.
Final tally:
Scott Callender (1:28:39, 6:46 pace, a PR on this hard course good for 9th out of 99 guys M45-49 – 1:30:58 last year)
Lar Dog (1:30:59, 6:57 pace, good for 5th out of 99 guys M50-54 – 1:33:55 last year)
Ron (1:33:57, 7:10 pace good for 2nd out of 52 guys M55-59 – 1:37:12 last year)
Sara (1:37:40, 7:27 pace, good for 14th out of 135 gals F40-44 – 1:39:38 last year)
Cheers!
Ron