If you've been doing triathlons or cycling a while you're very familiar with the adage "There are two kinds of cyclists, those that have crashed and those that will." Guess what, it was my turn again . . . and worse, Aida Wasilewski's as well.
Wednesday, April 27th I shot an email off to Kona hopeful, Aida, to see if she wanted to do a ride/run with me the next day. Aida is an amazing athlete and someone I am very proud to be coaching. While she didn't have a great race at Ironman California 70.3 her sites were set on Ironman Nice as her next Kona qualifier. Knowing what I know about her, I know she's got a really good chance of qualifying.
Aida was up for the workout – a 3:30 ride and a :40 transition run – so we met down in Dana Point Harbor at 6:30 a.m.
It was cool and clear that morning. We were up for a great ride. I was just nine days away from Ironman St. George so I was in full-on taper mode and feeling great!
The ride was totally uneventful as we headed south toward the gate at Camp Pendleton. As a matter of fact, we had just talked about how we really appreciated the "uneventful" rides; the ones without any drama. And as coincidence would have it, we also were just talking about our encounters with bees while riding.
I related my story at Ironman Hawaii where I got stung by a bee that went down my shirt and another time just a couple weeks before when a bee got stuck in my helmet.
As I said, as luck would have it, we rode directly into a swarm of bees on the road just north of Camp Pendleton. I was just ahead of Aida and swerved as I batted away the bees. Unfortunately, when I swerved Aida's front tire was in the way.
We both went down . . . hard. All I could hear was Aida's scream as she went down. Then, expecting to hear a moan I heard a distinctly different scream.
Normally when someone goes down there's the first shock of the incident followed by a cuss word or moan or some other reaction; Aida's reaction wasn't what I expected.
I assessed my own condition and couldn't find anything significantly wrong with me but Aida was in pain – big pain! At that moment I had the same sick feeling as when I was a kid and took my younger sister for a tumble down a steep hill in a go-cart I made with a neighbor. I was freaking out (but not showing it).
Aida went down hard on her left side. I told her not to move as we assessed the damage. I could immediately see her left hand and elbow were bleeding and she was complaining about her hip and head.
She layed there for a few minutes as we tried to figure things out. Several male cyclists came by and asked if they could help. I can't believe one guy actually scolded us to get out of the road and that Aida should get back on her bike and start riding (what a jackass!).
It took us a while but Aida wanted to try to ride. We were probably a mile from the Camp Pendleton guard shack and several miles south from any point a car could get to.
We tried to get her on her bike but it just wasn't possible. So, should we walk to the guard shack, call 911, should I ride to the guard shack to get help? Lots of options.
Looking to our left I noticed a scenic turnout off the I-5 south. Aida pulled up Google Maps on her phone and it seemed like our best option. She called her daughter to pick her up and we slowly walked over.
Every step she took was painful. I was in pain for her.
Like a trooper, she balanced herself with her bike as we slowly walked what seemed like 10 miles but was probably more like ½ mile. The kicker would be a steep, but short hill up to the scenic turnout parking lot.
We made it up to the top of the hill and waited for Aida's daughter. Aida made the smart move of not telling her daughter exactly what kind of trouble she was in. I'm sure she would have freaked out along with the rest of us.
Aida's daughter picked her up and took her to the hospital. She didn't want to go at first but because of her hip and head I told her that she really should.
Aida has friends at Mission Hospital so she got some additional advice on her next move.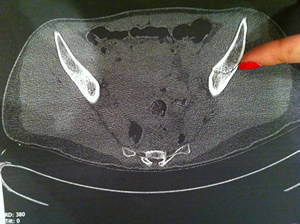 The damages: abrasions on the hand and hip. Seven stitches in the elbow and a broken pelvis. Yep, it snapped. SHIT!!!
I was so bummed for her. Just a couple months out from a Kona qualifier where she had a very legitimate chance. She on the other hand took it completely in stride. An amazingly classy gal.
Aida is recovering nicely now. Sick of her crutches which she is confined to for eight weeks. She vows to get in the pool soon and has already signed up for Ironman Cozumel.
Crashes happen. I've had two pretty good ones before. A Honda cut me off on a steep downhill and I slid sideways with the big chainring gouging out a series of gashes in my right leg. The second was a hard fall that resulted in two broken ribs just five weeks before Ironman Coeur d' Alene.
It's going to happen if you ride long enough. Stay alert, be careful and maybe, just maybe you'll be the first to avoid a crash.
Ron Saetermoe
Cheers!