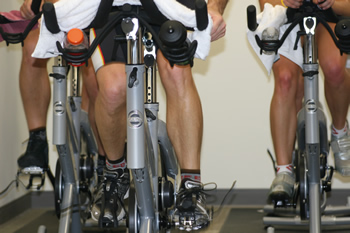 Are you ready to get serious about your training? Is cycling one of your weaknesses, or are you just ready to take your skills on the bike to another level?
Triathica's nine-week cycling transformation package starts December 1st and will include one initial power test and a follow-up test to see your improvement over nine weeks ($100 value), 18 spin class workouts with power measuring cycles ($360 value), our first cycling workout DVD Power Up! ($20 value), and access to Triathica's USAT certified coaches for any general questions you may have. We know times are tough, so we are offering all this for only $190! It's time to kick start your off-season training.
We are having a free training with power seminar on November 24th at 6:00 p.m., so come on out to learn the benefits of training with power and how you can incorporate it into your own training. This is a perfect transition into the nine-week package.
Let us transform you!
Space is limited so call or email today: 949.273.6223 or jarrett@triathica.com.