Ron Saetermoe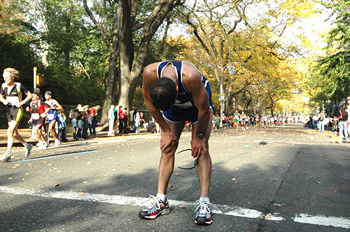 I'm an expert about the "bonk." Ask me anything!
For example, did you know there are different kinds of bonk? Sure, you have the nutritional bonk, the cardio bonk, the muscular bonk and the run into the wall bonk. I've experienced all four varieties.
One of my Ironman mentors, Chris Johnson (qualified, and completed, 15 consecutive Ironman World Championships) purposely goes out and bonks. This gives him an idea of how hard he can push himself before he bonks. Aren't we triathletes nutty?
The first time I experienced any kind of bonk was during my first marathon back in 1979. I had heard of "hitting the wall" but didn't think there was anything you could do about it – it just happens. Of course, I didn't know back then that it probably would have been a good idea to eat something or at least drink the Gatorade they had on the course.
I bonked in 2008 during my first Ironman: Ironman Coeur d'Alene. This was a muscular bonk. Not to say I wouldn't have bonked anyway, but I wasn't able to finish my training plan because I broke two ribs five weeks prior to my race. On second thought, let's blame it on that.
I bonked again in 2008 at Ironman Arizona. This time it was a nutritional bonk. My personal problem when going hard is taking in anything solid, even gels. For some reason my stomach just doesn't like anything solid. I had my gels and even made peanut butter and jelly sandwiches but couldn't stomach any of them.
The bike portion of the race was fine but when I got to the run I was toast! I had nothing in the tank. My legs felt fine and my heart rate was fine but I had no energy. I started walking and was able to pick my pace up throughout the race only because I was able to take some calories in.
Last year Lar Dog, Larry Davidson, turned me on to Infinit. I mix it up to triple strength and sip it and chase it with water. Voila! No bonk! I've practiced and raced with it numerous times and not only don't I bonk but I also don't get hungry. Problem solved.
I'm sure there are plenty of other fine products out that can perform the same miracles, but for my money, Infinit is it!