WELCOME TO TRIATHICA
Triathica Academy is an online triathlon training platform created for triathletes, by triathletes. Triathica Academy specializes in triathlon coaching, nutritional guidance, strength training, and networking with fellow triathletes. All these attributes will take your triathlon performance and enjoyment levels to new heights. Whether you are a veteran of the sport, or interested in triathlon but have never tried it, Triathica Academy has something to offer you.
Our Mission
Our mission at Triathica Academy is to get you ready to compete. Whether you choose to compete, or not, is entirely up to you, but we'll get you ready. At Triathica Academy, you "train like a triathlete."
If you've never competed in a triathlon before, or if you're a seasoned veteran, we will make you better. You'll not only have access to USAT certified triathlon coaches whom trained to teach everything you need to improve your swimming, cycling, and running, but you'll have access to the other frequently overlooked disciplines of strength training, flexibility training, and nutrition.
Triathica Academy is not just another online blog. It's a destination where the athlete and average person can come to be transformed.
We don't exist to sell memberships; we are here to get you results.
Ron Saetermoe – Head Coach
Ron is our head coach. Ron has been competing in the sport of triathlon since 1983. He's a top age-grouper and his passion for the sport is off the charts. Ron is an established Orange County entrepreneur who brings extensive knowledge about the sport of triathlon and business to Triathica Academy. A highly competitive endurance athlete himself, Ron has over 20 years of triathlon experience. Ron is a USAT certified triathlon coach and works with athletes ranging from endurance sports beginners and recreational competitors to developing elite athletes and long time veterans of the sport looking for that extra edge that comes with the highest quality of specialized coaching.
ron[at]triathica.com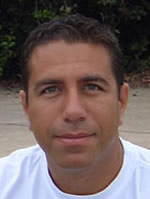 Oguz Yildiz – Marketing & Product Strategy
Oguz provides in-house marketing and technical support. He has been competing in the sport of triathlon since 2000. He's an avid triathlete. He has served as the sponsorship coordinator for Orange County Triathlon Club.
support[at]triathica.com