Ron Saetermoe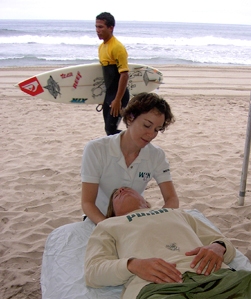 It's funny but the less I workout the more pain I seem to have. Why is that?
I just finished my first week (of two) of taperinig for Ironman 70.3 Hawaii and my training volume is down about 30% from my peak weeks. I'm really enjoying the extra time for doing all of the non-triathlon stuff but I've got all these aches and pains that weren't there before.
It could be that I'm spending some of my extra time contemplating my belly button or it could just be nerves. Don't know, but I'm pretty sore right now.
No matter, I'm going to go see my favorite massage therapist, Kathy Flippin of Dynamic Touch in Costa Mesa (www.dynamictouchmassage.com / 714.345.7188). I know Kathy's magic hands will fix me right up.
I've experienced this phenomenon before so I'm not worried. It's like Faris Al Sultan said once before he won the Ironman World Championships (paraphrasing) "Everyone has a little problem here and a sore muscle there, but when the gun goes off you are a 100% racing machine."
It's true you know. Starting in December 2009, I haven't done a proper taper for any of my races. My goal is to concentrate on my training more than my racing and just use the races as quality training days. So far it seems to be working although I'll e the first to admit that my racing performance is surprisingly good – even going into my races fatigued.
My pal Russ Jones actually warned me about tapering too much before my Hawaii race because I've done so well without tapering. The thing is, I know my body pretty well by now and know I'll do better with a taper.
So if you're in taper mode and notice all kinds of aches and pains, consider it normal. You're in good company.
Cheers!