Ron Saetermoe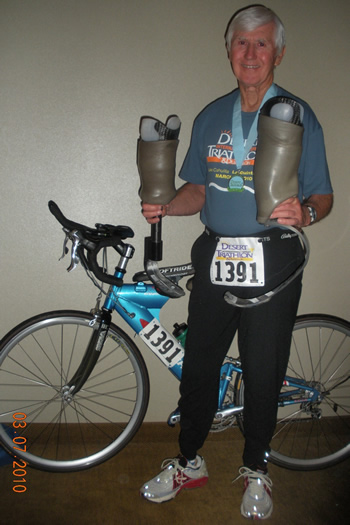 Many of you know Andy Bailey's story. Jarrett has written it about many times, including here in this newsletter.
Andy was injured on December 12, 2006 and eventually had his leg amputated on February 28, 2008 after an unsuccessful battle to try to save the leg. Since that time, he and his lovely wife Jeri have been working hard to get him back into the sport he loves: triathlon.
Well, none of us that know Andy had any doubt that he would be back, and he is. On Sunday, March 7th Andy did his first triathlon since his injury, and he did great!
This was the first year Klein-Clark, the race directors, gave out the Inspirational Award and naturally; Andy was one of two recipients.
So next time you see Andy congratulate him . . . he's worked hard to get back and is truly an inspiration.