Jarrett Pflieger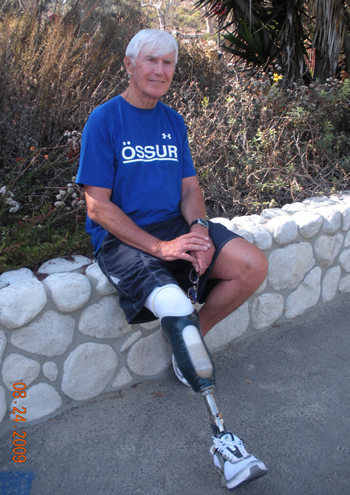 If you are an active part of the triathlon community here in Orange County, you have probably heard of, or even met, Andy Bailey. Andy is actively involved in the community, and can frequently be seen at meetings and functions of the Orange County Triathlon Club, Challenged Athlete Foundation, and more. The fact that Andy is still competing at 71 years old is amazing. The fact that Andy is still competing and is a single leg amputee right below the knee is downright incredible.
Andy was seriously injured on December 12, 2006 when a run-away delivery truck slammed into him while washing his car in the driveway. After the accident, he had an ankle fusion and a muscle graft and tried to save the leg for 14 months. Unfortunately it did not heal and he had to have his leg amputated. Since that day, it has been a battle to get back to doing what he loves, competing in triathlon.
Andy's comeback has included several indoor triathlons with the Triathlon Club of San Diego and the 800-yard ocean swim in the Malibu Triathlon as part of the Challenged Athlete Foundation relay team. He also completed a 1.2 mile swim during the San Diego Triathlon Challenge as part of an Orange County Triathlon Club relay team.
One big part of his comeback has been a company called Ossur, who specializes in making prosthetics for walking and higher performance prosthetics for running.
It seems it was fate that brought the two together. Andy was at the Endurance Sports Awards banquet down in San Diego in 2008. It was right before his amputation that would take place on February 28, 2008. At the time of the banquet, the doctors were still trying to get his surgically repaired ankle to fuse. He was talking about his yearning to compete again, even if he happened to lose his leg. There happened to be the director of education from Ossur, Tabi King, sitting at his table who overheard the conversation. She gave Andy her info and told him to contact her if he needed anything in the future.
The next year, Ossur put on a special amputee running clinic at Soka University in Aliso Viejo. Andy wanted to attend, but didn't have a run leg yet, so he called Tabi and told her the situation. Ossur was able to have a Flex-run leg ready in time for Andy to do the clinic. NBC even came out and did a news story on Andy and his new leg.
Since then, Andy has been named an Ossur Ambassador and helps promote Ossur products, serves as a model, and helps with occasional PR related activities.
Andy is currently working with Southern California Prosthetics here in Irvine, CA on a new cycling leg, which he has been testing out here at Triathica. The custom liner in this leg has made a huge difference in the healing of the skin from his injury, Andy explained.
Everything seems to be going great and I asked Andy what he was up to now.
"I just sent in my application for the Desert Triathlon Sprint in March. This will be my first individual triathlon since my injury. Then if all goes well, I'll think about doing the San Diego Sprint Triathlon, Mission Bay, and maybe one of the Bonelli races," he said.
For now, Andy is working hard to come back and prove, even at 71, you can do anything you put your mind to. In the short term, has his sights set on the Los Alamitos reverse tri where he will be doing the swim portion of the race with a group of other challenged athletes.