I think it was 2002 when Chris McCormack came to the Orange County Triathlon Club meeting. The thing that strikes you about him is his friendly presence and his cockiness.
I didn't know much about him when he paid his visit but I had heard of him before. Chris spends a lot of time in Southern California and does a lot of the local races.
As he ran down his race resume you can't help but be impressed. He'd won races against the world's best in every distance. The only thing left to add to his resume is a win at the Ironman World Championships in Kona – which he was confident, would come.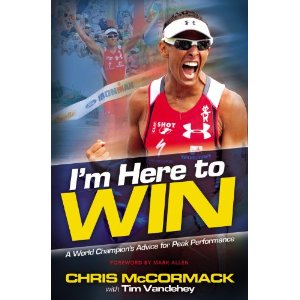 We now know it didn't come as easily for him as he, or anyone else, expected. His new book "I'm Here to Win" is an accounting of his career including his greatest accomplishments and his lowest lows.
The book gets very personal including passages about his mother and his best friend from Australia Sean Maroney, his early training mate.
It's an interesting journey he takes you on as he describes his accomplishments and his frustrations. He goes on to describe some of his training secrets and actually puts his training plan in the book – one I challenge ANYONE to duplicate.
There's a lot in this book that a seasoned triathlete knows but it's always good to have reinforcement. For example, he talks about really understanding your strengths and weaknesses, and being honest with yourself. We've all got them and he states the obvious solution: concentrate on your weaknesses and make them your strengths.
It's funny, but when I saw Chris at the Pacific Coast Triathlon in 2010 I just sensed that he was going to win Kona again. I think he and I were the only two on the planet that picked him to win, and he did.
I enjoyed the book immensely and recommend it to anyone interested in triathlon. It might be of interest to those outside of the sport, but I wouldn't waste my money if they weren't.
Cheers!