Ron Saetermoe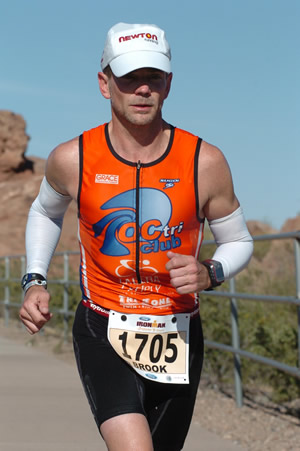 I received a text message from Larry Davidson at 4:23 this morning (Monday the 19th). The message said that Brook Boynton, a gifted triathlete in our age group, was killed in a car crash.
That kind of news is like a punch to the stomach. You simply can't believe it's true. In this case, it is true.
Brook was a member of the Orange County Triathlon Club and an amazing runner. We saw him frequently at the local races and watched his progress in the sport. Every time I saw him running in a triathlon I thought that he must be part of a relay because no one has legs that fresh after a long swim and bike ride.
Brook was killed on Friday, October 16th while driving south on the 73 toll-road. A drunk driver traveling in excess of 100 miles per hour hit his SUV from behind and caused it to roll and eject Brook. He was pronounced dead at the scene.
We dodge death every day. We know the stories. Three runners died last weekend at the Detroit Marathon. A runner died a couple years ago at the OC Marathon. Every year at least one swimmer dies during a triathlon. And of course we all know someone that was struck down in the prime of his or her life of cancer or some other infliction.
We try to remind ourselves to savor each day because it truly can be our last. Brook's last day was last Friday. I hope he savored it. We'll miss you Brook.
Cheers!