Race: Buffalo Springs-Ironman 70.3 (aka Half Ironman) Lubbock Texas – June 26, 2011
Athlete: Larry Davidson
I had given myself two shots at qualifying for the 2011 Hawaii Ironman earlier this year. In both cases I came up short. On the strong push of my friend Gary C., I got into the Buffalo Springs Long Course Triathlon (BSLT). I knew virtually nothing about this race; the course, the weather, or the area in general. The only thing I knew, it is one of only 5 Half Iron distance events in the world that have slots for the Hawaii Ironman. This would be my last attempt to get to Hawaii for this year, as I have many other commitments to attend to, and after already doing one half ironman, and a full ironman this year, I felt no need to burn myself out.
The good news is that this race has Kona slots. The bad news is that there is only one slot per age group. That meant I had to go for the win, which was a tall order. Many other top athletes converge on this race with the same aspirations. The overall field for this race is relatively small, but the competition is exceptionally fierce. After a somewhat disappointing Ironman race in St. George in early May, I wanted redemption. I craved redemption. I needed redemption. And, I really wanted to make it to Hawaii in October. My sweet wife Kim had already booked us a condo for the Ironman during Kona race week, and I didn't want that to go to waste!
Thursday
Flew to Lubbock Texas. Got off the plane. Walked outside. The stifling 105 degree furnace I was met with was a complete shock to my wimpy Southern Cal adjusted body. Immediately cursed Gary for telling me to race here. Checked in to a pretty cheesy Holiday Inn. Had dinner at a pretty decent Italian joint by myself, and could not resist the ice cold Stiner Bock on tap. It was one of the best beers I have ever had. Went back to the airport to pick up my friend Art (a young gun), who was also racing and doing the race with me. Got him at 10:30pm, still 95 degrees outside. Went to bed and sweated.
Friday
Slept in late. Did not want to go outside. Had an enormous breakfast. Watched Art eat twice what I ate. He is a machine. He is a strict Paleo-athlete diet guy, and he eats all day long, and even gets up at night to eat several times. Art drove me out to "preview" the swim/bike/run course. After this preview, it seemed like a fair course with 7 climbs on the bike, and 3 formidable climbs on the run. My assessment was that this would be a very fast race. After this, we drove to the lake and did a swim. Even with the oppressive heat, the lake is spring fed, and the water hovers between 74 and 76 degrees year round. If it is over 76 degrees, then competitors vying for a Hawaii slot are NOT allowed to wear a wetsuit. I like being able to use a wetsuit, as I swim much faster when wearing one. After our swim, we had no need for towels. The blistering 107 degrees it got to on Friday took care of that.
Saturday
Slept in late again. Art kept getting up and eating, and saying how hungry he was. I kept eating too because I was bored. The air conditioning unit in the room could not keep up with the heat. It ran at 100% the entire time we were there, and I had to sleep with no covers at all. Art and I went out for a 40 minute bike and a 15 minute run at noon, and it was an absolute cooker. There were high heat warnings out, and I kept thinking, Gary is really a bad guy for sending me this Hell Hole out in the middle of nowhere. It is nasty hot, desolate, windy, and just about the worst place I have ever paid money to fly to and stay at! We did all of our registration crap, and prepped our bikes, equipment, and other race gear for what was going to be a Hellish…Hot…Windy day in beautiful Lubbock. The weatherman said it would get to 110 degrees on Sunday, so we were in for what was to be a very tough day from a weather perspective.
Art had a very restless night of sleep, and he was up every hour or so getting more food. It didn't help that the hotel fire alarm was going off most of the night, but I think everyone was too hot to do anything about it. The air conditioner was not even coming close to cooling the room, and then it decided to make some horrible noises that sounded like a bad car engine ready to die.
Sunday/Race Day
Alarm went off at 4am. Pounded a banana and a protein shake. Headed to Buffalo Springs Lake at 4:45. My wave was set to go at 6:30am. We got our bikes, swim, running junk all organized in transition; a few porta-potty visits, and then off to the lake to warm up. The temperature was already 75 degrees, and they said it was going to 109 degrees as the day wore on.
I got my wetsuit on, and into the lake at 6:10am. It was still dark, and I conked heads with some guy, and got a knot on my forehead. It was a beach start where you run into the water, get to "dolphin" dive your way out to the first buoy with hundreds of others. The first turn buoy of any triathlon is really an adventure; and usually not a pleasant one.
The professional triathletes went off at 6:25am, and my wave at 6:31. Gary said I should swim hard, and to really push the pace, so I had that in my head. I also had in my head that my last triathlon swim was a disaster, where I was hyper-ventilating and thought I would not make it. I was also a little nervous to be in a full wetsuit in relatively warm water.
Swim 1.2 miles:
Off we went. I lined up wide left to try and avoid the usual traffic jam, and full on body contact assault that can happen if you line up straight on to the first buoy. Great choice! I had clean water all the way out to the first turn. This was fantastic, and I was warm, but not burning up. I had a few moments of contact with a couple other swimmers, but this was by far the cleanest swim I have ever experienced. I ended up with a personal best swim, and came out of the water 6th in my age group. At the time, I had no idea how I did on the swim, but when I got to my bike, the guy (Mike), who I felt was my major competition for this race was already gone. Swim time: 30'49″.
Bike 56 miles:
I had sized this course up as NOT overly difficult. I was flat out wrong. The bike begins with a nasty climb out of transition, and it does not let up for several miles. High heart rate, burning thighs, and still a long day in front of me. The wind was already blowing hard, and the heat seemed to be increasing, but it was not terrible. I got into rhythm, and was really pushing pretty hard early in the race. I questioned myself if I was going too hard, too soon in the race. My early assessment of the race was from an air conditioned SUV, and did not factor in the rising heat, and the building wind. If you have never been to West Texas, it is a barren wasteland of oil fields, and wide open, treeless, shade less big country. The climbs that seemed so benign in the car were more difficult than I had thought. The wind which was already blowing when we woke up that morning was really going strong. As I pedaled along, into a relentless headwind, I was a bit discouraged and wondered why I was doing this race in the first place. At mile 30, Art came by me, and tried to get me to go with him. He is just too strong for me, and after a couple of miles, he pulled away from me. At this point of the ride, I was asking myself, do I really want to go to Kona that bad? Is it worth this kind of suffering? I fully admit, this was the farthest thing from fun, and I wish I was back at the Italian joint having a Stiner Bock.
I forged ahead, sometimes a tailwind, but the damn headwinds were really obnoxious. At mile 50, a referee on a motorcycle pulls up next to me, and I received a penalty for "blocking". I had passed someone, and did not move to my right, so I was forced to go to the next "penalty tent" and register, and tell them I got a "yellow card" for blocking. I kept thinking that "uber biker" Mike was going to get so damn far ahead of me, I would have no chance. I was very demoralized at this point. It cost me 1 to 2 minutes to get off my bike at the tent and go through this process, but I just complied and got into T2 shortly thereafter. It turns out I had the 3rd best bike split in my age group, and unbeknown to me, I had moved up to 3rd pace.
Bike time: 2h47'14″.
Run 13.1 miles:
I had "spent" myself on the bike. I was cramping and I was NOT looking forward to running a half marathon. I zoomed through T2, deciding that running sock less would save me precious seconds. My legs felt like they weighed 100 lbs. a piece and I knew I better get a move on if I was to have any kind of chance. The mercury was climbing, and fortunately, they have aid stations every mile to douse yourself with water, ice, and replenish your depleted body with hydration and electrolytes. There are 3 "bad boy" hills to navigate, or should I say "survive" on this course. I am a self-proclaimed "great" hill runner, so this should be good. My quads were really screaming and my hamstrings not much better. I kept running, and I was passing people, and some "young guns" were passing me. I struggled to run the first hill, and that was a really bad sign. I felt some twinges in my calves and hammies, and that is a precursor to full on cramp city! I kept moving, and thought why am I out here? I cursed Gary a couple of more times, and then thought, the quicker I run, the sooner this misery will be over. I plowed ahead and at mile 6, I saw Mike who was already at mile 7… he was a full mile ahead of me. He was running like Frankenstein's Monster, but even so, it would be tough to make up the mile that he was ahead of me by. After seeing him, I started to push about as hard as I possibly could, but was struck with cramps, and had to stop several times on the run to stretch them, and get them to cooperate.
At mile 10, I saw Mike, and said to myself, "HOLY SHIT, I can catch this guy." I can win this thing! I blew by Mike like he was standing still. After a few minutes, I looked back, and he was long gone. I thought to myself, wow, I am going to win this thing. That turned out to be an erroneous assumption! I eased up a bit, as I was on the edge of cramping again, as my dehydrated body was "spent". I kept running, and was damn glad to get to the finish line. As it turned out, I was the fastest runner in my age group, and after crossing the finish line, I was taken right to the med tent for an IV.
Run time: 1h46'16″.
After a nice soak in the lake, I was curious about how I had finished, but not in a big hurry, as it is what it is. The IV was "money". And this race had beer on ice for the finishers. After a nice cold brew, I chatted up some guys and told them I may have won my age group, but I was not certain. I was quickly informed that a guy named Scott Hammond had finished just a minute ahead of me. I couldn't believe it. They went on to say that Scott had "already" qualified for Kona earlier in the year, and that I would get the Kona slot! He beat me by 1′ 10″. The bike penalty would have likely neutralized that margin. I am relieved that was not a factor.
I instantly thought how brilliant my friend Gary was for recommending this race to me!
I wanted verification of all this, but thought they must be right. Turns out they were.

World Championship Bound: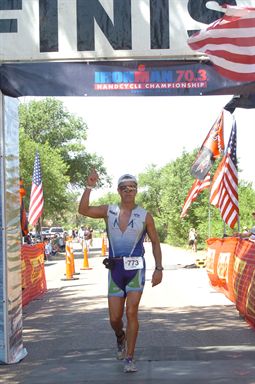 It will be a busy fall. I am in two championship events now. The 70.3 AND Hawaii Ironman Worlds. I couldn't be happier.
It was sweet to go the awards ceremony, chat with Dave Scott (6 time Ironman champ), and pay for my Hawaii slot. Art was very happy for me, as he is a Kona veteran too.
My training posse are such cool dudes; they were peppering me with congratulations, via email, text, email, and phone calls. We are a band of brothers who really care about each other. My pal Scott deserves a special call out, as he and I train together a lot, and he is always helping me out, and giving me great advice.
I flew into John Wayne Airport on Monday night, Kim picked me up, shuttled me home, and I was welcomed with a congratulatory banner on the garage door (made by my son Tony), and a group of my good friends. The root beer floats Kim made were fantastic.
My faithful, and biggest fan Kim Marie; wife of 30+ years is my biggest support mechanism. She was tracking me all day, and I know she was on "pins and needles". Quietly she does it all behind the scenes. Couldn't do it without it Kimmie.
Aloha