After 20 plus years of aspiring to do an Ironman event, November 20, 2011 was my day. After first becoming involved with the sport of triathlon in 1989 and traveling to Kona to spectate with my wife Corinne and 1 year old daughter Michelle in 1990 I have aspired to complete the "Big Daddy" of all triathlons. While participating at Ironman Kona these days takes both amazing performance and luck at a qualifying event or possibly the luck of getting in via the lottery, Ironman triathlon events now exist all over the planet enabling us average age group triathletes the opportunity to participate.
Last November, I entered the Arizona Ironman event as I realized that I continued to wait for the "right time" to enter an Ironman and that maybe that time was NOW. Considering that timing is rarely if ever perfect for something like this and the fact that I am not getting any younger-it was time to go for it.
That decision combined with a year to prepare and some fairly consistent training and participation in running, cycling and triathlons over the years gave me my launching pad to make this happen. That said none of this would be possible without the tremendous support and encouragement from my family and friends.
After being blessed through the year with minimal training interruptions due to illness, I did encounter some challenges along the way in the form of a nagging and lingering hamstring injury, the passing of my father after a long battle with Alzheimer's, moving from our home the week before IMAZ and an overall difficult business environment.
It would have been easy in some ways to throw in the towel after we found our house had sold and we had to be out by November 11th, but I was absolutely determined to make the starting line at IMAZ after all of the time and energy that had gone into preparing for the event. I am grateful that the timing was such that it happened during my taper phase of training! So we moved and literally a week later on Thursday, I was on the road heading to Arizona with my long time friend and triathlon mentor/coach Ron Saetermoe. Ron's experience (and example) in triathlon and Ironman events in particular helped me tremendously in preparing for this event. I was very glad to have him along to make the experience as smooth as possible and for the great camaraderie!
The weather forecast was favorable for the weekend and Friday was perfect for a preview of the bike and run course. We drove a lap of the bike course then rode a portion of it followed by a short run along Tempe Town Lake. If race weather was like this-it would be awesome! The balance of Friday was taken up by figuring out the food plan, athlete registration and the almost mandatory Ironman souvenir shopping and expo visit. Friday evening we met up with fellow JSerra High School dad and first time Ironman participant, Alan Mariconda and attended the carbo load dinner and pre-race meeting hosted by Mike Reilly. While the food is average, the experience is part of doing an Ironman. It was amazing to see how many first-time Ironman participants were entered in the event when Mike Reilly asked those to stand. I was so glad to be in such good company!
Saturday turned out to be another nice morning and we started off the day with a huge breakfast feast at the hotel followed by a swim in COLD Tempe Town Lake. I was glad to have the opportunity to sample the water before race morning. While it was cold and I knew it would be, it seems that taking the surprise out of it really helps.
Ironman events are logistical challenges as well and on Saturday (or the day before the event) you need to place your bike and gear bags in the transition area. If you haven't done an Ironman before, the transition area is slightly different from most triathlons as you don't set up all of your gear at your bike. After the swim, you have to retrieve your "Bike Gear" from the sea of other bags in the transition area and head to the changing tent. After the bike you then grab your "Run Gear" bag and do the same. It is organized chaos at best. Determining what I was going to need on race day was made somewhat easier by a checklist and other triathlon experience but there is always this feeling that I am forgetting something or I did not pack enough. Must be the survivor mentality…
My daughter Michelle and son Michael arrived after driving in from Orange County and we went to Bucca Di Beppo for a nice Italian dinner. My aim was to get to bed by 8:30 and after mixing up my nutrition-in-a-bottle" and finishing my pre-race preparations, I got to bed about 9. It doesn't matter because as good as I slept on Friday night, I could not get to sleep soundly on Saturday night. No matter, I woke before the alarm at about 3:30 and proceeded to get ready. I felt calm and ready to get to it.
We arrived to the transition area about 5am and proceeded to get body marked, put the final items in my bike and run bags, drop off my "Special Needs" bags for the bike and run and load up my bike with nutrition and inflated the tires. I put on my wetsuit and handed my backpack to my "Iron Sherpa" Ron and headed towards the swim course. I felt calm and ready and was enjoying the pre-race activity with the other participants. I felt comfortable with the decision to use neoprene booties and swim cap after yesterday's pre-race swim. I had them with me and figured, "why wouldn't I wear them"?
The long line of athlete's getting into the water went slowly and now they were hurrying us to get in the water. No "slow in getting used to it" this morning-time to go! I had decided to start way to the left at the swim start to avoid the melee as this is a mass start. That plan changed as I realized I was too far back and it was not that crowded. I started swimming towards the start when I heard an air-horn blast. I mistook this for the official start and hit the start button on my Polar watch. After what seemed like a minute or so, a loud cannon blast was sounded and I realized that NOW the race was underway. Good thing I had started swimming a minute or so earlier. It wasn't too crowded and I was able to get into a fairly decent rhythm from the beginning. The sun was now rising above the water, making visibility a bit difficult. As I approached the half way point, I was now encountering lots of other athletes and having to pay more attention to not being hit or hitting someone. I did nail a couple of others as we swam into each other but after a quick check and apologies, we motored on. At the turn around there was a loud yell. Everyone stopped and was looking around; a very strange and disconcerting situation. After a life guard on a paddle board headed for one of the swimmers everything seemed OK and we all started at it again. I felt as if I was going a bit too easily at this point and started to focus and push a bit harder. The swim finish was gradually getting closer. About 700 meters from the finish I experienced intense cramping in both calf muscles that caused me to curl up in pain. I relaxed and talked myself through the pain until it subsided. It seemed like only about a minute and I was OK, swimming towards the exit. I was glad for the swim to be over but it did not seem too far; just cold and I did not want to experience any more cramping! After exiting the water, two volunteers helped me out of my wetsuit and I ran towards the bike bag area with hundreds of my closest friends.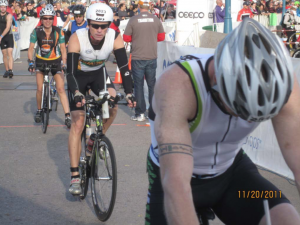 I entered the changing tent and immediately noted how crowded it was. The only silver lining was that it was warm! I clumsily changed from swimmer to cyclist once I found a clear spot to change and after what seemed like probably too long, exited the tent and headed for my bike. I inhaled a Hammer gel and put on my cycling shoes as a volunteer handed me my bike. I ran to the mounting area and proceeded to get started on the next 112 miles. As I started to ride, I noticed that I was freezing cold and my teeth were chattering. I tried to go with the flow and get aero and forget about how cold I was. About that time, Michelle and Michael spotted me and yelled out to me. For some reason, I wanted to turn and go over to them and realized it was not a good idea. That started me into a wobble on the bike that could have been really ugly. Fortunately, I recovered and motored on. Later they told me they felt bad for distracting me and they caught the whole thing on video! Nice! Not my most stellar moment of the race; two bullets dodged so far…
I was glad the sun was out even though it was a bit cold and after about mile 10, I started to warm up and dry out. At that point I started to revel in the moment as I realized what I was doing and appreciated being out there again. I began to focus on getting into my heart rate zone and stay aero, take fluids and nutrition. As I started up the grade towards the bike turn around I noticed a pretty good head wind. After making the turn around and heading back, the head wind became a tail wind and I was now making some good solid progress with bike speeds in the 27-28 mph range. On lap two, the winds had shifted and now the wind was at my back on the way up the grade to the turn around and in my face going back. Kind of a bummer as I didn't get the benefit of the wind like I would have hoped. No matter. It was the same for all of us. I stopped to pick up my special needs bag and munch down my peanut butter and honey sandwich as I waited for my turn at the porta-potty. Yummy…
Just prior to the bike turn around, I caught up with Alan Mariconda and chatted with him for a bit. That seemed to get him moving faster as he went back by me as I entered the special needs area. Later, Alan shared with me that he crashed twice on the bike after that as he tried to avoid obstacles on the course.
I welcomed lap 3 on the bike with a nagging pain in my right knee and stomach cramping. I remembered the advice given to me by my doctor and fellow Triathlete, Dr. Sam Sunshine to pack some Pepto-Bismol tablets. That started to help as I headed back on the final leg of the bike. Fortunately, the wind had subsided a bit by lap three as well which was very welcome. Entering the final few miles on the bike course is very energizing as you see the people lining the course in increasing numbers as you near the transition area. I arrived at the dismount line and was thankful to hand off my bike to a volunteer! I felt a tiny bit like a pro for a fleeting moment as I have been a bike catcher at Kona before and now it was my turn for someone to take my bike at an Ironman event!
I quickly headed to the run bag area and into the changing tent one more time. I found a chair to sit in and dumped the contents of the run bag onto the ground. I changed my bike shorts for tri-shorts and rubbed Glide onto my toes and feet before putting on a fresh pair of socks and my running shoes. I stuffed my bike gear into the bag, handed it to a volunteer and blasted out of the tent (kind of), improving on the swim to bike transition earlier in the day by several minutes. As I headed out on the run course a volunteer rubbed sunscreen on both arms and shoulders – I thought it might be a waste as I would probably make only a lap and a half before the sun would start to set…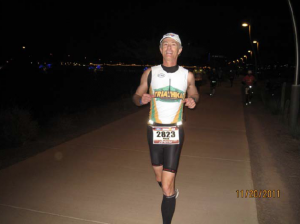 As I proceeded to run I discovered the remaining effects of the muscle cramps I experienced during the swim; my calf muscles were extremely tight and it was painful to run! I took it easy and ran as smoothly as possible to minimize the pain. About ½ mile into the run, Michelle, Michael and Ron were there cheering me on and running alongside of me taking pictures and video. You guys don't know how good it was to see you all out there! It motivated me and kept me thinking that I could get through this! I kept running and felt half way decent the entire first lap and only walked minimally. The aid stations also helped keep me going both because they were an interesting distraction and because they had "stuff" that I wanted like salty potato chips, cola and ice cold sponges!
About half way through the second lap, I decided to stop at my special needs bag and change shoes and eat some of the power bagel I had stashed. As I began to run, I realized that the older shoes that I had just changed to were noticeably hard in landing. I decided to run the lap and change back to my previous pair of shoes when I came by again. The second lap was noticeably tougher and I walked more than on my first lap. I kept telling myself to run to the next aid station-then I could walk for a bit; that combined with the salty potato chips and cola kept me going.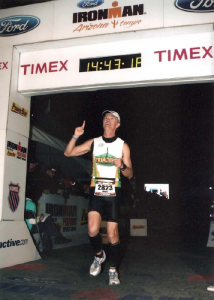 As I entered my third lap, I was feeling confident about finishing and enjoying the buildup to the finish. I tried to keep things light whenever possible throughout the day and enjoyed the surroundings and all of the people, participants, volunteers and spectators. As you have often heard, the volunteers are amazing as they stand out there all day for us! I truly appreciate their support! On my third and final lap, I noticed that I was now encountering more participants who were on their second lap and somehow that made my effort a bit easier knowing that I was headed to the finish! The last lap seemed to go by quickly however I know it was my slowest run lap of the day. I was finally approaching the entrance to the final quarter mile and finish line frenzy. Ron was there to greet me and told me that Michelle and Michael were up ahead on the right. I was so energized! I saw my kids and the huge crowd yelling support-what an amazing experience. I crossed the finish line and gave a prayer of thanks for being given the strength to complete my first Ironman. I was assisted by a gracious volunteer who made sure I was alright and awarded me with a finisher's medal, hat and shirt before he went back to catch another finisher. I headed over to the fence where Michelle and Michael were and we had a big high five and hug-I was so glad they were there! I have never seen my kids so outright happy for me-it was truly a blessing! We then called my wife Corinne on the cell phone to let her know it was official; "I was an Ironman!"
My times:
Swim: 1:27:11 Bike: 6:44:53 Run: 6:04:42 Total: 14:43:17 Overall: 1976 Age Group: 131
While about an hour slower than I hoped for, I now have a base line to improve upon next time!
I want to thank all of the people that supported me in this quest-especially my wife who knew that it was an important goal for me. She was there all year and made the tough call to stay home, save the money for having to board three dogs and take care of getting us settled into our new home while we went to Arizona.
My daughter Michelle and son Michael who always supported & encouraged me and made the drive to Arizona to be there and be part of the experience. Wow!
For Ron Saetermoe who not only gave up his weekend but numerous times during the year met me for long rides, runs and weight training sessions. I often told him that there weren't many people I knew who would be willing to head out for 6-7 hour bike rides and a run afterwards! In addition, his coaching and experience made things much easier and gave me confidence in what I was doing.
To the many others who have helped and encouraged me, including in no particular order;
Dr. Sam Sunshine for the great health care, Prolotherapy treatments and Ironman advice!
Dr. Scott Neubauer for his consultation and great therapy in diagnosing and treating my injury
Gabor the Muscle Doctor for the amazing massage therapy
Larry Davidson, Gary Clendenin and Dori Lewis for your advice, company on training rides, encouragement and great examples of commitment to your triathlon and cycling goals.