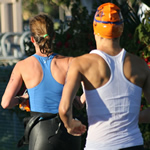 Have you ever thought about WHY you race triathlons? That question
really perplexes people until they've actually done one, then the
answers start to fly. And those that have "braved" the Iron-distance
triathlons have an additional set of reasons.
Here are some we've heard:
The training helps keep me in shape.
I feel better about myself.
I like working out for a purpose rather than just stay in shape.
It's fun!
I like trying to better my time from the last race.
I look forward to the race.
To feed my competitive spirit.
I don't necessarily like to race but it feels good when I stop!
The races help push me to new limits.
The race itself is a test of my fitness.
I race to be at my best.
It's something most people don't do.
Because I like people to think I'm crazy!
I race because I can't stop!
I enjoy the fellowship.
Post Your reason below . . .
The Triathica Academy is giving away a FREE set of running AND cycling
audio workouts for the most creative reason from YOU!