Triathica is excited to announce its first advertisement has been published in the June issue of Competitor Magazine. You can find the ad on page 17 of the publication.
This ad is the first of a series of four that will help show the meaning behind the Triathica brand and what the triathlon training center is all about. It features a background photo of a stunning tropical landscape with the text, "A mystical place awaits those with a desire to challenge themselves… a place undiscovered… a place called Triathica…"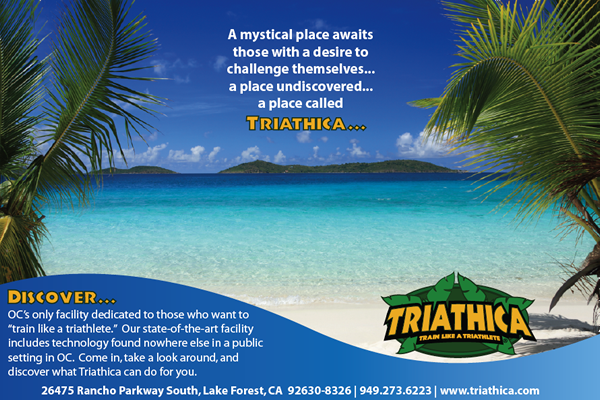 It may seem odd to associate a triathlon-training center with a remote tropical island, but this has been the vision of Triathica president, Ron Saetermoe, from the very beginning. Ron envisioned a destination, free from distractions, where athletes could gather to dedicate themselves to their training and increase their physical capabilities. What better place to train without distractions than a remote island? Perfect weather, perfect scenery, and free from the worries of everyday life that hamper your training and keep you from reaching your goals. These are the images we want to convey with the Triathica name and brand.
Triathica is a physical manifestation of this idea, except our tropical island is actually an office building in a business park in Lake Forest, CA. We may not have an ocean or palm trees, but when you come to Triathica you can focus on one thing and one thing alone, training and getting better at triathlon and multisport.
Stay tuned for our next ad in the July issue of Competitor. It will introduce two individuals and tell the story of how they discovered how Triathica could transform them into better triathletes.