Ron Saetermoe
Have you ever heard the expression "There are two kinds of cyclists: those that have crashed and those that will crash"?  Not a happy thought, but probably true.
And just like bike crashes, injuries are bound to happen – especially as you age.  I'm 53 now and have had a number of athletic oriented injuries, including:
Rotator cuff surgery (left side)
Rotator cuff injury (right side)
Broken ribs (bike crash)
Achilles micro-tears (see below for the solution to this one)
Stitches in my right leg (got cut off by a car)
Hernia surgery
Shin splints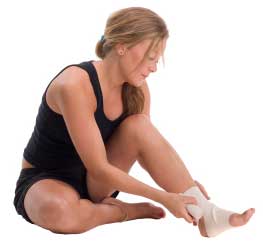 Of course, in addition to these injuries I've also experienced the usual aches and pains of training and competition.  The key is how you deal with these injuries.  Deal with them correctly and you'll be back in the game as soon as possible.  Deal with them incorrectly and you may be out of the game permanently.
Being competitive, we all become anxious when we're injured.  We want to get back out there and train with the same intensity that we did prior to the injury.  We all know it's a mistake but we make it nonetheless.
Here's what I've learned over the years.  Talk to everyone.  You'll ultimately find someone that has probably had the same injury as you and they can give you ideas on how to deal with it.  For example, a couple years ago I was suffering from severe pain in my left shoulder.  The problem was just from years of swimming with poor form (the old YMCA method of swimming).  The pain became so severe at times that I literally couldn't sleep.
I found a great orthopedic surgeon that pumped my shoulder full of cortisone a few times (miracle drug) and for a few months the pain would subside.  I did eventually have the surgery and have been swimming pain-free ever since (albeit with less mobility).
After the surgery (after race season of course) I gave the shoulder the necessary rest by concentrating more on my cycling (which I needed) and now I'm totally recovered.
Perhaps the king of recovery is my good friend Russ Jones.  Russ was an Olympic hopeful back in 1984 and probably would have gone on to represent the U.S. in the marathon.  His PR (personal record) was 2:17.  Not bad for a guy that's never even visited Kenya.
Anyway, Russ was hit by a car and had his first, of many, knee surgeries.  Since then he's had numerous surgeries on both knees and most recently on his foot (he has a tendon from a cadaver – "dead man walking").  The point is that Russ is excellent at limiting, or changing-up his workouts when coming back from an injury.  One of his favorites is "pool running."  Essentially you run in chest-deep water so there isn't much impact.
Russ will be one of our Orange County representatives at the Sprint World Championships next month and is nursing a back injury now.  He knows that if he continues his therapy and limits his training he will be ready for Australia.  He also knows that if he pushes it too hard he will probably take longer to recover.  Russ is currently under the care of Julia Juliusson (PT) and Dr. Sam Sunshine (sports physician) and is recovering well.
From a personal standpoint, I've been dealing with a chronic Achilles problem for over 10 years.  I've seen a number of doctors and physical therapists and nothing helped . . . until I saw the miracle worker . . . Dr. Sam Sunshine.  Sam had an idea that since the Achilles doesn't get much circulation that if we increased it perhaps the micro tears would heal faster.  He prescribed a ¼ nitro glycerin patch daily (up to 12 hours) until the pain subsided.
I was a bit concerned about using nitro (keep away from flames) but within two weeks the pain was gone!  That's right, gone!  After dealing with numerous doctors, PTs, and hours of therapy and stretching, the pain was gone.  If you've ever experienced something like this you know how life changing it can be.
Everyone gets injured but dealing with it properly can get you back on the road faster.
To sum up:
Talk to everyone about your injury.
Get help from someone that knows.
Change up your training.
Don't start back too soon.

Cheers!