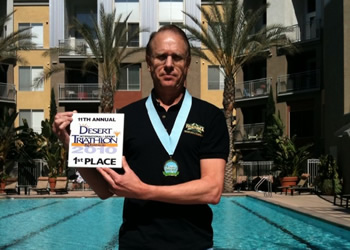 We knew the rain was coming but we were hoping that the mountains that surround Lake Cahuilla would push the clouds away. They didn't. In fact, the rain started just as we made our way to the starting line.
The Desert Triathlon on Sunday, March 7th would be my first International distance race of the season. I've been training for Ironman Arizona (and maybe Ironman St. George) so I've been doing longer distance runs and rides but I'm a big believer in racing to get ready to race.
The Desert Triathlon would be a "C" race for me — in other words, not very important for me. Naturally, you want to do well any time you race but you have to have your priorities. This race would just be a test of my fitness and a sharpener for my upcoming "B" race, the California Ironman 70.3.
The old dudes, 40+ would start last at 8:45 a.m. I hate starting last because that just means I have to pass more people on the swim (I'm a good swimmer – not bragging, just sayin').
The water was quite cold. Don't know exactly what the temp was but I'm guessing low 60s. I'm not a big fan of cold as evidenced by my IM Arizona performance last November (no puking this time).
The gun went off and I was having a tough time catching my breath so I slowed down a little. After a couple hundred yards I got into a comfortable groove and settled in. Problem is I was alone. The really fast guys were too far out in front and I didn't want to go any slower so I was on my own.
I passed a number of the slower swimmers from the earlier waves and felt good after rounding the first buoy. The cold water didn't seem to bother me and the second half of the swim was faster than the first.
When I exited the water I realized how cold I actually was because I couldn't move my thumbs. The rain and wind picked up. This was going to be fun!
The bike portion of the race went fine. I felt like I was working hard but felt good. The rain picked up and the roads were drenched so I'm not sure how much slower that made me. The bike portion for the International distance is two loops for a total of 24 miles so we were on our bikes a while.
I only saw one guy in my age group pass me and I passed one guy in my age group on the bike but I had no idea how many were ahead of me.
Getting into T-2 I was obviously even colder than before because I couldn't get my helmet unbuckled. Weird how much we depend on our thumbs! Then, I couldn't get my shoes tightened so that took a while. No transition PRs today!
While I was quite cold the run felt great. I missed my buddy Larry, Lar-Dog Davidson because he'd beaten me every year here but by a lesser margin each time. Today I would have given him a run for his money (probably still would have lost though).
I got into a groove as my heart rate hovered around 160 (comfortable for me). I passed a ton of people including a 50 year-old guy. I saw Russ Jones after the first lap (he had just won his age group in the sprint race) and he told me he thought I was in first place. That just made me go faster.
While unbelievably cold, it was a great day. I took first place in my age group and managed to turn in the EXACT same time as last year. My swim was slower, my T-1 was slower, my bike was slower, my T-2 was slower but my run was significantly faster.
What a great way to start the season!
Here are some of my friend's results:
Sprint Distance
Carlos Espinoza 1:06:21 (1st place M35-39)
Russ Jones 1:06:30 (1st place M55-59)
Rich Pfeiffer 1:09:59 (2nd place M55-59)
K.C. Heidler 1:13:11 (4th place M40-44)
Steven Owen 1:14:46 (3rd place M55-59)
Andy Bailey 2:15:44 (5th place M70-74)
International Distance
Chris Davis 2:01:45 (3rd place M35-39)
Scott Calendar 2:02:36 (1st place M45-49)
Ron Saetermoe 2:08:07 (1st place M50-54)
Sam Sunshine 2:13:06 (10th place M45-49)
Sherry Rennard 2:18:10 (3rd place F45-49)
Jeremy Rock 2:21:25 (18th place M45-49)
Mark Chavira 2:24:02 (24th place M40-44)
Pete Rennard 2:24:57 (3rd place M55-59)
Kevin Cowell 2:58:30 (3rd place M15-19 – walked the run course)
Janet Richard 3:08:59 (22nd place F40-44)
Ron Saetermoe