Go out too hard and you blow up. Go out too slow and you're one of those people smiling at the finish line (hate that).
My goal for EVERY race is to go as hard as I can and literally have nothing left at the end of the race. Now, that doesn't mean your goals have to be the same as mine; that's just what I do.
Of course, the trick is finding out exactly how hard you can go. This takes a bit of calculation, experience and guess-work. Naturally, the shorter the race, the harder you can go.
So here's what I do . . .
Sprint Distance
There are many variations on the sprint distance unlike the Olympic, 70.3 and Ironman distances, which are always the same. Therefore, you may have to make a few modifications for certain races. For example, the Redondo Beach triathlon has a disproportionately long swim compared to most other sprints (good for the strong swimmer).
For the sprint distance I know I'm going to have to go about 95% of my maximum effort for the entire race. Of course, that's a subjective figure, but it gives you a place to start. It also doesn't give you a lot of room for error.
My swim pace is going to be at about what I can do 200 yard/meter repeats at. In other words, it's going to be a very fast pace.
Now, unlike a lot of other people I 'm not of the school that says you can lose your race in the swim leg of the race. I'm totally opposite in that I think that far too many people go too slowly in the swim. After all, your exertion is based on your heart rate, and since your body is supported by water, your heart rate won't run as high given the same effort as in cycling and running.
The cycling leg is another leg of the race where too many people go easy. The thought is that "I'm going to save it for the run." The problem with this theory is that if you go too easy on the bike you'll lose too much ground and never be able to make it up on the run . . . no matter how fast you go.
Therefore, the cycling leg should be about the pace you can go for a 10-mile time trial – at about 95% of my maximum effort. It's helpful if you have a watt meter but if not you can use your heart rate as a barometer.
The run is where you need to let it all hang out. If you've done well in pacing up to this point you'll still have some good legs, albeit certainly not fresh.
Your run goal is to go at your 5K pace although you definitely won't be able to hold that pace. More than likely you'll only be able to go at about your 10K pace. That's a fine effort after the swim and bike. Basically, you're at the "let it rip" speed.
Try to start the run at a good pace and build as you go along. Ideally, your last mile should be your fastest.
Olympic Distance
This is a great racing distance because you have to go hard but still have some patience because you can definitely blow up if you go too hard.
A week ago I did the final Olympic distance race in the series out at Bonelli Park in San Dimas, California. The Bonelli races are a great series all on a nice lake on a bike and run course with some hills. I highly recommend them!
This race was basically a "catered training day" for me, which simply means the race wasn't important . . . like a "C" race. And even though the race wasn't important for me it didn't mean I was going to go easy.
I had completed the Ironman Hawaii 70.3 just one week before and still was recovering from my effort there so my goal was just to "think quick."
My goal for the swim was to start hard and then ease into a manageable pace. I start out hard so I can get in front of most of the other racers. However, keep in mind that I'm a "good" swimmer. Slower swimmers should not use this strategy because you'll find yourself getting run over by faster swimmers that didn't lay it all out there in the first 200 yards.
In practice I swim hard for 100 right-hand strokes and then back off the pace. So that's exactly what I did in this race. I literally counted my strokes on my right side and went hard for 100. Then, I backed off and settled into a comfortable pace.
Your pace here might be around your best 500 pace. Notice that my race paces are faster than my pace for the distance I'm swimming? That's because it's a "race" not "practice." Therefore I'm going to go a bit harder and count on the fact that I've got the speed in me.
My cycling pace is going to be brisk. I don't want to ever be riding "comfortably." 40K is about 25 miles and should be a distance you can hold a strong pace at. Naturally, it won't be as fast as your 25-mile time-trial pace would be, but it's fast – like 90% of your maximum effort.
If you've gone hard this far it's going to take a little time to get your running legs. Don't worry, they'll be there. Like the sprint distance race, start out a little slower than your pace you hope to end up with – like your marathon pace. Then, after about a mile, pick up the pace and watch your breathing. You'll be amazed that you can hold such a high heart rate for so long. Your pace will untimely be about your ½ marathon pace.

70.3 Distance
This is my favorite race distance because I think I've got this one dialed in.
The swim in the 70.3 isn't all that much longer than the swim in the Olympic distance race. The Olympic is about .9 miles and 70.3 is 1.2 miles. Therefore, I employ the exact same swim strategy for both.
The cycling strategy is quite different, however, because I'm going farther than twice the distance. This is where I really rely on my wattage and heart rate. Again, if you don't have a watt meter you'll have to rely on your heart rate. No worries.
Your practice and previous racing experience will really help here. Unlike the sprint and Olympic distance races your nutritional strategy will be critical. Do what's worked for you in practice.
The bike portion should hurt in the 70.3 – in other words, this is not a casual pace. I really rely on my heart rate to tell me what pace I can sustain. Therefore, you should be monitoring your heart rate closely in your practice. You will be anaerobic all day.
I'm going at about 85% of my maximum effort.
You have to be careful with the run not to settle into too slow of a pace. You're tired so you won't feel like going fast but if you settle into too slow of a pace you may find it more difficult to speed up later.
Your goal here should be to run at about your stand-alone marathon pace. However, you may want to "test" a slightly faster pace to see if you can settle into it.
Ironman Distance
This is the tough one. No matter who you are, this is going to be a very long day. The trick is to avoid going anaerobic during the day.
Your pace here should be one that would allow you to carry on a conversation with someone with. It's tough to go this slow but you can get yourself into very deep trouble if you're overzealous.
In all of my Ironman attempts I've found a good pace on the swim that I found to be very comfortable, but fast (after some disastrous starts).
Since you'll primarily be using your legs for the rest of the day don't be shy about the swim. It's more than "surviving," you want to swim at a controlled pace.
The bike portion, in my estimation, is the most critical leg of the entire race. I find it really tough to contain my effort on the bike. This is where it is really critical to watch my watts and heart rate.
For example, at Kona last year I started out at a pace that felt very comfortable but found out at about mile 10 that I was pushing 240 watts – way over my head! So be sure you watch your effort when you start out on the bike.
You may have quite literally, hundreds of people pass you on the bike. Try not to get caught up in somebody else's race and mind your own pace.
In preparation you should have completed several 100+ mile rides. While racing and riding are two different things you'll want to maintain a pace that feels well under where you feel like going. 70% – 80% max.
The tough part of any Ironman is the run. Ideally, you will have stayed within yourself on the bike in order to actually "run" the marathon instead of walking. How you did nutritionally will become very apparent on the run so be sure to test, and retest, this in practice.
Your Ironman run pace is probably going to be about 15% – 20% slower than your open marathon pace. That means if you can run an open marathon in four hours your Ironman marathon pace will be about 4.5 – 5.0 hours.
Keep these tips in mind at your next race and "leave it all on the course."
Cheers!
Ron Saetermoe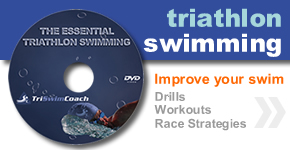 Discover the secrets to improving your swim technique, avoiding painful injuries, and shaving minutes off your best triathlon times to date! Are You Ready To Make A Change In Your Athletic Life?