Ron Saetermoe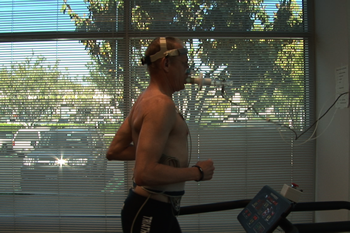 As I said in my previous article, I don't think you need to get serious about triathlon to have fun. However, if you really want to go to the far reaches of your health and fitness you need to go see Dr. Herman Falsetti.
I first learned of Dr. Falsetti years ago when he did a short presentation at an Orange County Triathlon Club meeting. A soft-spoken man, his persona doesn't reveal the expertise he really possesses.
He is a well-known authority in the field of sports medicine and a board certified cardiologist and the one many of the world's top triathletes have relied on for decades. And while he doesn't like to talk about his may high-profile clients his walls are littered with photos of people like Lance Armstrong.
I hadn't been back to see Dr. Falsetti since 2006 mostly because my insurance doesn't pay for his services. However, I strongly recommend you call his lovely assistant Carrie Gillett to see if yours does. My good friend and fellow triathlete K.C. Heidler's insurance does cover his so he's there every quarter.
So what can you expect? Carrie will check your height and weight and Dr. Falsetti will take some blood. I never even felt the needle going in!
After that they'll hook up about 10 electrodes and have you rest on a table for a few minutes to get your resting heartrate. Note: It's also a good idea to check your resting heartrate before your appointment for reference.
After that, let the fun begin! They have two tests to choose from: the bike or the treadmill. I chose the treadmill because I can get my heartrate up higher. You then climb on to your chosen device of pain and you're off.
I'm not sure how the routine goes for the bike but the treadmill starts off very slow. About half way though each interval Dr. Falsetti's assistant will ask you your level of pain on a 10-point scale. Then every two minutes the treadmill speeds up. Eventually the speed maxes out. Then the fun really begins! The elevation of the treadmill keeps increasing until you have to stop.
Based on the information he gathers he can tell you what your VO2 Max is as well as your training zones. It's really great stuff and might help you reach the pinnacle of your fitness.
You can find his website here.