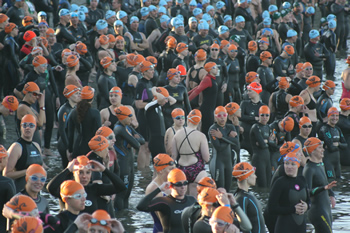 If you're already an avid triathlete, good for you. For those of you that haven't jumped in yet, what are you waiting for?
I'll be the first to admit getting started is intimidating. I had no idea what I was doing when I did my first one. The good news is that there is a lot more help to get started, like the ebook we offer here at Triathica. It's packed with useful information that will help make your first race a success.
Most sane people start with a sprint triathlon, which can mean a lot of things. Since the swim is what intimidates most new triathletes (newbies) the first thing you should consider is the swim venue. For example, the Pacific Coast Triathlon here in SoCal is a great sprint triathlon but not one I would recommend for a newbie or a weak swimmer because it can be a very challenging ocean swim.
Many triathlons take place in rivers, lakes and even swimming pools. Believe me, you're more likely to stick to this sport if you have a good first race. Now I've never personally done a pool race but I know many people that have and they've had a blast. Don't think just because the swim is in a pool that it isn't a real triathlon – it is!
If you need help with your swim consider buying Kevin Koskella's The Essential Triathlon Swimming DVD. He's an All American swimmer and his DVD will help EVERYONE with his or her swim.
And if you're a weak swimmer but still want to give "multisport" a try, try a duathlon. In a duathlon you generally start with a run then do a bike ride, followed by another run. Work on your swim, and then try a tri!
Another form of multisport for the good swimmer is the aquathon. The aquathon is a swim followed by a bike. For example, this weekend I'll be doing the Silverman Aquathon out at Lake Las Vegas. Now this is a 1.2-mile swim followed by a 56-mile bike ride so it's not exactly a beginner's race, but there are plenty of shorter distances as well.
So here are the steps I suggest if you, or someone you care about (forget the others) wants to get started in triathlon:
1. Download the Triathica's Triathlon Roadmap (it's free).
2. Talk to as many people as you can about the sport.
3. Find a race that suits you. Consider your athletic strengths and weaknesses.
4. Get the proper equipment (no, you don't need a $5,000 triathlon bike).
5. Get yourself trained. Initially you can train yourself or get some guidance from a friend but you may eventually consider getting a coach.
Oh, and a really great way to get acquainted with the sport is to go watch a race and/or go volunteer. You'll really get a good feel for the sport and will probably get addicted just from the buzz.
Cheers!