I was contacted by one of my sponsors, Waterman's Applied Science; which might I say is the best sunscreen company around, to do a team competition at the Surf Monkey in Oceanside, CA this past weekend.  Surf Monkey is a new event, which attracts a lot of triathletes such as Michellie Jones, Kate Major, Luke Bell and other water sport enthusiasts to join in a day of fun in the sun.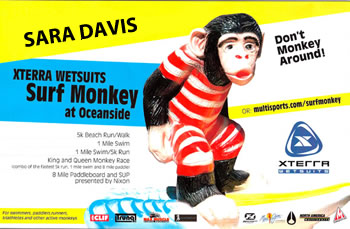 Waterman's, being mostly aimed at surfers, paddlers and stand up paddlers, asked me to be the runner in a relay event which consisted of a 5k sand run, one mile ocean swim and a four mile stand up paddle race.  I quickly accepted the offer and was really excited to be doing a team event and be part of a team for the first time since my soccer days.
As the days got closer, Waterman's kept telling how I better get a really fast run time, and that they are talking a lot of smack to the other companies in the team event such as H20 Audio and Cliff.  Knowing that I wasn't going to be completely fresh because I am not training specifically for that event I immediately got nervous.  I took a look at the website and realized that I am probably going to be racing against an Ironman champion or an Olympic medallist. YIKES!  I'm not quite to that level yet!
Talking to Waterman's and doing the numbers, they figured as long as I get within four minutes of the top competitor, our team would have a very good chance of winning.  I have never really met my teammates, but man, they have got to be fast if they can clean house with a four-minute gap!
Race day came along and I decided to hitch a ride at 5:00 a.m. to get down to the race.  I brought my bike so I could ride back home to complete my training day.  I met one of my teammates, Tyler Anderson, who was the swimmer for our team.  Might I add that his breakfast of choice, in which he called power food, was a chocolate covered donut – gross!  Once we got down to the race I met our paddler, Rob Rojas, who often swims with the group that I swim with at Ole Hanson Pool at noon in San Clemente.  He is known for his exceptional stand up paddling skills.  He's what you would call a "ringer."
It's 30 minutes before the start and my legs are heavy from my brick workouts the day before.  I feel nervous, realizing that the pressure is really on.  I don't want to let my team or my sponsor down!  As I warm up I start to feel a little better, but still not "race day" ready.  I get to the start line and I realize I am running against Luke Bell, Kate Major and Natalie Coughlin; yes an Olympic gold medal swimmer!
The gun went off and my heart jumped and I started running as fast as I could.  My game plan was to run the first mile at a good fast pace and just push it as hard as I could for the last 2.1 miles.  The first mile I was running with Kate Major.  The course was difficult as most of it was in soft sand with rocks everywhere.  My first mile was 6:28. I decided to start coasting through to save a little for a kick at the last mile.  My pace dropped a bit but I did manage to give myself a little kick at the end.  I finished with a time of 20:58. Luke bell finished in either the low 18's or high 17's.  I was within three minutes!  I did my job.  And yes, I did beat one big name, Natalie Coughlin, but wait; she's a swimmer not a runner.  To my credit I did beat an Olympian!
Being the triathlete that I am I quickly changed into my swimsuit and did the mile swim as well.  I did well and was excited to come in the middle of the pack being in a competition with many "real" swimmers!
Our swimmer, Tyler Anderson, beat the competition in the mile swim by nearly a minute and Rob Rojas, the stand up paddler, blew the competition away by six whole minutes!  We won the Surf Monkey!  It was awesome going up on the podium with a team holding up our big ceramic monkey on a surfboard, obviously purchased on the boarder of Mexico, probably the coolest prize I've ever received.
After receiving our award I got on my bike a road a solid 25 miles back home, against the wind.  It felt great to be a part of a team again.  I couldn't stop smiling on my ride home; the new friends and teammates I made were awesome. I got to rub shoulders and actually compete with big names.  I even got a poster signed by surfing legend Dave Kalama, yes, I felt like a huge dork asking him for his autograph.  Overall it was a successful and exciting day and I cannot wait for more team competitions and to repeat our team's win at surf monkey next year!  Go Team Waterman's!
Sara Davis