Ron Saetermoe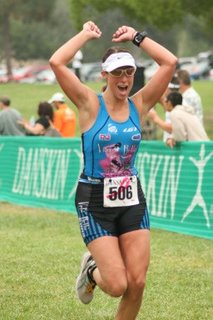 Non-triathletes don't get how training for and racing triathlon can be fun. You get up at all hours of the morning to train and sweat your brains out. You wear funky clothes and spend thousands of dollars on bikes and other equipment. Silly isn't it?
For me, the fun I get from the sport, has evolved. I think it does for a lot of people. In the beginning it was just a kick to get out and finish a race. You can see the same looks on the faces of the age-groupers that finish in the bottom 50% as well. They don't care about their time, they were just happy to get out there and do it.
But as I have taken my racing to new levels my idea of "fun" has evolved into something else. I now "hang" with some very competitive men and women who inspire me. In addition, I train a lot longer and harder. And, when it comes to my equipment, I demand the best.
Just this morning, in fact, I just bought a Tyr Sayonara Swimskin that I will use for exactly one race! You see, wetsuits aren't allowed at the Hawaii Ironman 70.3 but swimskins are. And, since swimskins will be illegal in non-wetsuit races after September 1, 2010, I won't use it ever again. Anyone in the market for a slightly used Tyr Sayonara after June 5th?
But I really don't think having fun in the sport of triathlon requires you to continuously improve your times or position within your age group. I think many people just like the triathlon lifestyle and the people in it. It inspires people to stay active and healthy.
I know several longtime triathletes that like the sport because it gives them an excuse to travel. They've been to many races all over the world and don't seem to really care if they qualify for Kona . . . ever.
I love the line in "Arthur" with Dudley Moore where he's drunk again and he's saying to his hooker escort for the evening "Isn't fun the best thing to have?" Yep, it's pretty great.
If you're not having fun in the sport, no matter how you place, it's time to move on to something else. Me? I'm having the time of my life!