Ron Saetermoe
If you've ever done a triathlon, of any distance, you've probably had at least one person tell you "I could never do a triathlon." I've actually heard it a bunch of times and my response is always the same "Yes, you can."
Now, I'm a positive person, but I'm not one of those people that tells everyone they can do anything if they put their mind to it. If that's true then why don't we have a cure for the common cold?
I do, however, believe that almost anyone can do a triathlon if they put in the time and work with a plan. I've seen it many times. If you hang around a while, after nearly any race, you'll see the people that defy logic. Young kids, overweight people and people so old you wonder how they stay upright without a walker.
Bill Bell is one of those guys. He's slowed down a lot in recent years, and has had multiple knee surgeries, but he's still out there doing it at age 80!
Attached to this article is a YouTube video of an equally inspiring dude, Matt Hoover.  Matt Hoover was the winner of the NBC television show "The Biggest Loser" back in 2005.  I won't say too much about the video other than you should grab a tissue or two before you watch it.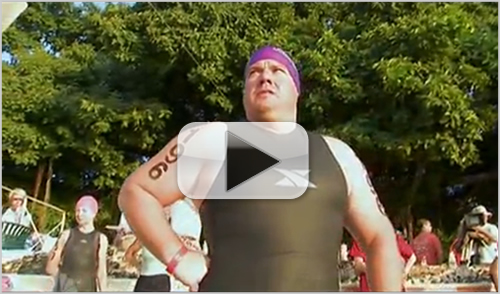 The people in our sport are amazing. I guess one of the reasons I enjoy it so much is that those that are in it constantly inspire me. I've been lucky to know some great triathletes and coaches that have given me the confidence and guidance to help me reach my triathlon goals.
I feel blessed to have the opportunity to work with so many athletes here at Triathica. I try encouraging everyone to reach his or her own individual goals while I keep my own in sight.
You CAN do this!
Cheers!