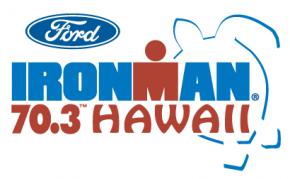 If you've been keeping up with your Triathica Weekly reading you'll know that I just competed in the Ironman 70.3 Hawaii on Saturday, June 5th. I didn't have this race on my schedule but when I took second at the Ironman 70.3 California I thought I'd better seize the opportunity to try to qualify for Kona.
I probably jinxed it by saying I was going to the race with the intention of qualifying for the Ironman World Championships but what the heck! That was my plan.
I checked out all of the competitors in my age group (M55-59) ahead of time so I'd get some idea of what I was up against. If/when you get to a place where you're trying to qualify as well you'll know why. Anyway, the guy that I figured would win is a guy by the name of Kevin Moats.
The good thing is that Moats already has his Kona slot because he won the Ironman World Championships last year so you get an automatic entry the next year. So, I figured I'd need to finish second to him (sounds easy, right?).
I went to www.athlinks.com and checked out as many of the competitors as I could and knew the competition would be stiff but I thought if I could put together another great day I could do it.
Then, I got some bad news. A friend of mine, Gary Clendenin, told me that Charlie Brockus somehow got into the race AFTER it was announced it was sold out. Fair? Don't know, but Charlie is a perennial favorite.
Oh well, at some point you TRY to forget about all that stuff and just "leave it all out there on the course." That was my plan.
Pre-Race
I was very fortunate to have Oguz Yildiz and my 15-year old son Steven with me on this trip. It sure makes it more fun when you've got company. It would be a short trip with us only staying three nights. Didn't matter, we were on a mission!
We got in Thursday and took our time getting to the Hapuna Beach Prince Hotel. Nice place and right on one of the best beaches on the Big Island. I would definitely go there again. I carbo-loaded Thursday night, which is my normal day to do it for long races (two nights out from race day). I don't like loading the day before because I feel heavy and bloated.
Friday was one hectic day! Ideally, before a big race you stay off your feet as much as possible. We certainly didn't do that. Had a swim in the morning, went to registration, picked up the bike, went for a ride/run with Al Gaspari, grocery shopping, went to the swim start/T-1, etc. Not restful or relaxing at all!
I managed to get to sleep around 9:00 p.m. (12:00 p.m. PST) and slept until 2:15 a.m. Five hours – not too bad. Got out of bed at 4:00 a.m. and had my breakfast (OJ, English muffin with peanut butter and jelly, yogurt with some blueberries and walnuts mixed in).
Oguz and I headed down to the swim start at 5:00 a.m. while Steven slept. I got my tires pumped up, gear sorted out and went down by the swim start to stretch and get nervous.
Race morning was windy. Hapuna Beach is usually flat in the morning this time of year but we wouldn't have that luck today. It wasn't bad, but it was choppy.
The Swim
I went out for a quick warm-up in my brand new Tyr Sayonara speed swimsuit, which I would only use once because the rules change September 1st and they won't be legal after that. I looked fast and felt fast! As I got out I looked at my watch and it was dead! Uh oh! Oguz quickly gave me his watch and although it didn't have a heart rate function would still keep time. Problem #1 of the day. (There would be more.)
This is a mass, deep-water start with about 1,300 competitors, including the pros, who started with us. I seeded myself wide left for the clockwise course because a guy I met in the jacuzzi the day before told me this would be beneficial because of the current. Heck, I don't know so I followed his instruction.
We treaded water for about five minutes before the gun went off – which was before I could start Oguz' watch. Oh well, I wouldn't have my swim split. No biggie! Problem #2.
I felt like I was swimming fast and really felt good. Maybe I should have swum so I didn't feel good! Anyway, for those of you that have swum with over 1,000 of your closest friends, you know how rough these swims can be. There was all of the normal thrashing and kicking. I had to swim over a guy because another guy was cutting me off and he tried to kick me. Why do people do that? I'm not trying to swim over him.
I got about ½ through the swim and got kicked in the face and it knocked my goggles halfway off. I had to stop briefly and put them back on. Problem #3.
I finished the swim and felt good about it. Who do I see just ahead up the ramp to T-1? Charlie Brockus. I tap him on the shoulder and congratulate him on a good swim. No comment or reaction. This dude is focused!
I figured my swim time was pretty good because Charlie had the fastest swim split at this race last year. The problem is that I didn't know where Moats was. You see, my buddy, Russ Jones, thought I should try to get out ahead of him on the swim and try to see if I could hang on with him on the bike. Nothing doing today, he was ahead of me already.
I keyed on Charlie because he was the only one other than Moats that I knew in my age group. I beat him out of T-1 so I felt good about that.
The Bike
My plan on the bike was to go harder than I did at Ironman 70.3 California. There, I averaged 192 watts. I figured I could manage 195 watts because I was in better shape and a couple pounds lighter. I also averaged 198 at the OC Duathlon but that was less than ½ the distance.
I started out hard on the bike because I knew the competition would be formidable, and Charlie was just behind me. Well it certainly didn't take long because Charlie blew by me about three miles into the bike. Wow! I would never see him on the bike again all day.
The wind seemed to die down for the first leg, which started south on the Queen K, which was very welcome. I was fast on the first leg and didn't have too many people pass me. BTW, they don't stamp your age on your calf for this race so you can't tell how old the competitor is in front of you. I HATE that!
I was pushing hard on the bike and wasn't sure I could hold my pace but pressed on. As I made the left on the road to Hawi the wind seemed to pick up. And the closer we got to Hawi the stronger the wind got, and it was all up hill!
It was probably about 10 miles or so into the bike leg that my pal Al Gaspari passed me. He gave me a few words of encouragement as he blew by me. Al's got the biggest damn calves I've ever seen!
I continued to check my heartrate (my Ergomo computer has heart rate function), my speed (which was disappointing) and my watts. I was averaging 215 watts heading into Hawi! Slow down big guy, you're cycling waaaaaay over your head!
The turn before Hawi isn't the same as the world championship. We turn a bit earlier but it is still hallowed ground to me.
Now we were going downhill and with the wind. It was great!
One thing I notice about most triathletes is they tend to coast going downhill. While it is a good time to take a little rest it's also a good idea to keep your legs turning over so they don't cramp. Also, I like to keep my watts up as much as possible so I don't have a lot of peaks and valleys in my effort. Having said that, I do tend to "spin out of my pedals" occasionally and have to coast.
I could tell I was really getting fatigued on the bike. My watts had dropped to 205 and my heart rate stayed right at 160.
So I'm nearing the right turn to head back to the Fairmont Hotel and T-2 and a bee somehow gets into my cycling jersey (which was zipped up) and it stings me in the chest and then stings me in my stomach where it leaves it's stinger. Naturally, I'm weaving all over the place trying to stop the pain and a guy from my age group passes me and asks if I was stung. "Yep." He tells me that he's done for the day if he gets stung because he's allergic. Lucky me, I'm not. Is that problem #3 or #4? #4 I guess.
T-2 was fast, as usual. I'm pretty good at transitions.
The Run
I was dog-tired starting out on the run and it was getting hot! The entire venue for this race is great but difficult. The run takes place on the roads and golf course in and around the Fairmont Hotel.
It's kinda cool in a way to be running on the fairways and cart paths of a golf course but I can tell you that running on that spongy grass isn't fast!
The other thing about the run course is that it's hilly! Seems like there are very few spots on the course that are flat and after 56 miles on the bike I'd kinda like some flat. Not going to happen.
One of the great parts of the run course is that there are a lot of "out and backs" which gives you the opportunity to see who's in front of you.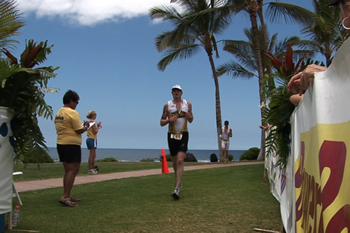 I guess I'm about four miles into the run and come to one of the out and backs and I see old Charlie (you can't miss his HUGE moustache). His head was down and he was really focused now. He passed a sign and I checked my watch. I checked the time again as I passed it. He was 2:15 ahead of me.
Shortly after that I passed Al. He was struggling. He asked about Charlie and I told him I'd need to make up 15 seconds each of the next nine miles in order to catch him. It would be tough but I thought I could do it if I was patient. The being patient part would be the hardest part for me.
Since I didn't have access to my heartrate I had to go by feel. I knew my heart rate was elevated from lack of sleep, the heat and the humidity but I also knew I was running much slower than the 7:30 pace I thought I could hold.
The next time I saw Charlie I checked spread again. Guess what, now he was only 1:30 ahead of me. I was closing on him just as I planned.
Every rest stop I doused myself with cold water and drank either Gatorade or Coke and took a cup of ice and tossed half of it down the front of my shirt and half down the back. After a few times I couldn't even feel the ice!
I guess it was about mile nine as I was approaching a big hill on the golf course and whom do I see walking up? Yep, Charlie. Guess whom else I see? Oguz with his video camera. He's about to document my pass. Very cool!
As I passed Charlie I patted him on the shoulder again and told him he was doing great. Again, absolutely no response.
The last several miles of the run course are on a false flat. In other words, you're running uphill. My final split was very slow but Charlie wasn't going to come back to challenge.
I guessed that Moats was done by now but I had no way of knowing if there was anyone in 2nd place because I didn't know any of the other guys. I crossed the finish line in 5:19:14. What a disappointment! But, would it be enough?
Oguz met me at the finish line and I needed to sit down so I found a massage table that wasn't being used and kicked off my shoes. I was so tired I couldn't even make my way to the results board to see how I did, even as much as I wanted to know.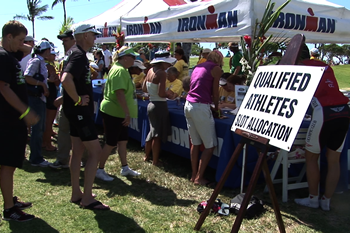 Oguz was on the ball and pulled out his iPhone. I took 3rd! Oh no! Moats was first and Nicholas Kaiser was 2nd! I was crushed! I missed by one spot! Crap!
Then it occurred to me that there are a total of 44 Kona slots for the residents of the Hawaiian Islands. Kaiser doesn't sound Hawaiian but Oguz pulled up his detail. He's a Honolulu resident! As tired as I was I screamed and yelled as loud as I could. There were a ton of people around and one of them said, "He's got his Kona slot!" Everyone knew it.
Post Race
I was basking in my dream come true after the race. We had to hang around so we ate and drank and worked on our tans. I would have to enter the roll-down at 2:30 in order to claim my spot and the awards ceremony was at 4:00 and the roll-down at 4:30. They missed ALL of their projected times but I was too happy to care.
I collected my award and congratulated the other podium finishers and then collected my slot.
It still hasn't completely sunk in. I'm going to Kona in October!
I want to thank everyone for their support and encouragement during this entire race season. It really kept me going. Special thanks to Larry Davidson, Chris Johnson, Kevin Cowell (your 808's rock brah), Oguz Yildiz, Steven Saetermoe and especially my mom who sponsored me for this race.
The Stats
Here are my bike stats for you computer nerds:



Here are some times from people I know:

Ron Saetermoe