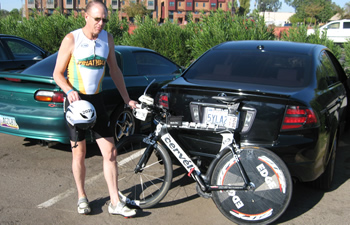 It was nice to have Jarrett accompany me this year to Arizona. We had the chance to talk triathlon until we were blue in the face and get to know each other a little better.
Friday was very busy with driving out to Tempe, checking into the race, athlete dinner and athlete's meeting. I felt like I had already completed my Ironman.
Saturday started early with breakfast at the Doubletree hotel. They really did a nice job. I'll probably go back again next year.
Over breakfast I debated, then subsequently talked myself out of, swimming in Tempe Town Lake at 7:00 a.m. I knew the water was cold, and dirty, and didn't feel the need to validate either. A nice 20-minute swim in the 80-degree hotel pool was just what I needed.
After my swim I did the most insane thing a triathlete can do – I registered for Ironman Arizona – OVER A FULL YEAR BEFORE THE RACE!!! I hadn't even completed this one and I paid for the next one! What lunacy! And how in the heck do they collect $550.00 from 2,400 people a year in advance? I want that gig! (BTW, they're sold out for 2010!)
After that I put Russ Jones' speedy Zipp race wheels on and tested out the bike. Edge Cyclesports had it dialed in perfectly.
Then on to drop off my swim-to-bike and bike-to-run transition bags. Everything was going perfectly.
Back to the hotel for a little nap and dinner later with Jarrett and Scott Neubauer of Coastal Health and Fitness, an Active Release practitioner. Carbo loaded and ready for a good nights sleep.
I did sleep well for the night before an Ironman. I guess I got about six hours, which is about six hours more than I'd previously gotten. Had my breakfast of cottage cheese, walnuts and blueberries, English muffin and OJ and I was ready to rock!
We got down to the race site about 5:00 a.m. and I did all the prerace stuff including putting air in my tires and numerous potty breaks.
It was funny that my bike was racked directly between Kim McDonald and Brian Smallwood. Both raced the sprint worlds in Australia. Kim won his age group (55 – 59). Kim is known for his short-course prowess but punched his ticket to Kona back in 2008. Amazing guy.
Brian is in my age group (50 – 54) and has gone to Kona a couple times. A strong swimmer and cyclist, Larry Davidson always seems to beat him on the run. This year he would be my key competition.
At 6:40 a.m. they let the age-groupers down on to the dock and into the water. The pros were already in the water and were scheduled to start at 6:50. The water was cold . . . about 52 – 53 degrees. Unlike Ironman Coeur d'Alene where the water was about the same temperature, IMAZ is a water start, not a shore start, which means we were in the cold water doing nothing for 20 minutes. By the time we started I was practically convulsing because I was so cold.
The cannon went off and my legs immediately froze up. First, intense pain, then hyperventilating, then puking. I never expected this and felt bad for the swimmers behind me (for various reasons). If I could have gotten out of their way and to shore I probably would have quit. How can I swim if I can't breathe?
Somehow I managed to push through it and swam really easy and eventually picked up the pace. Very frustrating to say the least.
The transition to the bike was SLOW! It didn't feel as slow as it was. Perhaps it was because things slow down when you're frozen!
Once I got on the bike I started to thaw. I went hard on the bike knowing that it might impact my run but I wanted to leave it all on the course so I pushed hard. I thought I'd be able to go 5:30, which was about 20.4 MPH. If it wasn't for the wind I probably could have made it.
It didn't seem like there was as much drafting as last year but it was still going on. There are a couple narrow spots on the course where it's tough not to draft but those stretches aren't too long.
The transition to the run was smooth and faster than last year. My legs were tired but I felt ready to run. This was very different than my two Ironman's last year. At IMCDA I didn't have the muscular endurance and at IMAZ I didn't have the nutrition dialed in. I could tell it was going to be a better day for me.
My splits on the website show my speed ranging from 8:56 to 12:18 per mile. I don't think those speeds are accurate but so be it. I did start out strong on the run and tried to hold an 8:30 pace, which I did for a while but then slowed quite a bit. From then on it was run and walk through the aid stations. Sometimes I ran through but I did have to walk a couple times.
Somewhere around 20 miles I saw Jarrett with the video camera. Boy, you really don't want to be video taped when you feel the way I did. He walked with me for a while and asked if he thought I could go 11:30 if I started running again. I figured 11:00 minute miles, so yes.
At that point I felt rejuvenated and started to run; not fast, but it was definitely a run. I ran the rest of the last loop and brought it in strong.
Coming into the finishing chute was a runner up ahead. I wanted to give him his space so he could get the good finish line photo so I slowed down only to have him catch his foot on the loose carpet and take a nosedive. Turns out it was Brian Smallwood, Larry's nemesis. I asked him if he was okay as he got up and finished the race. I finished one second behind him!
It was a great day for me out there. Nothing goes perfectly, as you can see, but I was thrilled to have beaten my time from last year by over an hour.

Ron Saetermoe