I gave myself four chances to qualify for the Ironman World Championships in 2011. My first opportunity was Ironman Arizona in November last year. Ironman 70.3 California would be my second.
Qualifying at Cal would be tough. I took second last year but I also had the race of my life! There were two really great athletes "aging up" this year and last year's winner would be back again. I figured it would be a race among four. I was right!
Having completed five Ironman distance races and not being completely satisfied with any of my performances, I've changed up my training this year to hopefully yield some better results. This year my training has mostly been in my aerobic zone which simply means I will burn more fat as fuel than carbohydrates. The concept is burning more fat will help be avoid the dreaded "bonk" when I get to the run.
All year I've been right on my training plan. Logging un-Godly miles in the pool, on the bike and on the run. Since it was mostly LSD (long slow distance) the efforts seemed easy and the chance of injury slim. I feel like my endurance is good but haven't felt particularly strong or fast.
My early season has been good. I performed well at my two half marathons and won my age group at the Desert Triathlon, but 70.3 is a different beast. Last year I had a good swim and the fastest bike split and a good run. This year I hoped to be able to improve on my bike split because of the miles I've turned in and that would translate into a good run split.
I caught a bit of a cold prior to the race and had to go on a quick trip to chilly Chicago just before the race. I'm not sure if that had an impact on my race because I felt good race morning.
Like the evening before most big races I find it hard to sleep. I tossed and turned and finally gave up at 3:00 a.m. and got up. Downed some carbs, got dressed and headed down to Oceanside.
Got there early and got a good parking spot. My pal Mark Arenal wasn't too far behind so we rode in darkness the 1 ½ miles to the transition area. Even though I was early there were already four bikes in my rack. I guess us old guys don't have much else to do!
Men 55+ were in wave 14 which went off at 7:21. My other pals Larry (Lar Dog) Davidson and Gary Clendenin and I went into the long corral for the swim start. We got some great news race morning – the water temperature was 62 degrees! Warm enough that I didn't need to wear my neoprene cap. Yipee!
We made our way to the boat ramp which is where we entered the water to swim out to the deep water swim start and there's another pal of mine, Russ Jones, encouraging us on.
Just a quick aside. It really does mean a lot to most of us athletes to have our friends and family at these races. Also there was Scott Callender (out for the season due to a broken collar bone and wrist) and Oguz Yildiz, my partner in Triathica. Thanks to all for coming out!
Anyway, Gary and I started next to each other at the front of our wave. Gary is also a very good swimmer so I was hoping to get on his heels for the swim.
The gun went off (actually I think it was a siren) and Gary took off like a bat out of hell! I wondered if I'd be able to stay on his heels! We all settled into a nice pace and I actually pulled ahead of Gary fairly early.
Because of the spacing between our waves, and because I'm one of the better swimmers, it was nearly impossible to find anyone to draft off of. No worries, I did the swim entirely on my own.
The traffic on the swim got more intense as I neared the first turn buoy but then it cleared up again. No incidents on the swim. A good start for the day.
When you exit the swim you run up the same boat ramp where you entered then there's a long run to the transition area down a narrow chute. I managed to pass a couple people in the shoot and had a smooth, but not particularly fast, T-1.
The beginning of the bike was fast. We had the wind behind us and the course was flat. This is my specialty. I like it flat with no wind. These are conditions where it is difficult to beat me.
This part of the course is very familiar to me because I usually ride it about once a week. This really does give you an advantage over the athletes that don't know the course. That's why I always suggest you get as familiar as you can with a course before you race it – even if you're not a contender.
The race makes a right turn into the Camp Pendleton Marine Base and becomes quite hilly. Whenever I'm on the base I think of my father (he passed away in 1980 from cancer) as he was a private in the Marines here during World War II.
Now the wind that was at our backs was in our faces, and we had to contend with the hills too – not my specialty!
At this point I figured I was near the front, probably in 2nd place. It was right about that time that I got passed by one of the guys I'd figured would be a factor; Mark Stoner (what a great last name!). He shot past me at about mile 30 going up the biggest hill of the course. He's a small guy with an amazing power-to-weight ratio.
Now I figured I was in 3rd.
I tried to push it on the bike but as I said it just doesn't seem like my training was giving me the power and speed I had at Kona last year.
T-2 was slow for me as I struggled to put on my socks. The #1 guy, Kim McDonald, beat my T-2 time by nearly a minute. In this tight of a race you just can't afford to give up that kind of time.
I had tried to pee on the bike but haven't mastered that particular skill so I had to stop at the exit of T-2 and I was passed by a guy named Jeff. So right there, between my slow T-2 and my pee, I gave up two minutes.
I felt pretty good starting out on the run. The sky was overcast and the temperature was 60-something. The run course is mostly flat and goes along the ocean. A two-lap course that allows you to see your competition (and your friends) several times when you're out there.
As I headed out on the run I heard someone yell my name. It was Scott. I asked where Larry was and he said he was behind me. Okay, so McDonald and Stoner were ahead of me and Larry just behind me. There's your four-horse race!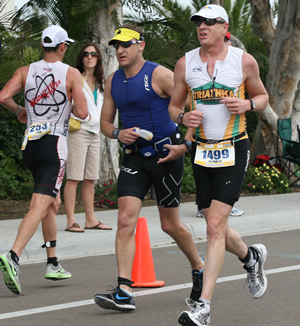 It took Larry about three miles to catch me on the run but when he did he blew by me! I saw McDonald on the course so I checked my time and estimated how far he was ahead of me. Almost exactly at that time Larry passed me and I told him that McDonald was about 5:30 ahead of us. Larry said "That's too much" and pressed on.
I was shooting for a 7:30 pace and managed to keep that for most of the run but it fell off eventually. I thought I could close the gap on Stoner but the reality is that I didn't close the gap very much. I coasted the last several miles on the run making sure no one passed me in my age group.
I crossed the finish line and felt good, but not great, about my performance. I took 4th place and actually bettered my swim and run splits from last year. But the combination of the headwinds and lack of power training gave me a significantly slower bike.
The really great news of the day is that my good pal Gary Clendenin won his age group and earned his Kona slot – his 1st time! All of us were very happy for him.
Sherry Rennard and Max Biessmann also got their Kona slots. Congratulations to you all!


I've still got two more chances to earn a Kona slot this year: Ironman St. George, where I'll be racing Larry and Mark Stoner again, and the Honu 70.3 . . .
Ron Saetermoe