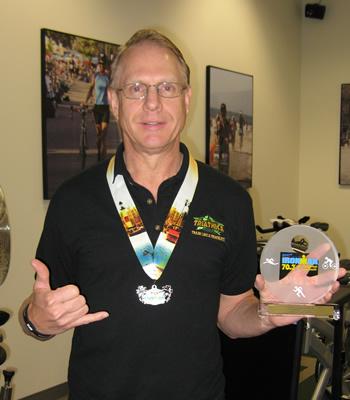 Ironman California 70.3 was a "B" race for me, which simply means it was important, but not my most important race of the season. It wasn't my most important race because I had calculated that Ironman Arizona would be my best chance all year to punch my ticket to Kona.
It was going to be a great day. The weather was perfect and the swim at Big Corona last Wednesday with Lar Dog wasn't as cold as I had anticipated.
I was up at 3:00 a.m. and finished packing my gear and had my regular pre-race breakfast of cottage cheese with walnuts and blueberries, an English muffin with peanut butter and strawberry jam and a large glass of OJ. I was in my car on my way to the race by 4:00 a.m.
My wave wasn't scheduled until 7:17 but I'm always early, by design. Got my stuff set up and chatted with a bunch of other athletes. I was loose and confident.
We all play these games in our head about things that can go right, and wrong. I figured if I had the perfect race I might be able to podium, but top-10 would have been fine with me. The reason is that the top two dogs in my new age group (M55-59) were both registered.
Dean Harper was the big dog. Back in the day, Dean was in the same pro ranks with guys like Dave Scott and Scott Tinley (who was there on a surf board at the swim start). The guy is still an amazing athlete. The other top guy was Kim McDonald. Kim is primarily known as a short-course guy and won the world sprint championships last year in Australia. He is simply amazing. So, since the first two slots were taken I figured, why not 3rd?
Never having met Dean before I asked around to see if anyone had seen him. I wanted to introduce myself and wish him a bad race (kidding). No one saw him but Kim traded emails with him and was sure he was coming.
Both Dean and Kim are known for their swimming prowess. And while I'm a "good" swimmer I'm certainly nowhere near their caliber. Last year they swam 26:04 and 27:17 respectively. I did 30:57. So I knew they'd both be well ahead of me on the swim.
The swim went well until about the final 300 yards where I nearly swam over the top of a large woman. She was so upset she kicked me. Look, I know it's a bummer when someone swims over the top of you but no one is doing it on purpose. If you don't want to be swum over get in the slow lane!
Anyway, I swam hard but since I had cut back on my swim workouts I was simply trying to hold the same time as last year. Not bad, went 31:06. The day was looking good so far.
Normally when I race against the "Dog" (Larry Davidson) we're in the same age group but since I aged-up he went off in the wave in front of me four minutes earlier. Since I just swam with him on Wednesday I knew his swim had dramatically improved and that it was unlikely I was going to make up four minutes on him. True enough, Larry did 32:58. Great job!
I'm very speedy in transition and came in just seconds behind another formidable Ironman competitor, Brian Smallwood. Generally Brian beats me by a little bit on the swim then kicks my butt on the bike. Today I was off on my bike just ahead of him and I never saw him again all day. (Footnote: Brian beat me by 1 second at IMAZ when I stopped to see if he was okay when he fell just 10 feet from the finish line.)
It was a little cold getting on the bike but I knew I'd warm up because I planned to go hard. I had the karma of Russ Jones' race wheels with me so I didn't want to disappoint him. Russ is another great friend, supporter and athlete. He's going for the sprint world championships this year. Odds are he'll do it!
I pushed hard on the bike and whom do I see just ahead of me but Lar Dog. We trade a couple words as I pull ahead but he manages to catch me on the next hill. And that's how the ride was all day. I'll pull ahead on the downhills, we'd stay about even on the flats, and he'd pass me on the hills.
Now you have to understand that Larry is a far superior cyclist and runner than me and that the ONLY reason I was racing along side him was because he had just come back from St. George, Utah on a recon mission to check out the course there. He obviously wasn't recovered from his training there but it sure made it nice for me to have someone I knew to help push me along.
I really couldn't have pushed the bike any harder. I figured I'd lay it out there on the bike and just see if I could run at all. Guess what? It worked!
Guess what else, as I came in on the bike there was Kim McDonald just seconds ahead of me. I asked if he'd seen Dean and he said "no." Kim was off. I had another speedy transition to the run. This year the only difference was that I was going to run with socks on. I got a massive blister last year so I figured I'd wear socks because I wasn't going to be a contender anyway. I saw Kim pull away and figured that was it.
As usual, the first steps on the run my legs felt like lead. I'm not sure when it happened but Larry passed me on the run. Since he usually passes me on the run I figured that would be the last I would see of him all day. We chatted for a couple seconds and he pulled ahead. A funny thing happened though; even though he was ahead he wasn't pulling away.
At about mile three I got a bad stitch in my side. You know the kind that only go away when you rest and catch your breath? It was to stay there for the remainder of the run.
I followed Larry for several miles, always keeping him in sight. Then, just ahead, I saw him stop at an aid station to take on some fluids and I caught up to him. We started to run together again and I told him I wasn't sure I could hang on because my side was killing me. He said, "This is your day Ronnie." so we both pressed on.
At one point Stu Lowndes a Triathica member and good friend yelled at me that I was only one minute behind Kim. Great information that I couldn't do anything with! I was going as hard as I could and I also knew that Kim is an outstanding runner and I didn't have a prayer of catching him even on my best day.
Eventually I pulled ahead of Larry and pushed as hard as I could. I watched my heart rate closely and kept it close to 170 (not advisable for most) but I knew I wasn't running fast as I was suffering from cardiac drift.
I finished strong and totally exhausted. 4:55:25 a PR and a time I only dreamed of – 1:07 behind Kim – good enough for 2nd place! I missed qualifying for Kona by 1:08!
It was an unbelievable day for me. I've been competing for 48 years and Saturday was my proudest achievement.
Here are some additional times from some of my friends: