Pre race: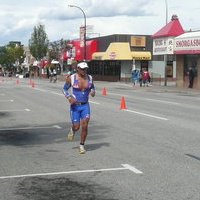 Well the night before my friend Jeff and I were talking about our expected finish times, we kept on going over what we thought we could do at this race. I told him I didn't see how I could go slower than 9:50(but that was assuming normal conditions). I figured I could swim 1:03 to 1:05 and bike 5:10 to 5:15 and run 3:20 to 3:25 and with T1 & T2 added up it came in at about 9:50 or so. We had already looked at the previous few years results and new that breaking 10hrs would be a Kona slot(according to the previous few years). So our race plans were set we were going to go after that coveted Kona Slot. But like we all know everything looks good on paper but when that Cannon goes off everything gets thrown out the window!!! And now it was time to sleep. Well I woke up early at about 4am on Sunday morning. As usual I didn't get much sleep. I was going to eat some oatmeal and a bagel for breakfast. But my friend Jeff said you shouldn't eat oatmeal because of the fiber content. I already new that but had never had a problem with the oatmeal pre-race meal. He suggested the bagels and gel on them. So I ate 1 bagel with 1 hammer gel on it and another bagel with strawberry preserve on it. I figured the bagels were about 300+ calories each and the gel & strawberry preserve was about 100cals each as well. I washed it down with a bottle of Gatorade probably another 100cals. I figured this would top off the fuel tank as the race didn't start for a while and I would be able to digest all this way before the race started. I also had another Gatorade in my bag and some clif bars just incase I got hungry before the race started. We headed down to the start after eating, got everything ready and then I realized I forgot my warm clothes bag, so I just used the bike special needs bag as my warm clothes bag since I wasn't going to stop at special needs on the bike. After that I got in line to use the portapottie. I really didn't have to go to the bathroom but I figured that by the time I got to the front of the line I would have to go. Got in the water and did a warm up and found a nice place in the middle of the lake without too many people. Well of course as 7am approached everybody started bunching up right to the start line. So I knew I had to go out a little harder on the swim as it is my weakest event. In the previous two IM's I haven't gone out hard enough from the start and then I just settle into a slow pace. So the cannon went off and I was off. I went hard for about 500m or so. But I went a little too hard, I didn't have any problems with other swimmers. But then it hit me that I was redlining on the swim. I slowed it way down and I was just thinking great, I just blew up on the swim and I am going to have another bad swim and there goes my chances for a Kona Slot. Well I slowed the pace down for a while I don't know how long it was maybe it was just a few minutes not sure. But then my HR and breathing settled back down and I started swimming at a good pace and I felt good, at the turn buoy I started to feel even better and the swimming really felt effortless. I did notice I do tend to drift to the left when I swim, that is something I have to work on. I am not swimming straight in open water, it was not the current because it did seem that I veered to the left on the way out and the way back. I also notice a lot of people in front of me cutting the buoys and swimming short. Well I get to shallow water at just under 1hr, but the beach is full of rocks so at this point I figured I banked 5min on my goal time and I was going to carefully walk to the timing mat. I was stepping on so many rocks that I got back down and started using my hands on the rocks to float over the rocks. I didn't want to twist an ankle. The thing that I learned from this swim was that I have to warm up a little longer on the swim and that I can go out hard at the beginning and still settle down, but I just have to back it off at about 200m or so not 400m to 500m
Swim: 1:01:36
T1 was uneventful. I did take the advice again of my friend Jeff who was doing his 17th IM. He said to just relax in T1 sit down and put your shoes and helmet on calmly and let the Hr settle a little. Well I did just that, the change tent was not too crowded so I found a seat. I put everything on pretty fast except for the Arm warmers I bought at the Bike Barn. I thought the race was going to be really hot so I didn't bring anything warm to race in. Big mistake I will never do that again. I learn something new every IM race. I couldn't put the arm warmers on since I was all soaking wet from the swim and I never put a towel in my T1 bag. Got going got to my bike to a delightful surprise that most of the bikes were still racked! J
T1: 3:25
Well I get to the mount line and get on my bike and start pedaling easy. I immediately start passing people and I am going easy. The Hr is not that high but I was wishing that it would be a little lower for the effort. I check my watts and they are not very high either so I just keep the pace for a little while. I realize that once again I forgot to start my Garmin 705, so I turn it on(It was on and displaying power,speed, watts…etc but no distance or time, I also had the 310xt on my wrist with the total time running) . After a few minutes I figure that my legs are a little loose and I gear up and start going at a moderate pace. I am passing bikes with ease. I am thinking wow, I thought I had a good bike and look at all these people I am passing. I know my bike is my strength and my swim is my weakness. So I check the Hr and the watts the Hr is still a little higher than what I would like it to be but not by much, the Watts are fully in check and the effort feels easy. At this point I figure that my Hr is probably elevated because it is quite cold and my body is trying to stay warm. I am all wet and biking so the wind is feeling really cold and I haven't been biking long enough at a hard effort to have my body heat warm me up. So I gear up and settle into my IM pace. At this point the course is mostly flat, with some false flats and some rollers. We have hit a couple small hills but nothing major. I am really moving past people. I then catch this big German guy in my AG and a few others about 4 more that are in the younger AG's. We all start working together it was great, we are all doing legal drafting at this point and we are just moving really fast. We hit another hill not a major one but a small climb. At this point these guys start climbing hard, I drop back a bit and then catch them again on the flats. But I start to think are these guys too strong for me? Should I let them go? I think that at this point I am bordering on being just over my comfort zone on the bike. But I stick with them once I catch them on the flats and re take the lead. I am in the front for a little while and then they all start passing me up and I go to the back again. We are just constantly passing bikes. I am saying wow I need to improve that swim. I know that the big climb Richter is coming up. It is billed as an 11 kilometer long climb. So we turn and start climbing and these guys are climbing strong, so I have to let them go. As I have to keep my Hr and Watts in check. I summit and I eventually catch some of the guys that went out too hard. But that Big German guy in my AG is up ahead. I then gear up as the watts dropped at the summit and try to get back on with him but I notice that I am biking too hard. At this point I am approaching the 80K mark and I notice that I am at about 2hrs. I go wow I am biking really fast. I know that the first part of the course is the flatter and faster part but that was fast. At this point I decide to slow down and do a reality check. I start thinking am I biking too hard? Did I just start the bike off too hard? Am I going to be able to run if I hold this pace? A few minutes later my friend Jeff comes up behind me on one of the Rollers after Richter Pass. He yells at me Art you are looking strong you look good! He slowly starts to pull away. I am still thinking about my first 50 miles of the bike. I see Jeff slip away slowly but surely. At this point I tell my self, "Art this is a race not a training day, you need to get on it if you want a chance at a Kona Slot." I know Jeff is a really fast biker and that he is very good at pacing(as he was a former cyclist). What I didn't know at this time is that he actually only swam a little slower than me. He thought he was going to swim closer to 1:10(since he is the guy that broke his collar bone at IMSG and walked the entire run along with our 2 other friends). So I check my HR and it is low and I say to my self it is time to race. I go after him, I start closing in on him at a very slow pace. And then it happens all of a sudden we are now riding into one of the strongest head winds I have ever ridden into, with really nasty cross winds all the way back to T2. I am just visualizing staying aero, staying small and putting a small hole through the air. I start passing people and am closing in on Jeff at a slow pace, we are riding over the 7 sisters. I am about 30 meters behind him and figure that If I can just not loose too much ground too him I will have a good bike split. I follow him all the way to special needs and then he stops and I take the lead. Right out of special needs I notice the road is wet but there are some sprinklers on. But a little further up the road the entire road is wet and I can now feel the rain(remember the wind is still blowing really hard it has not stopped). We are a getting ready to climb to the highest point of the race Yellow Lake. At this point I realize that there are hardly any bikes in front of me. I start climbing and keep passing a rider here and there. The rain feels good on the climb as it keeps you cooler as you Hr rises and the watts increase. We start the Yellow Lake climb and there are literally thousands of people lined up in the middle of the road(on both sides of me). I start to climb and they are all cheering me on, It was like the Tour De France. They are all cheering you on encouraging you and just motivating you. This was incredible as it was just pouring rain on the entire climb and they were out there getting soaked. This was probably the best experience of the race(of any race I have ever done). I always thought it was so cool for the bikers to ride with all those people right next to them on those climbs. Well I have experienced that. At the summit it flattens out for a good mile or more and my watts had drooped so I geared up and got on the aerobars and was on it as I knew this was the last climb of the day and it was mostly down hill from here to T2. Well all of a sudden I realize it is not raining anymore and that it is now hailing. I say great I have probably the fastest descent and most technical descent and the roads are all wet from the rain and now it is hailing and of course the wind is blowing even harder now. So I start to descend and I see a few people going down really slow. Lucky for me Jeff and I pre drove the course and rode down some the descents. So at this point I make a decision that it is full gas to T2 since it is down hill and I will probably be spinning out. I start descending in the aerobars to pick up speed, hail is just bouncing off of me, my bike and helmet and I am passing the few bikers like they are standing still. I think that Climbing and descending Big Bear with Chad and Max really gave me experience and confidence to bomb down the hill in the rain, hail and strong crosswinds. Well needless to say I almost get blown off the bike so I decide it is not such a good Idea if I want to finish the race. I switch up to the bullhorns and stay low and aero. I know have more control and a little less weight over the front wheel. I look up front and I see a biker that I am gaining on really fast and he is really leaning left. It looks funny, well all of a sudden I realize why he is leaning left, the wind is so strong that I have to actually lean into the wind so much that I think I am going to fall over or have the wheels slip from under me(still raining hard but since we drooped in elevation it is not hailing anymore). I pass him and get some confidence back and get back on the aerobars. At this point I don't see any more bikers until about 3 miles from T2 and to my amazement it is someone wearing the MAO kit, it is DJ. He is now easy pedaling and taking a gel. I am still going full gas as it is down hill the HR is low and the watts are not too low. I have been spinning the 53×11 the entire time on the down hill. The cold rain and hail seemed to have helped me. It was as if my legs were iced right before the run. The legs felt great, I almost think that I should have tried to stay with the Big German on the bike.
Bike: 5:11:21(I thought this was a good time for me considering the conditions and that fact the course read 6,200ft of climbing on the Garmin 705)
T2 well I come into T2 and no one is there and all the T2 Bags are there and all the bikes are gone. I go wow am I that far ahead? As I am getting ready to sit down DJ comes by me and encourages me. He is gone out of T2 and I am too.
T2: 1:57
I start the run feeling fresh and start tracking my speed on my Garmin 310XT. The HR is in check and the pace is fast for me Low 7's. I start to think, I know that my long runs were at a pace better than 7:20. so I decide to back it down a bit as I know that my Hr will start drifting and that fatigue will set in. I feel good on the run and I start heading out of town. I start seeing a few bikers come in on by one. Some female pro's run by me and then a male pro is running by me, not too fast it looks like he has had a bad day. I decide to try to stay with him as his pace is not too fast. We are running together for some time. A few people pass me but they are not in my AG. Then Mitch Gold from Counterpoint training is running next to me, so we run together. I figure he is in good shape and I am doing well. So I talk to him for a minute but he doesn't want to talk he pulls up ahead just a bit. I am still about 20yds behind him. At about this time I see the lead pro male coming back and 1,2 & 3 are pretty close. I say to myself I am having a good race since they are still out here. Later on I see the women 1,2 & 3. I am trying to hold on to the pro who is having a bad race and to a younger kid as they are both just slightly running faster than I am. I feel good on the run, my pace is good my HR is in check and I have no problems except for one I have to go to the bathroom. I stop at the next aid station and use the porta pottie and continue running a few guys pass me but I repass them back, We now start hitting the hills, some guys start walking them. I was able to run them without elevating my Hr too much. We get to the turn around and I see a few more guys in my AG that are ahead of me, I see that that big German guy is not too far up ahead. I hit the turnaround get my special needs bag and start heading home. I still feel good I am under control the Hr is good, the effort feels good and I am not in any pain(at least not yet). I pass some more people not in my AG as they start to blow up and start walking or just stop all together. I then hit the hills again and they feel a little harder this time around. I see some guys in my AG and I settle down and take some deep breaths as I don't want to make a pass on them if I am not up to it. I pass one then another. I then catch the Pro and pass him. I then see Mitch Gold again and I pass him and a little bit later he repasses me. As he passes me and I hold my pace. I am approaching mile 16 when Mark Allen says let it rip. At this point I hit the aid station and I have to use the Portapotie again. I come out and catch the guys that repass me. I start to speed up as I know now is the time to let it rip. I start to pass the Pro again and I see Mitch Gold again up in front as I get closer to passing Mitch the pro yells at me from behind, "Arthur when you do it this time make it stick, stay strong!" I just nod my head in agreement(I figured he read my name on my bib as it was behind me at this point). I pass his and don't look back. I know I am heading home, I am running a little faster. Remember the strong head wind we had on the bike well now it is even stronger. I try to find guys to run behind. I am slowly passing people but they are not in my AG. I come up behind them and try to stay behind them so that they shelter me from the wind and I get a little breather before I make the pass. I keep doing this for a few miles. And then I run into the Big German guy. I run up behind him and stay behind him for a few minutes, he seems to be running at a good pace. But I know he is in my AG and I have to make the pass. I make the pass and hope I can hold it. I can feel him hanging on me now he is using me to block the wind. I pick up the pace a little more and separate my self. I am looking at the miles now I have only a 10K left. I know that I have less than 50min of running left most of it now slightly down hill but into a tremendous head wind. By now there are a lot of people on the run course heading out. But to my amazement there are still people heading in on the bike. We come to what I think is a little dangerous cross over where the bikes and runners cross over to opposite sides of the street. I know I am only about 3 to 4 miles from the finish and I am speeding up some more and I can see that I am gaining on a runner, I see he is in my AG so I get motivated to pass him and I do. As soon as I pass him I see there are two more guys in my AG that are running side by side, we only have about 2 miles to go. I know I have to pass them strong because either one of the two can come with me. I make the pass and accelerate as I pass them. I am now heading towards the finish line just before the out and back and to my surprise it is a runner in my AG that had passed me earlier on the run. He is running at a good pace and I am hardly gaining on him, he doesn't know I am slowly running him down. We are heading to the last turn for the out and back. At this point I make the decision that I am going to try to get as close to him as possible and pass him on the last turn of the out and back as we head home so that he will not be able to seem me as we are approaching the last "U" turn on the out and back I see a couple of guys look at me as they are on the home stretch and start running a little harder I figure they are in my AG but I can't make up the distance as I only have about ½ mile to go and they are about 100+ yards ahead of me or so.. I close in on the guy in front of me and am right on him on the last "U" turn and I am full gas coming home. I don't look back at this point. I don't know if he is going to try to pass me or not. I am just hoping I don't blow up in the last ½ mile. I am running about 6min/mile pace and the Hr is climbing, I am in the Pain Cave and my legs are burning. I am just thinking that I have to hold him off for my Kona slot. As I approach the finishing line I was hoping to be under 9:45 and I see 9:43, but by the time I actually pass the line it is 9:44:04. A new PR for me!
After thoughts. I talked to the Big German guy after the race and I told him I wanted to stay with him on the bike but that they were climbing really hard and that I had to watch my watts. He said that I raced a smart race and that is why I was able to beat him on the run. Turns out he biked a 5:06, that may have been a little too hard to do and run well. I thought I had a good bike considering the conditions and the climbing(garmin 705 showed 6200ft of climbing). I also thought my run would have been faster but after looking at my Garmin the run also had over 800ft of climbing with all that wind so I think considering the hills of the course and the windy conditions that was a good run for me.
All in all I had the best race of my life. I PR'd the Swim, Bike, Run and of course the Total time. I also accomplished my goal of getting a Kona Slot without a roll down.
I thought I could do that with just breaking 10hrs.(from viewing previous results in the last few years) although I thought I could go 9:50. Yet I went 9:44:04 that time would have gotten me 2nd place three times and 3rd place once from 2006 to the present at this race, yet I took 6th with those conditions. The qualifying times are getting faster as better quality athletes are now entering these events.
But if I could qualify for a Kona slot there is no doubt in my mind that anybody who has proper coaching and training can get to Kona by qualification.
All it takes is the will, determination and proper coaching.
I have officially changed my Team KQ status from Kona Quest to Kona Qualifed!
Arthur Sosa Jr.