KONA 2011 RACE REPORT by Sherry Rennard
I have had one week now to reflect on my experience at Kona, and since everyone else is filing their race reports, being the competitor that I am, I realized it was time to get busy.
The Ironman World Championships is definitely all it is cracked up to be, and then some! I learned things I will take with me for the rest of my racing days; met people who inspired me and made me realize what being BOLD and COURAGEOUS really means.
Throughout race week, every day hundreds of athletes would arrive and you could hear every language being spoken. I went to the race start every morning except once and did a swim (that obviously really paid off, hahaha!!!) in the AMAZING clear blue water, perfect temperature, many varieties of fish swimming about. My longest swim was on Saturday (one week prior to race day), for 1:20, we swam out to the next-to-last buoy for what seemed like forever. Based on how long it took me to get out there and back, without much stopping, I knew my swim goal of 1:30 was realistic. I was hoping the draft would help me out, but I knew that coming out of the water mid-pack in my age group would be a realistic goal at best.
With that being said, one thing I always kept in mind was the sage advice of friends who have raced at Kona. They all reminded me that it would be smart to not "race" my first year here, but to "experience" the event, always keep my head about me as my best resource, and finish no matter what. I wanted to set race goals that were realistic for me if I raced smart, while maintaining the balance of savoring this fantastic experience, feeling well trained and tapered (which I was!!), pushing myself at the right times, and especially not getting caught up in everything else that was going on around me. I had a plan to accept whatever my time was on the swim and leave that behind me, then play my strengths on the bike and run to reach my finish goal. I know there were people who had their own goals set for me, and I often reminded them that this is the WORLD CHAMPIONSHIP, and most of these competitors are very fast and have a lot of Ironman race experience that I don't have…although, can I just say that I think I was one of the better-looking and better-dressed competitors!! Kona 2011 is my third Ironman (Lake Placid in 2006 @ 12:33, Ironman Canada 2009 @ 11:54). This experience is humbling, to say the least. The woman who won the 50-54 y/o AG, Teresa Rider, has done 24 Ironmans. She has been World Champion twice. She finished in 10:44 and there were several women who were not that far behind her. That is the caliber of athlete who shows up here. There is a lot to be said for Ironman racing experience. Here in Kona, having experience racing this course in the past is a huge asset. With all of these factors in mind, my goal was to finish the race in under 12 hours, and anything under 11:54 would be even better. I figured I had a chance to get in the top 25%, and a top 10 finish would be icing on the cake. When I broke it down to swim/bike/run, I knew my goal time would be attainable if I raced strong & smart.
I was one of the first to arrive on race morning. Every moment was special, from getting the numbers stamped on both arms, to stepping on the scale for the pre-race weigh in. My only complaint was that they were playing "Inya" music during the set up, and it was downright depressing!!!! I called my niece in PA., then sat under a palm tree, taking in all the scenes, and cried for a bit… a sense of awe, relief, anticipation, joy, thankfulness and humility; it was a very intense time for me. I said a prayer that I would be safe that day, for courage and strength, and gave thanks that I was able to be in that place, at that moment.
I had a flat in my rear tire before the race start. I saw some latex leaking out after I had pumped up the tires in the morning. I found a staple, probably picked up on the walk over to the bike check-in (it rained a lot two nights previous). After my two flats in Canada, I decided to have the tire changed. By 6:45 it was done and I was one of the last to get in the water at 6:50. I now had no spare, but did have Pit Stop and lots of C02, and a husband who was a volunteer bike tech on the course, so I felt OK about that. Before I knew it, I was trying to find a spot to start the swim, and off the gun went!!
The swim was crowded and chaotic in the beginning, but really not that bad. Everyone did seem to be swimming "right", no breast stroking, stopping, etc. I stayed in the draft as much as I could and hoped everyone in front of me knew where they were going. The buoys are not very big, and when I did look up, we were all headed to the same place. At the turn around, I glanced at my watch, 42 minutes, so I knew I was on goal pace. OK, so I probably was not going as fast as I could have been, but I tried to keep a good turnover cadence and constantly thought about my form. I had the voices of all the best swimmers I know: Julie Ertel, Camille, Julia and Angie, in my head, telling me to keep the elbows high, get the chest down and butt up, cup the hand properly, wave "bye bye", swim over the barrel, push the water back, etc.
I knew there was a bit of a current on the way back so I anticipated a bit slower of a split there… After the turn around, the pack thinned out considerably, with all the fast swimmers way out in front of me by that point. Not being in a draft against the current is not good, so I tried to stay behind at least one person as much as I could, but my navigational skills would often tell me this person was NOT swimming straight, and I would go on my own to try to get into a faster stream. Shortly after the turn around, I suppose because the water was not churning so much, I became aware of the plethora of sea life around us; schools of beautiful fish, coral, and suddenly spinner dolphins everywhere. Anyone who has been with me in the ocean knows I am crazy about dolphins!!! I get ecstatic when I see them anywhere nearby, and to have them frolicking underneath me, swimming along with me for at least ten minutes, was bliss!! I slowly but surely made my way back to the beach, came out of the water at 1:33, a bit slower than goal pace, but I felt fresh and ready to go.
T1 was quick, got out of there in 1 minute less than I had anticipated, and I quickly settled in on the bike for the first ten miles through town. The first 35 miles of the ride were comfortable and I felt strong/fast, worked on hydration, and before long I was making the turn for the 18 mile climb to Hawi. I had practiced this earlier in the week and knew it was a long, gradual climb, with some rollers, but the winds for the seven miles at the top could be brutal, and very scary. My friend Jerry had advised me to try to stay in the aerobars, no matter what, and I knew it would help to be spinning at a high cadence. I had a strong ride here, and when the winds would gust at me from the side, I would lean into them, allow myself to be moved a bit, but would not turn into them or give up. I kept repeating the same scripture over and over in my head (…be bold and courageous, for the Lord your God is with you at all times…), gritted my teeth, and DUG IN!!! After the turn around, on the long descent it is important to maintain control against the wind, while trying to make up for some of the time lost on the climb. I made it back to the Queen K, having passed many in my age group at that point, and settled in for the ride back to town.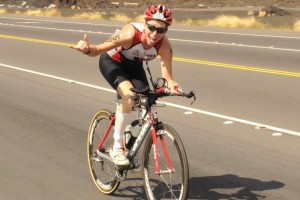 At mile 80 I started to hit the legendary head-winds which continued for the next 30 miles. I remained as aero as possible, continued to drink copious amounts of water and electrolytes, and taking in nutrition, which was hard to do in this heat. Dr. Sam Sunshine told me the temp. was 115 or something like that with the heat. My bike shorts were covered in salt. I still question whether I should have used my aero helmet. It may have made me a bit faster, but I was able to douse my head & body with water at every aid station, so this did help me stay cooler. What I did not realize, however, was how soaking wet my shorts and socks would get. By the time I got to mile 70, my crotch was screaming, and when I would occasionally get out of the saddle, I had horrible searing pain in my right foot (I think I'm getting a neuroma…). Since we all know that pain is to be expected in the Ironman, I just pushed through it… suffice it to say, I was so happy to get off that bike, it made me look forward to running a marathon!! My goal was to finish the bike in under 6:05 and I finished at 6:03. I did not want to push too hard to get under 6 hours, only to lose a lot more time than that on the run. I had learned in Ironman Canada that it always does come down to the run.
Another lesson I learned that day was to put on fresh, dry socks for the run, and some Vaseline would help also. I had worn compression socks on the bike, which I planned to wear for the run as well. As soon as I started running, I realized that my feet were already raw in spots on the bottom from being in the bike shoes for six hours. Ouch. I had already knocked on the door of the House of Pain, and I was running through the threshold!! I was focused on running on target pace to finish in under 4:10 and reminded myself that the sooner I got to the finish, the sooner I could take off those wet shoes & socks!! The feet continued to get wet as I used ice and sponges throughout the run to try to cool off. I held ice cubes in my hand, put ice in the hat & bra, and even in my shorts a couple of times. It was HOT!!!
I made my way down to the turn around on Ali'I Drive, then back through town and up the long, steep hill on Pilani. In my opinion, this area, and the run north on the Queen K toward the Energy Lab, was the toughest part of the course. This hill takes a lot out of you, and the rollers on the Queen K really start to take a toll on your body. I started drinking Coke at mile 11 and with every mile I started to feel just a little faster/stronger. I saw Pete at mile 10 and he tried to run with me a bit/talk to me. I put my hand up and said nothing…."Don't talk to me now. I'm in the House of Pain and really don't want to hear or say a word… it's time to focus… dig deep….remind myself of what this is all about… how hard I've worked to get to this very point… a PR right around the corner if I keep this up".… At the turn around, I felt solid and knew I would be able to pick up the pace a bit for the next nine miles. I saw lots of people walking/puking/and generally in a bad way by this point in the race.
By mile 22, I was starting to push myself a bit faster with each mile, wanting to feel when I crossed the line that I had gone as hard as I possibly could without bonking, cramping, or having some catastrophic occurrence out there. My legs were feeling strong, I had absolutely no stomach problems or cramping, and with each person I passed, I felt a renewed sense of strength. The last two miles were incredible, unbelievable and unforgettable!! The downhill on Pilani killed my quads, but the roar of applause and encouragement from the crowd kept me running strong! I turned the corner on Ali'i drive and there I was, running toward the finish line!!!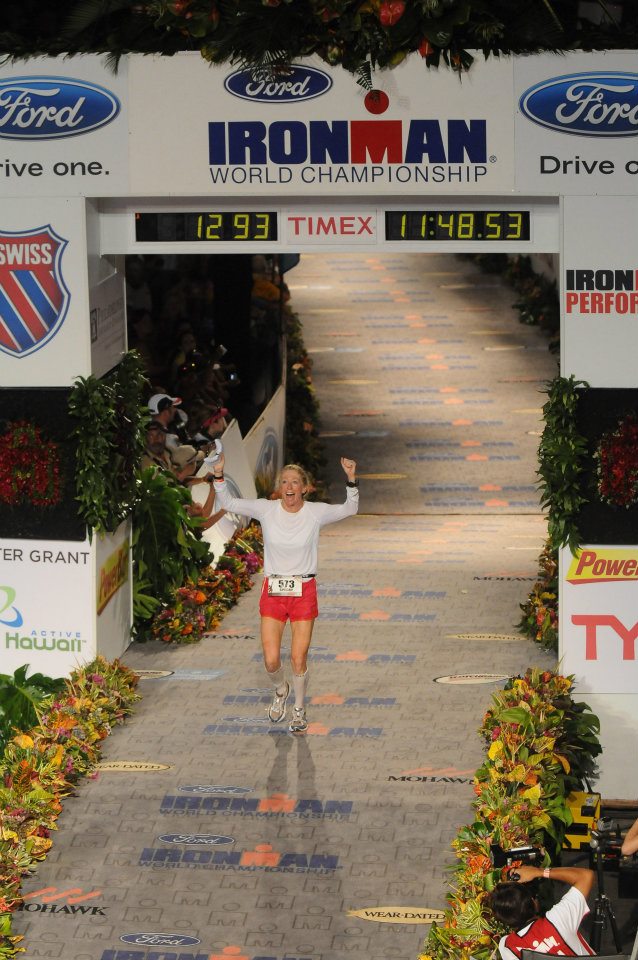 This is a memory that will be etched in my mind forever, pumping my arms in the air, the biggest smile on my face, and crossing the finish of the biggest race in the sport of triathlon… I did a little dance at the end, got the crowd all pumped up, then Rhonda and I realized that Mike Reilly had not called out my name!!! WHAT??? Well, I was not going to leave that finish area until I heard him SAY MY NAME!!! Camille claims she could hear Rhonda and me on the live broadcast, and a few minutes later Mike did announce to me, "Sherry Rennard, You are an Ironman"…!! I finished at 11 hours, 48 minutes, which was not only below my goal time, it was a new P.R.
One week later, the blisters on my feet have almost healed, some of my toenails are dying a slow death, but I am feeling strong and rested and very blessed. I am taking it very easy for the next couple of weeks, allowing my muscles to repair, my soul & body to rest, and savoring this wonderful experience called KONA…. and, of course, making some plans for 2012.
Aloha.
Sherry provides training plans and coaching for all levels of triathletes. Click here to visit CoachSBR.com