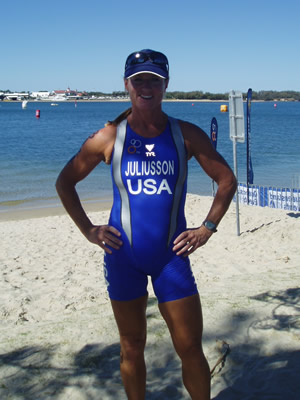 My name is Julia Juliusson, and I am at the end of my third year of competition in Triathlon. I compete in age group 40-44 for women. I am now 44 yrs old and have the pleasure of competing against all the young ones in my age group.
This year has been the greatest year of competition in my life, which resulted in the national title for my age group in sprint triathlon and then the bronze medal in my age group at Worlds in Brisbane, Australia. All this after missing 6 months of competition in 2008 because I tore my right achilles tendon in half and had surgery to repair it. My experience at Worlds made all the hard work of coming back from that injury so incredibly worthwhile. It was one of the best experiences of my life.
I arrived in Brisbane on Monday Sept 7th after a 14-hour flight to Sydney where I had a short layover that my bike seemed to miss. I got delayed for hours in Sydney waiting for my bike. I arrived around 12:30 local time in Brisbane that Monday to be picked up by another athlete from Wisconsin (Heidi) who I was going to room with. She had arrived two days earlier and had managed to rip off the left hand side of our rental car. Apparently learning how to drive on the opposite side of the road in Austrailia is harder than it seems. We laughed and I told her I had no interest in driving the whole time we were there, or we would all surely die.
Everything is in reverse in Aussie land, including swimming laps in pools where you swim up the left lane and back down the right. We were given stern warnings by race officials that passing people on our bikes MUST be done on the right, or we would be disqualified. This ended up being tough to follow in the heat of the actual race!
We picked up two other athletes also rooming with us. Russ Jones from California and Jason Peterson from Ohio. We proceeded straight to the hotel to drop off our gear and went grocery shopping. All athletes care about is food right? The bad news was that food is really expensive in AUS. We bought breakfast food and snacks and some alcohol (not a lot), which cost close to $400. Wow, what an eye opener.
Later, we assembled our bikes and tried to stay up as long as we could and passed out early Monday night to try and change time zones.
Tuesday was all about checking out the course on our bikes and checking out the swim in the local bay. By the way, we were now in surfer's paradise, about an hour from Brisbane on the coast. The race venue was about two miles from our hotel along the Gold Coast Highway, much like PCH here. The swim was in a protected bay/marina area so no waves to deal with, just a slight current. What we did have to deal with were sharks!
We went to the swim venue on Tuesday and ran into a race official who told us to be careful and not to swim at dusk because the area is known for Bull sharks. Bull sharks that eat people! Just two days ago they had seen two sharks swimming in the same area as the swim venue. It was only 9:00 a.m. so we took our chances and swam the course, biked the course and ran part of the course. We then went to play around in Surfer's Paradise and went back to our food and spirits!!
Wednesday was the ITU Aquathon World Championships. Ironically, no one had to qualify for this race. They invited every triathlete to race it to preview the swim and warm up for our race. Naturally, we all signed up.
The Aquathon was a 1.6-mile run followed by a 1000-meter swim followed by a 1.6-mile run. I had never done a race this way with the 5K split like that, so that was interesting. It's different to run into the water with your HR so elevated. I managed to run a 6:45 pace first run leg then got in the water for a 17 minute swim (the course was long) then ran a 7:00 pace for the last half. I managed to place 9th in my age-group; not bad for a warm-up race. Only problem was that it was freezing. They called it a non-wetsuit swim. The water was probably 65-67 deg F; it was very nippy.
Thursday was the only non-race duty day. Just R & R. We took an hour drive south to Byron Bay, an old hippy beach town that many people in the states who had been to Australia told me about. They said it was a "can't miss" place to go. It was truly a beautiful beach with great cafes and shops. We drank, ate, laid on the beach, and enjoyed each other's company.
Friday, we could tell the race jitters were beginning to set in. I had to go to packet pick up. I had to do short intensive burst workouts in all three disciplines. I needed to make final tweaks to our bikes. I tried to relax, but everyone felt a little nervous.
Saturday was all about going to the race venue to watch the Olympic distance races and see how many people were drafting. We had been told ITU officials were very lax when it came to drafting. The course was narrow, flat and fast, perfect drafting conditions. We saw many men drafting. Mostly the women were honest and there was not much drafting!
Team USA met on Saturday. USAT officials told us not to draft and only to pass on the right. Then we had bike check-in for the night, which I love! I hate to deal with the bike in the morning. It's so nice to get to transition and have it all good to go! Next, it was time for a great meal. FYI, if you go to AUS, the meals out are just as expensive as the store. It was like $40-$50 for an entree. After dinner it was early to bed.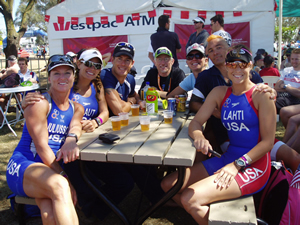 RACE DAY: Up at 4 am and I am feeling good. Still, it's very hard to stuff down the oatmeal. Walked out the door at 4:45 a.m. and drove to the race venue. I got in the transition by 5:15 a.m., set up my gear, then went for a 15-min run. Next I went down to the water, swam for 15 min (longer than usual for me), then realized they were starting the waves. I ran to my place in the chute. The race started at 6:45 a.m. local time and my wave went off at 6:55 a.m. It was the first race that I had where they sent all the women first.
I lined up on the shore, the horn went off, and I ran forward into the water only to step into a pot hole and completely fall. I could do nothing but start swimming when normally I would have dolphined two or three more times. It was not a great start and it was a full contact sport after that. I got elbowed and kicked many times. I paced it to the first buoy then turned right and started to pick up my pace.
I caught the lead group of ten swimmers. I drafted for the rest of the race and thought wow that was not so bad. Then I stood up from the 750 K swim and looked at my watch, which said 14 minutes, and I could only curse! Turns out the lead pack went slow!! The fastest gal went 13:30 or so and I came out 9th in the pack at 14th. I should have passed these gals instead of taking the easy way and just drafting. On the bright side, I was not tired so I hammered the bike!
I had the fastest bike split in my age group. In fact, I passed everyone on the bike. I was in first place coming into T2. Then, by mistake, I ran down the wrong aisle! I had to turn back which cost me a good 20 seconds. On the run, I got passed (with conviction) by an Aussie who must have been going sub 6:30 pace. She blew by me so fast I did not even try to match pace. Then, in the middle of the run, I got passed by a Kiwi who I stayed with for a while, but eventually lost her. Turns out, I was running a 6:50 pace which, after Achilles reconstruction, was awesome for me. I simply could not hang on to these gals. I finished with a good kick at one hour eleven minutes, just 20 seconds shy of second place. First place beat us both by two minutes; she deserved her gold.
I became a bronze medalist in the 2009 World Games and I cried. Never in my wildest dreams, after surgery last year, did I think I would come this far. I have my cycling coaches and run coaches to thank. I am very blessed indeed.
In 2010 the Worlds will be held in Budapest Hungary. Never say never.