Jarrett Pflieger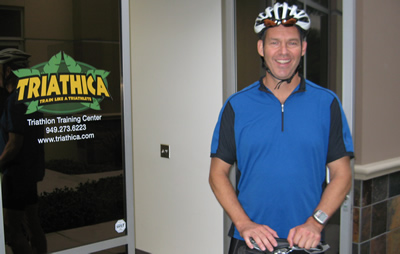 Many people dream of completing just one marathon in their lifetime. That was Kevin Davidson's goal… 18 years ago. He has done 53 of them since.
Kevin is a member of Triathica with an extensive background in running, wanting to try something new to give his knees a break. His knees deserve it. They have carried him through over 50 marathons; at least one a year, for the last 18 years. Kevin believes, "Triathlon gives me new ways to push myself, is less punishing on my body, and gives my upper body a chance to get conditioned."
After 53 marathons, the thrill of finishing is still there, but Kevin wants something more. He has recently set his sights on a goal of grandiose proportion. He wants to complete at least one race on every continent. That's right, all seven of them, Antarctica included. Right now he is planning a trip to Angkor Wat, Cambodia to check Asia off the list. He is not familiar with the region, so he will be taking a group tour to Cambodia with Cathy Loper Events, a company that organizes groups to compete in races around the world.
Another notable racing feat was the time he did the Marathon du Medoc in France last September. After completing the race, he and a friend then took a flight to Hawaii and ran the Maui marathon the next weekend. "The racing in back- to-back weekends wasn't bad, but the time change was killer. It was hard for my body get used to it, but it was still a great experience," Kevin explained.
Kevin is the first to admit that any speed he had 18 years ago is long gone. Sure, he would like to go fast, but just going out time-and-time again to prove he still can is enough for him. He started running because of weight gain and health deterioration caused by a back injury. He soon learned that if he had no accountability, he wouldn't run. For him, signing up for a race was the motivation he needed to get out and train. That, along with a consistent group of training partners, has kept him going all these years. Being able to eat and drink what he wants when his training load is high hasn't hurt either.
Kevin recently completed America's Finest City half-marathon in San Diego, CA. He liked the race a lot and although he wasn't ecstatic about his time, he was happy with his effort. It was a relatively hilly course, but he kept his pace under ten minutes per mile and dipped as low as 7:30 on some of the downhill sections. "Overall it was a great race. The weather was awesome for running until mile 11, then sun came out and it got hot fast. Some of the scenery was just amazing," he described.
Kevin's only major complaint about the race was its lack of the usual "beer garden" at the finish line. He normally looks forward to kicking back a few brews after his races, so the lack of the beer garden was disappointing to say the least.
Kevin now has his sights set on the Orange County International Triathlon on September 27th, 2009. He has been training hard and improving dramatically on the bike, his weakest event. The weekly Saturday morning group rides at Triathica are getting him more comfortable on the bike and improving his fitness. "I have a fear of crashing while going fast which really holds me back on the steep downhill sections. I'm definitely getting more comfortable with downhill speed, which will hopefully save me a lot of time in the race," he said. The group rides go through Santiago Canyon, the same route of the OC Tri bike course. This is getting him more familiar with what to expect on race day. We know Kevin will do great.
The man is going to do a marathon on Antarctica, it is doubtful an Olympic triathlon will phase him.