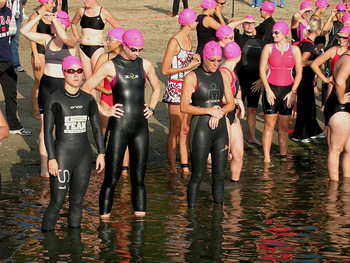 I've seen a lot of emails flying around about the quality of the lake water out at Bonelli Lake in San Dimas. Coming from the "land of lakes, " Michigan (or is it Wisconsin), I have personally swum in over 100 lakes in my lifetime and I can tell you 99 of them had dirty water. The only exception being Torch Lake in northern Michigan.
Yes, the water's dirty . . . it's a lake . . . get over it!
However, don't let the dirty water dissuade you from doing these really great races. There are a bunch of benefits: it's on a lake so the swim is flat, it's close, it's a great environment, it's challenging and it's a small race. If you haven't done any of these I highly recommend it. They have three races in the series and you can select from the "Tri Express" (short) or "Championship" (long) courses.
I did the Championship race on Sunday, April 18th and had a blast.
I want to preface this report by saying that while I had a good race it certainly wasn't anything to write home about. The 92-mile bike ride (which we hammered) didn't make my legs feel that great! (I say this again in case you missed my comments above.)
The morning was cool but the sun was starting to come out at the beginning of the 500-yard swim. And while the wave I started in probably only had 100 people in it, I was thrashed.
Since I'm a "good" swimmer I usually try to go out fast and get ahead of the crowd. I'm never alone in this thinking but this time it seemed like EVERYONE had the same idea. I've never been beaten up so badly in any race start!
By the time I got to the turnaround buoy we finally formed a nice pace-line. I got on the heels of another swimmer and just followed him in. By the way, if you don't practice drafting off other swimmers, you should.
Coming up the steep ramp into transition I caught up to one of my fellow M55-59 age-groupers, Rich Pfeiffer. I encouraged Rich to speed up, which he promptly did.
The bike portion of the race was a blast because Rich, Sam Sunshine (my doctor) and I were all in the same pack. I'd pass them, one of them would pass the other two, and so on. The entire bike portion of the race was like this with Sam entering transition first, Rich second and me close behind.
We all seemed to transition about the same speed but Sam just took off and left Rich and I in the dust! He was running strong with no way for my tired legs to catch up.
Rich on the other hand was directly in my sights. I guess I passed him about a mile into the run and once again encouraged him to stay with me. No way, Rich wouldn't be able to keep my pace.
I just couldn't seem to get into a groove with my running so I just hung in there the best I could. Guess what? It was good enough for 1st!
In the last five races I've done I've got four 1st place finishes and one 2nd place finish. I guess the M55-59 age group suits me well. Again, sorry if I missed anyone.
Chris Davis 1:08:24 (3rd M35-39)
Mike Catanzaro 1:12:02 (6th M35-39)
Stefani McMillen 1:13:18 (2nd F30-34)
Sam Sunshine 1:13:39 (6th M45-49)
Ron Saetermoe 1:14:27 (1st M55-59)
Rich Pfeiffer 1:16:20 (3rd M55-59)
Camille Longino 1:24:27 (2nd F50-54)
Julie Vargas 1:25:27 (4th F35-39)