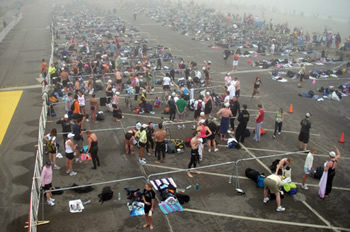 For most of you, your "A" race has already passed this season and you may be done racing for the year. If so, I hope you had the kind of year you hoped for. For others, there may still be a race or two on your calendar.
My racing season generally starts in March and continues through November. Not to say that's right for everyone, because it's not – it's just what I like to do. Just be sure that you're not ending your season too early because there are still a lot of great races available into November (in some parts of the country).
Here in California we have lots of late season races. For one, our weather generally holds up through November, so why not? The other is that a lot of our beaches are restricted during the summer months from holding races because it impedes on the beachgoers so some races get pushed back.
This year, my last planned race of the year also happens to be my "A" race which is Ironman Arizona. In this case I'll race all season long right up to IMAZ. In other years, however, I've just found late season races to do just for fun.
If you're doing a late season race that isn't your "A" race be clear about what your objectives are. Are you doing it for fun, or to help keep you motivated, or are you trying to "podium"? In each case you should consider the best way to train and race your upcoming event.
If you're doing it for fun, that's great. Be sure you're still in shape to do the race, but then just get a good warm-up and stretch in before your race and pick a nice comfortable pace and enjoy the day.
If you're doing it to help keep you motivated during the off-season you should consider your triathlon training plan and where the race falls. For example, here at Triathica we call them "Moderate," "Maximum," and "Minimum" weeks. In other words, hard, harder and easy weeks. If your race falls on a "Maximum" week go out and hammer it. However, if it falls on a "Minimum" week be sure to hold back.
Finally, if you're trying to "PR" or reach the podium you'll need a bit more planning. For example, when was your last race? What is your race distance? How much tapering will you do? These are all important questions you should answer prior to your race.
Whatever your motivation, I strongly suggest you consider late-season races. I love to race!
Cheers!