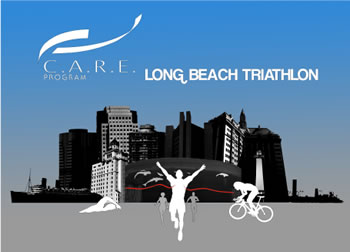 As I've written before, I really enjoy doing the same races year after year. Some may get bored with that but I like it so I can see if I've improved over the years. Generally, I have.
I'm in the throes of training for Ironman Arizona now so I can't afford to miss any of my regularly scheduled training so the day before Long Beach I did my normal bike/run brick. Needless to say, I wasn't expecting much on Sunday.
It was a beautiful day and the water in the Long Beach bay was a brilliant red (LB is a great race for the non-swimmer because it's calm – it also collects a lot of gunk).
I got out quickly and only saw a couple guys ahead of me in my wave. I settled into a nice quick pace and found a guy to my right swimming the same speed as me. The funny thing was that I only breathe to my right, and he only seemed to breathe to his left. As a result, we looked at each other for most of the swim.
I got out of the water feeling fresh and found two other guys in my age group only a step or two ahead of me. The run through the sand seemed to take forever but I was quick through transition and beat the other two guys out.
I never did see the one guy again until after the race but this 52-year-old dude (I'm in the M50-54 AG) passed me going up the first hill on the bike. I easily caught him going down the hill and stayed ahead of him on the flats, but he was gunning for me.
He passed me going up another small hill but I kept him in my sights. This time when I passed him I said as I went by "You really didn't think you dropped me did you?" His reply was "You f***er!" in a joking tone.
We passed each other several more times through the bike section and he just beat me into transition slightly. I beat him out of transition, however, and headed out for the flat, fast run.
It wasn't long before he passed me . . . probably ½ mile into the run. I contemplated trying to go with him but he was just too fast and my legs weren't fresh. I saw him at the turnaround and waved the "shaka" wishing him good luck.
That's how we finished, he took first, and I took second with a time of 1:04:51, my fastest time at LB by about four minutes!
I collected my silver medal, signed some autographs and went home for a power nap.
By the way, Triathica also had several athletes competing. Mauro, David, Byron, Joe and Janet all raced for the first time at L.B. and all did great! I'm proud of you all!
Chris McCormack (Macca) raced as well. He did okay!
Ron Saetermoe