Ron Saetermoe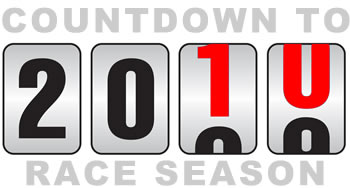 Yesterday I tried signing up for the Carlsbad ½ marathon (I LOVE racing this distance). Sold out! Then I tried signing up for the Vineman 70.3. Sold out! Guess what, it's not too early to start thinking about your races for 2010. In some cases you're already too late.
I'm told that Ironman Arizona sold out in 24 minutes. Okay, think about that for a minute. You pay $550.00 for a race a year in advance x 2,400 people = $1.3 million!!! I want that gig!
If you really want to do well racing next year you need to be thinking about the races you're going to do, sign up, and develop your plan. I normally do about 10 triathlons a year and another 8 – 10 running races. That's a lot for most athletes, but I love to race.
Racing is fun but if you're trying to make the podium, you need to do more than just register for races and train – you need a plan of attack.
First, don't try to do too many races. "Too many" is a relative term. 10 may be too many for some whereas 20 might be just right for others. Use your recovery time as a guide. Older, or less fit athletes will take longer to recover than extremely fit, and younger athletes. You'll want to have time after your races to fully recover, AND have time to gear up for your next race. If you race EVERY weekend you're not giving yourself enough time.
Second, pick your "A" races carefully. Your "A" races (1 – 3 per year maximum) are the races you feel you really want to perform your best at. You'll want plenty of training time and taper time before these races.
Third, think of your "B" and "C" races as "catered workouts." You're going to race them but you're not going to need to be carried off on a stretcher at the end of the race. These races help keep you sharp and give you confidence for your "A" races.
I "age up" in 2010 (I'll be 35 . . . again) so I'm planning my year VERY carefully. I've already registered for Ironman Arizona again because I feel this will be my best chance at qualifying for Kona. I'm also going to try to register for Ironman St. George and Ironman Canada at Ironman California 70.3. We'll see if I get in.
All of my Ironman races will be "A" races for me. I feel that I'm able to consider three Ironmans "A" races because they're spread out enough. I'll have plenty of time to train and taper before my big races.
If you haven't mapped out your races yet you'd better get on it!
Cheers!