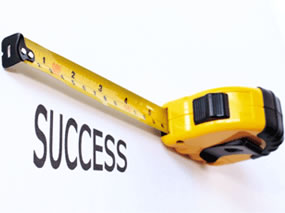 I had a potential client come in this past week to grill me about my coaching techniques. Naturally, every coach has a different style so I explained mine to him.
I'm hoping that one thing he realized is that he needs to measure his success with his own yardstick, not mine, or anyone else's.
I try to make this point whenever I work with an athlete because I want their involvement in triathlon to be rewarding for them, no matter what their ideas of success are.
As you can tell, over the years my goals have changed. Initially it was about staying in shape. These days it's all about punching my ticket to Kona. Those are my goals. I might state the obvious here that I'm not alone in the dream to reach that particular goal.
This gentleman has been working with another coach for several months and was hoping to better his time from last year at the Ironman California 70.3. He didn't and was disappointed. Disappointed in his coach, and himself.
Believe me, I've had many disappointments in this sport as well. I've hoped to do well at races and fallen short of my goals. I may not have been fit enough or had a technical problem or even been over trained. Guess what? That's life!
Before I work with an athlete I interview them and find out where they've been and where they'd like to go. I assess their performance and look at their race results. Only then do I give them what I think is a realistic idea of where they can go in the short-term. If you set the bar too high you'll never reach it and always be disappointed. Set it too low and you'll never know how great you can be.
How do you measure success? Completing your first triathlon? Completing your first Ironman? Winning the world championship? I work with athletes at all levels and help them achieve their goals.
So I say again "How do YOU measure success?"