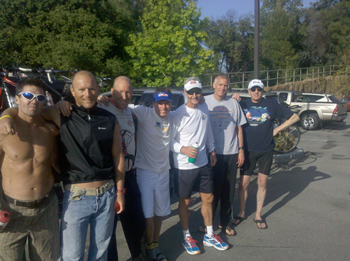 Saturday, April 10, 2010. While most people are sleeping and dreaming whatever it is they dream about, eight stupid guys were up at between 3:30 and 4:00 a.m. getting ready to go to the parking lot in front of the Starbucks at the corner of El Toro and Bake to meet up so that we could carpool to the Mulholland Challenge. At 4:45 a.m., I drove up and parked and was greeted by Gary Clendenin (The Kid), Ron Saetermoe and Mark Matyazic. Right after that Larry Davidson (Lar Dog), Kari Kraus, Quinton Berry (Banger) and Jeff Rhodes (Bat) showed up. Everyone was quite timely. We got the bikes loaded and gear in the cars. We then had to wait for Starbucks who was suppose to open at 5:00 a.m. but it was obvious that they are not used to having eight guys waiting outside for opening. As much as everyone wanted coffee, I think the real dash was for the restroom. Needless to say, the day was starting out good and I remember someone saying, "Why do we do this?" Since I have asked myself this question numerous times, I really had no answer.
We head out and get on the 405 and things are good. I was driving and had Kari, Lar Dog and Ron in my Car. Yes, we were driving in my wife's Honda Odyssey but as the ride went on, everyone kept commenting how comfy it was and how smooth it rode. We had XM radio and I set it on Channel 8, which is dedicated to the 80s. Kari was very pleased as he was singing songs from the Hooters (which he informed that they were from somewhere in Wisconsin). We all were happy and had smiles on our faces.
Flashback to a year ago. Last year, five of us did this. Daniel, Quinton, Jeff, Lar Dog and myself. The whole way up Daniel was so excited that we were doing this ride because it was where he did a lot of his training. He kept saying how beautiful the mountains were blah blah blah. He was acting like someone that was going to show off his hot looking model-like girlfriend to his friends. Well, it was the most miserable experience ever for me and it was a suffer-fest. Why do I bring this up? Well, I purposely log everything into BT (Beginner Triathlete) and I use that to look at previous training and I usually put in certain notes to myself. See below from my BT after this ride last year. Note the last paragraph titles, "Note To Self." What an idiot. As you can plainly see, I did not reference this log prior to signing up. It was all "c'mon Scooter, good for you, we will have shits and giggles."
==========
7h 00m 102.50 miles 14.64 Mi/hr
Equipment: Cervelo P2C
King Of The Mountains Century
Challenge Stage 1 – Mulholland Challenge
Several things. If this isn't an Epic Ride than nothing is. We climbed exactly 11,333 feet. What a day. The only thing good about this ride was the company. Did this bad boy with Lar Dog, Banger, DD and Jeff Rhodes.
Key Learnings: 1) Do not eat too much on the SAG Stops. Ate one too many peanut butter granola bars at SAG Stop 1 and my stomach was bloated until mile 70. 2) Never carry two nutrition bottles. Always make sure one is water. I switched out water for Heed at one stop and craved water so bad. Not good. 3) Need to learn to take salt tabs during long training rides or runs and not just races. Legs cramped up. 4) The saying that you will always go thru a rough time at some point during a long bike and run and you have to just get thru it is very valid. Between miles 60 and 70 was just miserable but after that and through prayer, I felt great and finished strong.
Note to self: Never do this ride or another like again. I had to put this in, in case I even think of signing up for something like this again.
==========
Ok, back to the highway to hell. So, we arrive, hit a Mickey Ds for relief from Starbucks and other manly functions and then park in the designated lot. Weather was looking good, overcast, and a little cold but not too cold. At this point, I have been relatively calm, not really thinking or referring to the hell I went through last year. I am enjoying all of the smack talk between the gang. We are ready to roll and ride across the street to the Renaissance Hotel and get checked and attach race numbers to our jerseys get our maps. Funny thing is that while I am folding my map, I fail to look at the distance. Note distance from last year, 102.5 miles and ONLY 11K in climbing. Last year we were the last group out and we were dropped after only 200 yards. This year they were starting everyone out as they were ready and so they noted our race numbers and the time and off we go. 7:24 was the time I was told to start. Key to note how observant I was at this point.
Off we go and of course, Lar Dog is leading the way. We started off much easier than last year and some of the scenery looked familiar. We were on Mulholland Hwy I knew that had a few rolling hills but was fast and nothing to hard and that would lead to PCH and the nice scenic Pacific Ocean. Last year when we got to PCH we had to wait like 20 minutes for someone and since we were in the last group, we were constantly fighting to make cut-off times. This year would not be rushed and plus, I was going to beat my time by at least 20 – 30 minutes. I am with Kari and Gary at this point and hit a stoplight and Lar Dog, Banger, Ron and Bat make the light and they are off to the races. Please note that this is the last time I see Banger and Bat until near the end. Have a great time guys. At this point I have to use the restroom but I am afraid that Kari and Gary are going to give me crap so early in the ride. As we are cruising along PCH, we get a nice little pace-line going and I am pulling at this point when I see two blue structures of pure delight …yes, porta-potties. At this point and since I am the lead, I pull-up and pull over. Relief is finally here. The funniest part was that Gary and Kari had also wanted to go to the restroom but was afraid to saying anything as well. Ron was smart and had stopped as well so he joined our group. We continue along PCH until we hit Topanga Canyon. I knew this turn well. This is like going from the Honeymoon to the real life. From this point on, it was just hill after hill after hill. The entrance to the dragon's lair.
At this point it is really lots of giggles and talking and saying how nice the scenery is etc. We get to the first Sticker Stop and meet up with Lar Dog and get our stickers and some water. Away we go. No time to chat with this group. After this it is just hard riding. I remember Ron saying something earlier about the race being 116 miles and 12K+ of climbing. The whole time this is just not computing in my head. He must be wrong. I know they left out Stunt Hill last year but that would only add in a little bit. Kept checking my Garmin for feet climbed and it was only about 1K. Long day ahead. We ride and hit the first SAG stop. While I noted I was an idiot for not ready my BT log, I did remember that I ate way to much at the SAG stop (this one in particular – Too many Salty Peanut Butter bars) so this time I just get water and 2/3 of a banana. I feel like I am Einstein at this point and leave with a big smile on my face.
Somewhere along the way The Kid took off and I never saw him again. All I know is that he was riding strong and he was on a mission. Kari, Ron, Lar Dog and I would be together the rest of the way with some sightings of Mark here and there. Last year I was really suffering between miles 50-70 due to my stupid pig out at the first SAG stop. Feeling good and we are all riding strong. We then hit a stretch of road that was most likely laid down in the early 1900s and it has not been repaved to date. The worst part is that at first you climb on this horrid road and then you have to descend down it and I swear, you are hanging on for dear life. Your hands hurt from the vibration, you arms are so tense that you are actually more fatigued than rested after descending and in my case, I am sure my brain got knocked loose and that probably happened last year as well and is why I am stupid enough to have done this ride again. After this we are treated to some short 16% grades that you don't think much of but they really wear you down. Finally, we are on PCH and get some nice pace-lines going with everyone taking a turn in front. At this point I am averaging about 232W and feeling good (heck, compared to what I felt last year, I am ecstatic). Things are nice and peaceful until I see what I called the entrance to Hell. Yes, you guessed it, DECKER. I spell it out in caps to give it the respect it deserves. I hear Lar Dog say "Scooter, this can't be DECKER already." Unfortunately, it was. When we did the race last year they had to change it a little and DECKER came about mile 85 and this year it embraced us at mile 71.6. Let me add in that I find it funny that Daniel did this race the only year Stunt Road was removed and now that it is added back in, he is spinning in the canyons and eating at The Counter. Fortunately, Kari and Ron had no idea was they were about to get themselves into. Just so you know, DECKER is where I hit my darkest place last year. I had to pull over and pray, I was so cramped up and just couldn't go. No matter what your thoughts are, God answered my prayers and gave me strength to make it up that hill and finish the race. Ok, back to reality. Lar Dog suggests we pull over and remove vest, jackets or whatever would cause overheating. After that we hit it. First third of the ride is just a bunch of 16% grades. It is hard. And at Mile 71, it makes it even harder. We all ride strong up DECKER and Lar Dog comes up and joins me at about 2/3 of the way and is looking really strong. As the race gets longer, the dog gets stronger. We all meet at the DECKER SAG stop, which is at a Fire Station. We refuel and realize we still have a long way to go. I mention to Lar Dog that we still have 4K of climbing left and he says something to the effect of that can't be right.
We continue to ride and head toward Stunt Road. Never done it before so I have no idea. What I was able to glean was that it was not as bad as DECKER and it was 3.8 miles long. Well, let the carnage begin. While DECKER is hard, doing Stunt Road at 92 miles into a race was the most horrendous. My mileage seems like it was stuck. I was in the Pain Cave and then was escorted into a Special Room in the Pain Cave. Once again, this is when you really have to reach deep. For me, that is praying and asking for Strength from God. I think about my family and how blessed I am. This is also I time that I have a few choice words for my buddies like Lar Dog and Banger. I was also thinking about The Kid who told me that he would be holding down the rear and at this point, I am thinking he is at the top enjoying life. At this point, you hate everyone and you are going to sell your bike when you get home or toss it in the ocean, whatever is easier. Ron passed me and he looked like death and I only imagined what I looked like. I see a guy sitting in a nice shady part of the hill just relaxing and the thought crosses my mind to join him. As much as I want to, I can't. I am stupid and have to ensure the pain. About 2/3 up the Lord did answer my prayers and I felt much better. I was now able to get up to 6mph versus the 2mph I was going. I pass a guy walking and he says, "Great job, can't believe you are doing this on a Tri-bike. I pass Ron and tell him what a Stud he is. I look up and see people and bikes at the top. That must be a SAG stop and I am off to the races. Nothing like a finish line to something to get me going. As I am getting close I finally get to see Banger, The Kid and Bat. I am thinking to myself, something is wrong here. Find out that Bat and Banger thought the ride was a little too easy for them so they decided to ride an extra 9 miles. So the whole gang is together expect for Kari. Banger, Bat and The Kid, or what I refer to as the Elites, take off because they had already been up there too long. Bat starts taking off going left up a hill while we are all shouting at him, "wrong way!" He quickly corrects direction and off they go. See you at the finish line. Kari arrives, we all fuel up and the Lar Dog realizes he has a flat. I think we all secretly found this as great news since it meant we had an additional break.
While I have written mostly negative stuff about this ride, it was at the top of Stunt Road that I realized the beauty of the scenery we were privileged to today. I look around from every angle and it was just beautiful. The vistas, the views of the oceans, the beautiful mountains and the gorgeous homes and ranches. You truly feel that you are not anywhere near LA. I then stop and think to myself, this will be the last time I see these hills unless I am in a car!
The group is upbeat from the rest until Lar Dog says something that I had been thinking. We still have 20 miles left. As they say at IMCDA, "Get 'er done gents." We head off and after a very short downhill section we are climbing again. Cruel! As Bill Paxton says in Aliens. "game over man, game over!" I am at this point. We would continue to do another 2K of climbing and at this point in the ride it is survival mode. We finally hit Agoura Road with 4.3 miles to go. Lar Dog and I are riding together and as beat as we were, it was funny how we still push each other. Lar Dog would come pushing past me and I would hang on and try to keep up and then I would push past Lar Dog and he would be right there. At last, the Renaissance Hotel and the cowbells. Finally done. We get checked in. The guys kept telling me a number and I was like 4:36? Huh, it took me longer than 4 hours. Well remember how astute I was in the beginning and knew my start time, he was telling me my ending time. I had no idea. Like a Zombie, I rode my bike to the side and parked it and went in to get my Dinner. It is funny because in the e-mail you get, they say Bristol Farms has prepared a nice lunch for you all. Lunch! By the time I got in it was dinner.
I see Banger, Bat, The Kid and we all get our sandwiches and sit down for some shits and giggles. I was so craving hard food, that I think I downed a bag of Fritos in one gulp. We all eat, get dressed, load the bikes and go to Starbucks and head home.
Some observations:
 First and foremost, Glory to God for getting me through this and for keeping us all safe.
 The only good thing about this ride was the company. I am blessed to be friends and training partners with such quality people like you all.
 This is only my third year riding an it was the toughest race I have ever done.
 What doesn't kill you makes you stronger.
 Kudos to Lar Dog, Bat, and Ron for doing this on Tri-Bikes. This is my second time doing it on Tri-bike, which again shows my low IQ.
 Bat, you are an uber biker and a beast. Next time I am bring a cord and attaching it to your bike and just hanging on.
 Banger, same for you, uber biker and great job going the extra 9 miles. Less is more for you bru!
 The Kid, whether you think it is or not, you are uber biker and you put us younger guys to shame. If we can ride and look like you at your age we are golden.
 Lar Dog, you never cease to amaze me with your abilities. Awesome job on the ride and thanks for doing it on a Tri-Bike and keeping me company.
 Ron, you are riding and racing the best ever. Keep it up.
 Kari, you did great and you never gave up and what I liked most was that you always had a smile on your face.
 8 hours and two minutes in the saddle to do 116.5 miles and over 14K of climbing.
 IMSG – Bring it baby!
Out.
Scott Callender