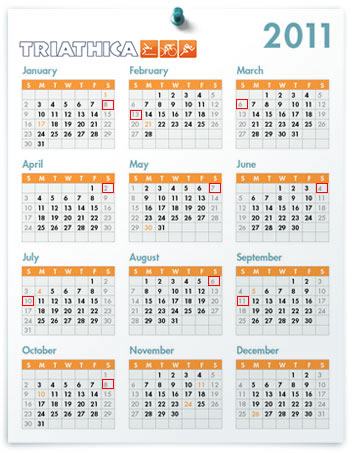 I've talked about it here several times. Is yours done? Your 2011 calendar?
In some cases the races you might be considering are filled up already. For example, I heard that the 2011 Ironman Arizona filled up in 35 minutes. Oh well!
However, there are still plenty of great races still available, but don't wait too long because you never know when they're going to fill up.
Here's my calendar for next year, so far:
January 8: SoCal ½ marathon – I like ½ marathons because they help me with my leg speed and don't take too long to recover from. It takes me over a week to recover from a straight marathon.
February 13: San Dieguito ½ marathon – This is a hilly run in San Diego county. This will help me run in the hills and the venue is beautiful.
March 6: Desert Triathlon (Olympic) – A great early season race to help sharpen my race skills and improve my endurance.
April 2: California Ironman 70.3 – Sold out long ago this is the premier SoCal 70.3. This will be my first attempt at qualifying for the Ironman World Championships in Kona. Only one Kona slot and tons of competition!
May 7: Ironman St. George – Lots of my tri buddies are doing this one and it is still open. A very tough course. I'll really have had to practice my hill climbing for this one. My second attempt (if needed) to qualify for Kona.
June 4: Hawaii Ironman 70.3 – If I don't qualify at California or St. George I'll go to Hawaii to do this one. If I do qualify I'll blow this off. No need to go to Kona twice in one year . . . although it is a great race.
July ?: Carlsbad Triathlon – This is a really great sprint triathlon. Lots of hills and lots of fun. Gives me a chance to improve my speed and compete against my sprint specialist pals like Russ Jones and Stuart Glick.
August?: Camp Pendleton Triathlon – Another great local sprint triathlon.
September 11: 70.3 Worlds – If I'm lucky enough to qualify, I'll be here. A very tough 70.3 – one I never considered until they moved it to Lake Las Vegas for 2011.
October 8: Ironman Worlds – This is the big daddy of all triathlons around the world. It was a privilege to race here this year. It will be again in 2011 . . . I just have to qualify.
November and December are open at this point. I won't be going back to Ironman Arizona in 2011 because I've done that race three times before and there isn't enough time to adequately recover from Kona if I'm lucky enough to get in.
That's my year. How's yours shaping up? Share with us, post it below.
Cheers!
Ron Saetermoe