Jarrett Pflieger
Sara Davis is a new staff member at Triathica and has taken the sport by storm since entering in 2008. We sat down with her for a bit to find out more about the pro soccer player turned triathlete.
JP: Sara, tell us a little bit on how you got started in the sport of triathlon.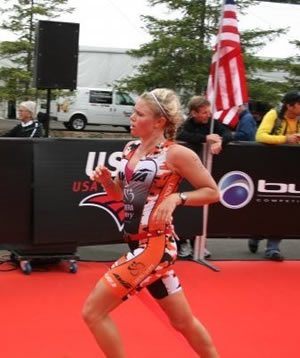 SD: While I was playing college soccer I would always swim laps at the pool after practice or on days off. My friend's dad always told me I should get into triathlons when I was done with soccer. I laughed it off at first since I had no idea what triathlon was all about.
I moved to Kona, Hawaii for a couple months to house-sit and it just happened to be during the time of the Kona Ironman World Championships. I would swim the course and run for my workouts and I met several athletes including that year's champion, Chris McCormack. The energy from the all the athletes got me hooked. The week I moved home to So Cal I bought a bike and started training.
JP: To do this well at Triathlon within the first year in the sport, you had to have been in good shape before you got started. I'm sure soccer played a big role in this. Did you have much success in that sport as well?
SD: You could say that. I was a four-year varsity player for San Clemente High School and team MVP for three of those years. We also won the CIF Championships in 2002.
I played college soccer at the University of Washington and was first team all-league at Cal State Northridge. I also played a little pro soccer in Europe, Sweden, Amsterdam, and Italy.
JP: So how did the transition go from soccer to triathlon?
SD: It went great actually. I started in 2008 and managed to qualify for National Championships and placed 15th in my first year in the sport. I ended up winning all nine triathlons I raced in 2008 in the "20-24" age group, and was the overall winner for two of them.
JP: That's just insane. Do you have any special training secrets or techniques?
SD: Not really. I train by myself sometimes and other times with a few local triathletes in San Clemente. I train 6-7 days a week and usually 1-3 times a day. The training changes day to day depending where I am in season or what races or distances I am training for. Longer races are better in my book.
JP: Do you have any tips for up and coming athletes looking for success in triathlon?
SD: The most important thing is that you enjoy what you are doing. You should be having fun while training hard and competing. If you don't you will burn out fast.
JP: So you recently qualified for Worlds at the Pacific Coast Triathlon. Tell us about that.
SD: I showed up race morning and heard the race was turned into a duathlon because the waves were too big. I was bummed, but realized it was probably to my advantage even though I was still exhausted from Vineman the weekend before. I placed 7th in my age group and was really excited to be going to Australia.
JP: What is this I hear about a fundraiser?
SD: I am having a fundraiser at the OC Tavern to help raise money to get to Australia to compete. After all, I am a struggling athlete. Stay tuned for the time and date.
JP: Definitely will. What are your future plans in triathlon? Do you want to turn pro?
SD: Right now my life revolves around triathlon; I eat, breath and sleep the sport. Starting next season I want to start focusing on longer distances like half and full Ironman. My goal is to become a pro by 2011. In the future, I want to be a top competitor in Kona and Clearwater World Championships in 70.3.
JP: Do you have any other interests besides triathlon?
SD: Surfing, beach volleyball, art, and jewelry making. I also like hanging with friends, family and my dog Raja.
JP: Thanks for you time Sara. We look forward to having you on staff and coaching here at Triathica. Good luck with the rest of your season and go show them who's boss at Worlds in Australia.
SD: Thanks. I'll do my best!