Ron Saetermoe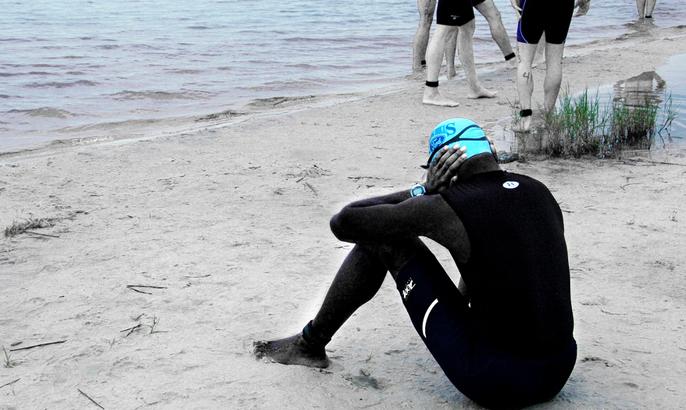 The terror on the "newbie's" face is humorous. That's because the terror is on someone else's face, not mine.
Many new triathletes (newbies) seem to have come to the sport in similar ways – one of their "friends" coaxed them into it. That's how I started, and to this day I can't thank Greg Fitts enough for the encouragement.
The problem is that most come to the sport ill prepared. Sure, there are coaches and triathlon clubs out there, and great organizations like Team in Training, but most new triathletes enter the sport without a lot of guidance.
Granted, the vast majority of newbies just want to survive their first race, but secretly I think they also want to feel good about their performance. That's where a good coach comes in. A good coach will help get you physically and mentally ready for your big race.
Triathlon is very simple, but very complex at the same time. I mean, who would think it would be so darn hard to put on your singlet when you're wet? Some day I'm going to shoot video in the transition area of a race and put together a "Funniest Transitions" video. It is hilarious.
Triathlon is simple because all you have to do is swim, cycle and run. Even the most unfit amongst us can "complete" a triathlon, whether they believe it or not. However, getting beyond just surviving takes much more.
Here are a couple tips:
1. Get a coach: Of course I'm going to say that, right?
2. Read: There are a ton of books and magazines out there. Triathlete magazine and Competitor magazine have great articles for the newbie. www.beginnertriathlete.com is another great resource. I also like the Wes Hobson book called Swim Bike Run.
3. Get a plan: If you just go out and swim, bike and run without a plan you'll never reach your full potential. I've posted my "ideal" workout week here before and I really try to stick with it.
4. Measure your performance: Periodically do "marker sets" which is a particular workout you do at different times of your season to see how much you've improved (more in this newsletter).
We'll be starting a newbie triathlon camp here soon so stay tuned for more information on that.
Cheers!