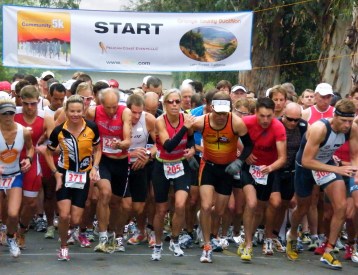 I've never been a big fan of the duathlon because my strongest event has always been the swim. But just to give it a shot I did the OC Duathlon last year just for kicks, and training.
Getting on the bike AFTER a RUN was something I never practiced for (I have since, however) so it was a little weird last year. I felt like I had a good race (for me) and finished 6th in my age group with a 1:51:57. Not too shabby.
So this year I was going into the race with higher expectations but didn't do any tapering for it whatsoever since this was really just an intense training day for me. Funny how we still expect more even though we do less preparation! And I KNOW it's not just me!
I'm up at 4:00 a.m. and jump into my racing clothes and sweats and grab breakfast. English muffin with peanut butter and jam, glass of OJ and cottage cheese with blueberries and walnuts. Same thing I eat every race morning. I think I over did it this morning though because I felt really heavy.
Made my way to the race site and got a spot near the end of the bike rack – the end near the start/end chute. Used the porta potty a couple times and chatted up some of the other racers. No pressure!
I told my buddy Russ Jones to watch for me because I had him in my sights. His comment? "Sure Ron." He knows me too well to be worried. We're in the same age group again so I know when I race against him the BEST I can hope for is 2nd unless he flats. Heck, even if he does flat I'll still probably come in 2nd.
The morning was cool. A perfect day to race. And plenty of friends racing too. It was going to be fun.
The run starts out downhill so it was fast. My first mile was 6:02! Whoa, big fella, you're not an 18:00 5k guy! The next couple miles were considerably slower. I could see my pals Russ and Scott Calendar up ahead. No way I'm going to try to go with them.
My goal was to press hard on the bike. At the Californian 70.3 I managed to average 192 watts for the entire 56 miles so my goal today was to go 200. Sounds easy, doesn't it.
I did go hard and managed to pass more riders than those that passed me. I saw my pals Dave Aronne and Stefani McMillen. I'm pretty slow up hills but hold my own in the flats and no one passes me on the downhills. My goal is to try to keep my wattage within a range no matter what the terrain.
The bike went well and I managed to average 198 watts. Only 1% less than my goal.
If you've never done a duathlon before you don't know how much the second run sucks! Most people, including me, go out too hard on their first 5K and don't hold enough in reserve for the second 5K. It's fun to look at the disparity between the first and second 5K times. Most are a minute or more different.
The 2nd 5K was the same fast start as the first 5K, which my legs really appreciated. My pace was slower but still under 7:00 which is still good for me. My legs felt like rubber and my heartrate was climbing.
Since the run was an "out and back" you get to see a lot of the other athletes out there. Good old Stan Gertler was still yelling words of encouragement to everyone he knows. He's a great sport!
That last ½ mile really hurts because you're toast anyway and it's uphill. I passed Pete Kobrick who was the race's official bike mechanic. He yelled out "Good job Ron. No one even close behind you." That's good, because I'm too tired to look . . . or care, at the moment!
I was very pleased with my race and finished a predictable 2nd behind Russ. 4:27 faster than last year. Cool!
Here are some of the times from my mates: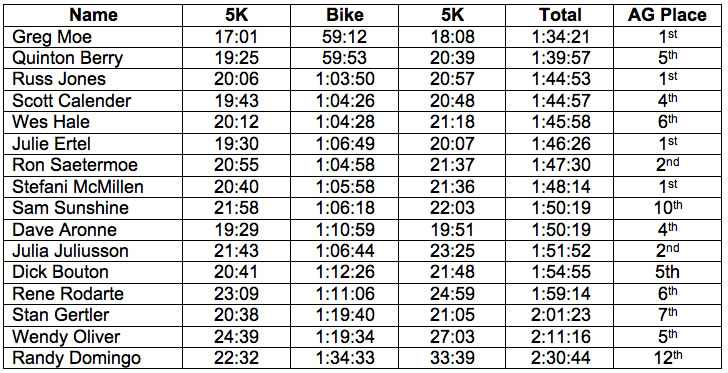 Ron Saetermoe