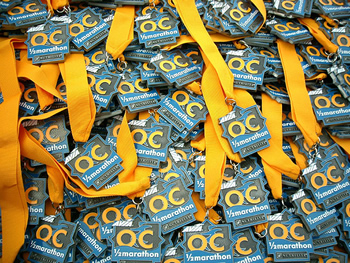 I love the ½ marathon. For me, there is no better run preparation for the full or ½ Ironman. It's long enough to help you with your run endurance but short enough for you to recover from it in a couple days.
Sunday, May 1st was the 2010 OC Marathon and Half Marathon. I did this race last year and took fourth in the M50-54 age group. Pretty good, since I don't really consider myself to be a runner.
The race starts at Fashion Island in Newport Beach and winds its way around through the Back Bay and finishes at the Orange County Fairgrounds in Costa Mesa. The marathoners continue up through Irvine and Santa Ana before turning south down the Santa Ana River Trail and finishing at the Fairgrounds.
Most of the racers parked their cars at the Fairgrounds and took the buses provided by the race organizers over to Fashion Island. I parked at Fashion Island and had my mom drive me back to get my car later. Thanks mom!
Those of you that know me know that I like to get to stuff early, because you just never know . . . Yesterday was no exception. I had plenty of time to use the restroom and warm-up.
It was an absolutely beautiful day for racing. The air was still, the sky was clear and it was cool.
My plan was to set out at a 7:00 minute per mile pace and see if I had enough energy to pick it up. 7:00 minute pace puts you at about 1:31:43, which just happens to be my PR from January this year. Eventually I hope to crack the 1:30:00 mark, which is 6:52 pace.
I had my Garmin with me so I was getting updates every mile. As the miles ticked by I was right on track. It was great because there was a guy obviously with the same objectives as me because we were both going the exact same speed. While he was about 20 years younger than me, his form was amazing! Perfect, fluid strides with his hands held high. A true inspiration.
This is really a great course that is fairly flat. There are a few bumps here and there but it is a pretty fast course. I stayed with my younger adversary until about mile 10 where he dropped me on a short, steep grade. If you know the Back Bay you know the grade I'm talking about where the bike trail meets East Bluff Drive. After that, he slowly pulled away.
My pace dropped on that mile to 7:18 and I was getting tired so I knew then there would be no PR today. Didn't matter, it was still a great day!
Here are some results from folks we know:
Dave Aronne (1:25:41/6:33 pace, 1st M50-54)
Mike Burton (1:30:38/6:55 pace)
Ron Saetermoe (1:32:30/7:02 pace, 3rd M50-54)
Ryan Ritchie (2:03:18/9:25 pace)
Ly Ly Ta (Full marathon, 6:10:48/14:09 pace)