Jarrett Pfleiger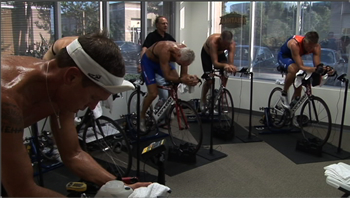 Calling all athletes competing in the Ironman California 70.3 in Oceanside on March 27th, 2010. If you are planning on doing well in this race, you need to know the course. Unfortunately, the majority of the bike course is on Camp Pendleton marine base and cannot be accessed except for race day. If you want to get familiar with the course and be successful on race day, we might have a solution for you.
At Triathica, we have a room full of CompuTrainers that can simulate real courses around the world. You bring in your own bike, we set it up on the trainer, and the computer does all the work. Well you still have to work hard, but the CompuTrainer will adjust the resistance based on the course profile to make it feel like you are actually riding the course. You will have to shift gears and everything just like you were riding.
There are over 100 courses loaded in our system right now, and 70.3 Oceanside is one of them. We want to give everyone a chance to come in and ride the course to get a taste of what they can expect on March 27th. The CompuTrainer also measures watts, heart rate, cadence, and a lot of other data. If that means nothing to you, don't worry. If you like analyzing numbers, these things are a techie's dream.
We will be having a MultiRider ride of the course on Sunday, October 16th at noon. There are only six spots, so don't wait to reserve your spot. Email Jarrett@triathica.com or call 949.273.6223. If you would like to come on another day to ride yourself or with a few friends, let us know.