I competed in last weekend's Pacific Coast Triathlon more as a 'test,' for fun and bragging rights than to qualify (for the sprint world championships). I am in the middle of training for my first Ironman and was therefore not sure on how this would work. However, with the training methods that you have read about or worked with at Triathica, knowing my training zones (TZ) was paramount for this race.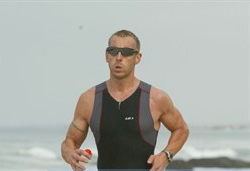 The swim was cancelled which was disappointing to me as this is one of my best legs and I had been out in the swell each day last week playing with the waves. I know I can bring my HR up at a slower speed than running or biking hard when swimming; therefore this is my warm up for what follows. In this instance, to have a beach run instead of a swim was not going to be good on my HR warm up. However, with understanding of TZs I simply reined myself back to ensure that I came to the bottom of the hill at the appropriate TZ to take me to the top and onto the bike. Many people by the time they got to the hill were already at their highest TZ and therefore 'blew up' half way up.
I also knew, through testing, that I could hold T4 for well over one hour even with excursions into T5, so once I was on the bike I hit T4 and stayed there. I had a great ride at 31 minutes, flying mount and dismount worked well (after practicing time and time again). I felt good through Transition 2 and hit the run at T3 with a ¼ mile increase to T4.
The run is my weakest area and also the area that I work on the most, so I had taken time over the last six months understanding and increasing my Lactate Threshold LT (low T5) to enable me to run faster in my aerobic phase (high T2/low T3). I therefore knew I could hold T4 to low T5 for the three miles. I had practiced the course several times as well so knew where to back down with the effort and where to increase, still staying in my TZ. I ran a 17:58 on the run with some left in the tank. This was beyond my dreams for the run portion of this tough course; the run was and still is my weakest area.
I qualified in 6th place in my age group. I am very happy with this and am trying to work out how to get to Worlds.
Learning's from this experience.
• Work with a trainer to understand your TZ rates.
• Work each and every workout knowing exactly where you are working in your TZs and what you are achieving by doing so.
• Practice on the course you are going to race to understand the correlation between TZ and the course profile.
• Believe in yourself to be able to complete any race, knowing your capabilities in each zone!
I would like to acknowledge the Triathica team for the support and advice during my training to enable me to achieve this level of race fitness and understanding of my abilities.
Race hard, play hard ☺
Stuart Lowndes