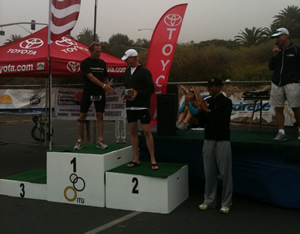 The Pacific Coast Triathlon is one of the best run races around, and one of my favorites. The venue is great and you can always count on some great competitors showing up. This year was no exception.
The difference this year is that the pressure was on because of a bet I had with Russ Jones. In case you don't know Russ, he is one of the best age-group sprint triathletes in the world, as evidenced by his sixth place finish at the world sprint championships a couple weeks ago in Hungary.
Russ and I have been racing against each other for many years and I've never beaten him and I certainly didn't expect to beat him today. However, to make it interesting we had a bet – he gave me a two minute handicap. The loser would buy lunch. Now I was REALLY motivated.
I figured he'd beat the spread because I did a 70 mile bike ride followed by a six mile run the day before. No matter, it's fun.
I decided to go hard all day. Normally, I hold back on the swim a bit but today I let it all out!
A lot of guys lined up to the right and actually ran down the beach to the right a bit to try to shorten the distance to the first swim buoy. I started right in the middle and didn't run down the beach. Turns out that was a good move because the current pulled everyone north of the buoy and a lot of guys had to swim back to make it around the buoy.
I was going hard and only saw two guys (men 50+) in the same swim caps as me. We passed a bunch of people in the earlier waves but there weren't a lot of guys in my wave ahead of me.
I'd say my swim was about perfect even though the water was choppy.
Once leaving the water you have to run up the beach and up a long, steep ramp to get to transition. In years past I'd run up the entire thing, but not this year. My legs were toast from my Saturday workout.
A really great age grouper in the 60 – 64 category passed me going up the ramp – Peter Hoyt. He took second at the sprint worlds.
I got through transition quickly and headed out on the bike. The bike course is two loops and has some rollers and one hill most of us have to get into our small gear to climb.
I was pressing as hard as I could but only managed to average 192 watts which is pathetic. Again, no legs from the day before. In order to make up for it I spun like crazy. My average cadence was 97 which is even fast for me.
As I made the turn at the top of the hill I saw Russ behind me. I figured I'd try to stay ahead of him for the entire bike leg. Good goal!
I kept my pace up and managed to pass one of the guys that were ahead of me on the swim. He was racing "old style" (Speedos only). As I reached the nine mile mark Russ finally passed me. He was digging deep and I was no match for him.
The rest of bike was tough and I wondered if I'd have anything left for the run.
I transitioned well again and headed out on the run. My legs were tired but I managed a pretty good pace. I passed another guy in my age group about ½ mile into the run. Then, I saw my pal/doctor, Sam Sunshine up ahead. He was in my sights.
I pushed the run on the flats and downhills and was barely able to move going uphill but I was reeling in Sam . . . until we hit the sand. This race has about a one mile stretch that you run in the sand, followed by another steep ramp back up to street level.
Sam was gone, but I pressed on. I ended up walking up about half of the ramp holding my knees for leverage. How pathetic!
Once you reach the top of the hill it's flat all the way in so I used up everything I had left. It was a blast!
I ended up finishing second behind Russ and beat the two minute spread. All in all, a really great day!