Ron Saetermoe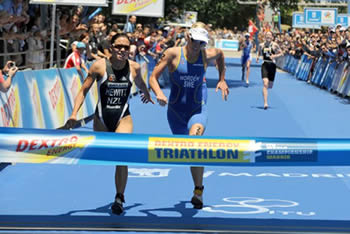 We're really coming into triathlon season now. As you may know, many of the most popular races are already sold out but there are still plenty that are available.
There really isn't a "right" way to select your races. It really depends on what your goals are. If it's just to have fun and not to worry about whether you "podium" or not then do whatever turns you on.
Last year I think I raced six consecutive weekends (tris and runs). I love to race and wasn't worried much about how I did.
For some, racing once a year is all their time, budget or interest can afford. That's great too. Everyone has different goals.
However, if you're really interested in doing well in your races you need to be more strategic. My Ironman mentor, Chris Johnson, told me that if I really wanted to get serious about qualifying for Kona that I'd have to race less and concentrate on my training more. So this year that's exactly what I've done.
You probably know about the A, B, Cs of prioritizing your races where your "A" race is your most important race of the season. When you select your races for the year you should start with your "A" race then work forward/backward from there.
You want to make sure you're not racing too much (my problem) but you should be sure your races before your "A" race are going to help advance your performance. For example, I have found that half marathons are a great distance for me to help me get ready for full- and half-Ironman distance races. It helps me build my leg speed and endurance. As a result, I've done three half marathons this season.
Last weekend I did the LA Tri Series Championship triathlon race out at Bonelli (race report follows). This was a "C" race for me but a good primer to help me stay sharp. I didn't expect much from this race because Lar Dog, Camille and I hammered the day before (I did 92 miles) so my legs were toast. The race really didn't mean anything to me, but I won anyway.
More than likely I'll race again next month to help get me ready for my first "A" race of the season, Hawaii Ironman 70.3 on June 5th. OC Duathlon, LA Tri Series? Don't know, but it will be fun!
Cheers!