Ron Saetermoe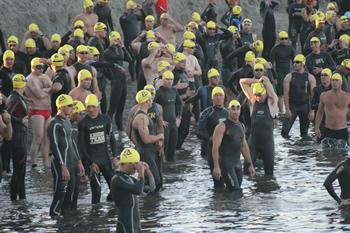 Picture yourself at the starting line of your next (or first) triathlon. Hundreds of other athletes are milling around but none of them look as nervous as you feel. You're looking out over the water for the swim start with a ton of apprehension. You're telling yourself "I CAN do this!" while you're really thinking "Am I nuts?"
Part of your nervousness comes from the shear excitement of competition, but does some of it also come because you're not sure if you're adequately prepared?
First of all, let me assure you, that EVERYONE is nervous. Even after having done 100+ triathlons I get nervous. Second, no one ever feels completely prepared. We're always second-guessing our training, our nutrition, our equipment, our rest, etc.
Now picture yourself at the starting line having received expert guidance about your race. Someone to provide you with the information you need to have a successful race, no matter what your goals are. Someone that has been there before and that has seen just about everything.
Sure, you're still nervous, but you're also confident that you've had the coaching you need to meet your raceday goals. You know what to expect from setting up your transition area to crossing the finish line.
That's what we do here at Triathica . . . we get you ready for your next (or first) triathlon. We provide everything from our state-of-the-art training facility to training plans and personal training to informative training sessions.
Don't just "do" your next (or first) triathlon, "race" it! We'll show you how.
Cheers!